Food Smackdown Arranges Top SD Food Trucks for The Rock Church Good Friday Event at Petco Park on March 29, 2013 @ 10am-2pm
Food Smackdown has arranged a veteran gourmet food truck line-up for The Rock Church Good Friday Event at Petco Park (Park at the Park) on Fri 3/29/2013 @ 10-2pm! FREE admission, FREE Parking (at 10th Ave & Park Blvd), open to the public! Join 4000+ people who are expected to attend for a mix of worship, ministry, outreach and a special service lead by The Rock Church Pastor Miles McPherson!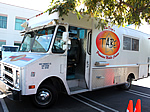 TABE BBQ
Fri 3/29/2013
http://tabebbq.com/
Tabe BBQ is a pioneer in the San Diego food truck scene being one of the first gourmet food trucks to hit the streets of SD. They will be serving delicious gourmet Asian Fusion dishes, burritos, tacos, asada fries and more.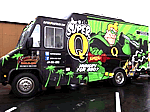 SUPER Q
Fri 3/29/2013
http://superqfoodtruck.com/
Super Q brings to San Diego some of the best All-American BBQ with elements of North Carolina, Texas & St. Louis style flavors and influence. They will be serving BBQ sandwiches, salads, mac-n-cheese and more.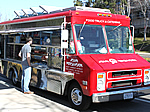 ASIAN PERSUASIAN
Fri 3/29/2013
http://asianpersuasionftc.com/
Asian Persuasion is one of San Diego's most popular food trucks known for their variety of Asian inspired dishes. They will be serving their mouth-watering Korean BBQ burrito, tacos, sliders, chicken dishes and more.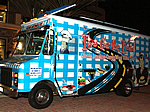 TWO FOR THE ROAD
Fri 3/29/2013
http://twofortheroadsd.com/
Two For The Road is a veteran SD food truck specializing in American comfort food. They will serve their famous Cap N Crunch crab cakes, Brooklyn burger, salmon burger, New England Lobster roll and more.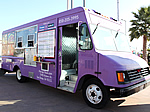 PIEROGI TRUCK
Fri 3/29/2013
http://www.pierogitruck.com/
Pierogi Truck brings the most authentic Polish and Eastern European dishes to San Diego w/ ingredients from the best delis and meat shops in Chicago. Try their famous pierogi, Hungarian panacake, Polish plate and more.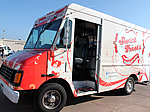 SWEET TREATS
Fri 3/29/2013
http://sweettreatstruck.com/
Sweet Treats is a family owned business dedicated to serving the San Diego community since 2008. The mobile dessert buffet will be serving cookies, cupcakes, brownies, chocolate bacon, Tiramisu, cheesecake and more.
In addition to amazing eats by six of San Diego's best food trucks, there will be activities and several outreach ministries to help those in need (i.e. Care packages, clothing distribution, Kaiser Permanente Blood Drive, homeless mats, collection point for donations, youth/children's ministry and skate ramp, and much much more). Come join us! This is an event you don't want to miss! For more info click here.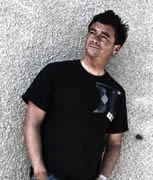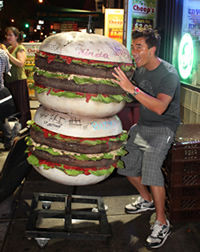 ABOUT FOOD SMACKDOWN: When the battle over where to eat lunch heats up, consult the website that has Southern California buzzing. FoodSmackdown.com is the only place to get honest, good-eats advice about the best places to dine on burgers, pizza, sandwiches, wings and food trucks. Founded by foodie, food photographer, and consultant Steve Carlson, known as a "famous food critic" by San Diego locals, Food Smackdown revolves around his personal experiences in some of the most highly recommended joints to small, hole-in-the-wall restaurants. Food Smackdown puts a wealth of delectable knowledge right at the fingertips of SoCal's populace, so there's never another dining fiasco. The site features reviews that include mouth-watering photos, directions and pricing, atmosphere and service ratings, and of course how it all adds up on the taste buds.
For additional information about Food Smackdown, or to schedule an interview with editor, writer, and foodie expert Steve Carlson, contact steve@foodsmackdown.com.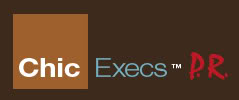 ChicExecs PR is an "out of the box" PR company which represents over 100 clients. ChicExecs has created an innovative approach to PR dedicated to helping businesses receive media coverage. Our revolutionary automated system is changing the face of PR. To learn more about ChicExecs visit www.chicexecs.com.