Top 10 Restaurant Hot Spots in Las Vegas for Foodies!
Created and Rated by Food Smackdown
For interviews, for permission to use content… or for additional questions, contact steve@foodsmackdown.com
FoodSmackdown.com is here to say that what happens in Vegas should never stay in Vegas when it comes to killer food stops. Going to the International Consumer Electronics Show (CES) in January? Got a bachelor party to plan or Spring Break shenanigans to stay fueled through? Foodie and restaurant critic Steve Carlson of Food Smackdown has noshed his way through the best and worst of the city of sin to bring revelers the top places to chow down. So grab a pen and start planning your next Las Vegas bash in true epicurean style.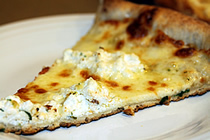 SECRET PIZZA. Follow the album clad way at the Cosmopolitan hotel and casino to a secret pizzeria every foodie in Vegas is trying to find. Secret Pizza is a delicious hideaway that boasts simple yet tasty pizza by the slice. As folks cram into the small waiting area to order, they are greeted by the zesty and garlic-infused scents of the freshly cooked pizzas. Once ordered, guests can grab a table inside or hang out in one of the hotels many lounge areas and munch on their pepperoni and sausage or mozzarella and ricotta cheese endowed slices.
http://www.foodsmackdown.com/2012/04/secret-pizza-las-vegas-nevada/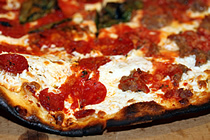 GRIMALDI'S COAL BRICK-OVEN PIZZERIA. Let the moon hit your eye like a big pizza pie at Grimaldi's Coal Brick-Oven Pizzeria. Guests are greeted by a charming dining area decorated like the classic Italian places of yore. Red and white table cloths combine with the modern wall decor and lighting for a romantic night out. Their menu boasts personal, small, and large sized pizzas and a plethora of toppings from artichoke hearts and sun dried tomatoes to fresh garlic and Italian sausage. http://www.foodsmackdown.com/2012/04/grimaldis-pizzeria-las-vegas-nevada/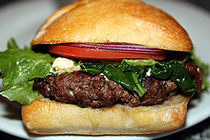 THE BURGER BAR. Take a break from the lazy river at Mandalay Bay to enjoy a taste of their casual yet adventurous eatery: the Burger Bar. From the classic beef patty to buffalo or turkey, the Burger Bar allows customers to build their own perfect burger or take a bite out of one of celebrity chef Hubert Keller's concoctions. Continuing with the theme of luxury which Mandalay Bay personifies, the restaurant is complete with sleek marble counters, wooden floors, and beautiful accents, creating a whole new category of burger joint.
http://www.foodsmackdown.com/2012/04/burger-bar-las-vegas-nevada/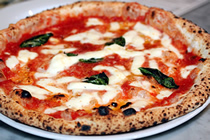 SETTEBELLO PIZZERIA NAPOLENTANA. Take a break from the hustle of the strip and head over to Anthem neighborhood in Henderson to try out Settebello Pizzeria Napoletana. They've brought the style of pizza created in Napoli, Italy, to Nevada with imported brick ovens, fresh Italian tomatoes, and world renowned flour. An unassuming facade opens into an industrial meets posh dining area complete with large brass pipes running overhead and chic black booths. Dine on gastronomically delightful pizzas and then wash it all down with an Italian micro brew or wine. http://www.foodsmackdown.com/2012/04/settebello-pizzeria-napoletana-las-vegas-nevada/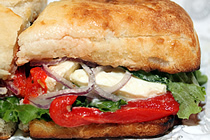 EARL OF SANDWICH. Savor the flavors coming from the Earl of Sandwich–the shop that's touted as having the world's greatest hot sandwich. Nestled inside the Planet Hollywood Resort and Casino, this haven for sandwich aficionados offers fast service in a casual setting. Toasted buns, loads of ingredients, and premium meats and cheeses come together for a grab-it-and-go meal that won't break the bank. http://www.foodsmackdown.com/2012/04/earl-of-sandwich-las-vegas-nevada/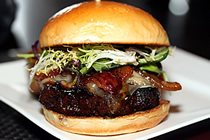 BACHI BURGER. Asian flavors meet the great American classic at Bachi Burger in Southeast Las Vegas. For creative, mouth-watering cuisine at a reasonable price, tourists turn to Bachi's perfectly grilled and glazed patties for comfort. Take a break from the hubbub of the club and chill out with a burger loaded with sautéed shitake, enoki and eryngi mushrooms and caramelized onions, or sip on one of their refreshing boba milk teas or imported craft beers. Their casual space is a relaxing place to catch up on the day's wins or losses and enjoy time with friends. http://www.foodsmackdown.com/2012/04/bachi-burger-las-vegas-nevada/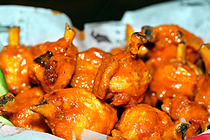 FIRST FOOD & BAR. When trolling the strip for the best wings in town there's only one place to go: First Food & Bar in The Palazzo. From the culinary genius of Chef Sam DeMarco come some of the most amazing lollipop buffalo wings to ever hit the taste buds in a setting unlike any other. The spacious 10,000 square foot restaurant boasts hip lounge seating and mood lighting for an intimate yet open dining experience. Between their brunch, lunch, dinner, and late night menus, there are plenty of options for spicing up the old palate. http://www.foodsmackdown.com/2012/04/first-food-bar-las-vegas-nevada/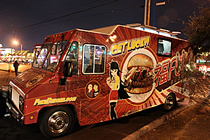 FUKUBURGER FOOD TRUCK. Hungry tourists can't miss the bright red behemoth that is the Fukuburger Food Truck. This outrageously decorated truck brings the edginess of Japanese style and traditional flavors together with fresh ingredients and juicy patties. Thanks to their friendly staff and photo menu, it's even easier to pick the burger foodies only dream about. They've garnered quite a dedicated following and encourage guests to hang out, party, and eat until the wee hours of the night. http://www.foodsmackdown.com/2012/04/fukuburger-truck-las-vegas-nevada/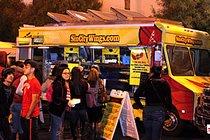 SIN CITY WINGS 'N THINGS FOOD TRUCK. Sin City Wings 'n Things is a food truck that delivers tender wings slathered in homemade sauces at prices to write home to about. Run by a southern boy and girl team, this food truck brings down home cooking to the streets and with a smile. From sweet and fruity to xxx heat ratings, all the glazes and dipping sauces are made from scratch and perfect for slathering on their freshly cooked fries and chicken tenders. http://www.foodsmackdown.com/2012/04/sin-city-wings-las-vegas-nevada/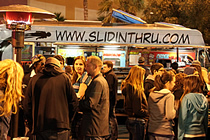 SLIDIN' THRU FOOD TRUCK. Rick Guerrero is the pioneer of the food truck movement in Las Vegas, making his Slidin' Thru food truck one of the must try restaurants on the list. One look at the comic book style artwork covering the truck and guests know they are in for a creative menu. Choose between classic Angus beef, specialty meat and vegetarian, or the chef's surprise mini gourmet sliders made to make your mouth go "Bam!" Make sure to show up early because once the truck starts cooking there's no telling how long their stores will last. http://www.foodsmackdown.com/2012/04/slidin-thru-las-vegas-nevada/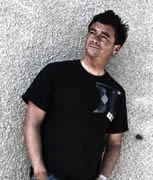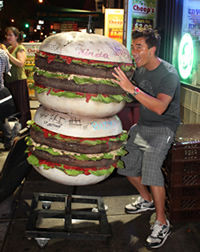 ABOUT FOOD SMACKDOWN: When the battle over where to eat lunch heats up, consult the website that has foodies buzzing. FoodSmackdown.com is the only place to get honest, good-eats advice about the best places to dine on burgers, pizza, sandwiches, wings and Food Trucks. Founded by foodie, food photographer, and consultant Steve Carlson, known as a "famous food critic", Food Smackdown revolves around his personal experiences in some of the most highly recommended joints to small, hole-in-the-wall restaurants. Food Smackdown puts a wealth of delectable knowledge right at your fingertips, so there's never another dining fiasco. The site offers a catering connection service along with food reviews that include mouth-watering photos, directions and pricing, atmosphere and service ratings, and of course how it all adds up on the taste buds.
For additional information about Food Smackdown or to schedule an interview with editor, writer, and foodie expert Steve Carlson, contact steve@foodsmackdown.com.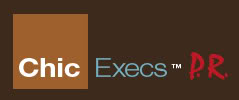 ChicExecs PR is an "out of the box" PR company which represents over 100 clients. ChicExecs has created an innovative approach to PR dedicated to helping businesses receive media coverage. Our revolutionary automated system is changing the face of PR. To learn more about ChicExecs visit www.chicexecs.com.