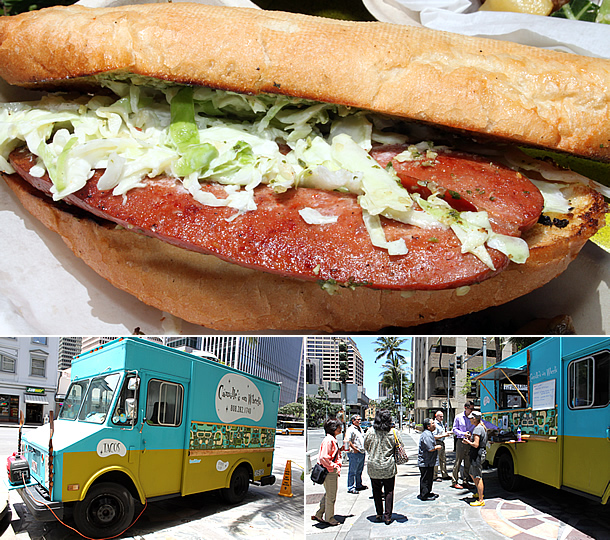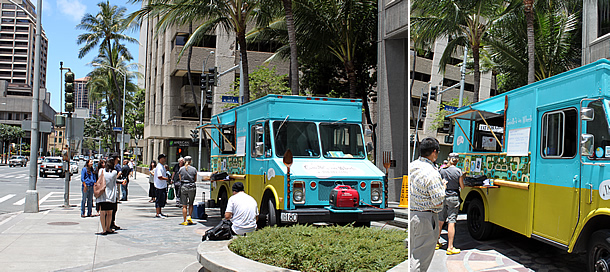 Camille's on Wheels food truck in Honolulu Hawaii is a mark of excellence in the food truck industry. It has been featured on local news channels and was recently featured on Cooking Channel's Eat Street. Camille's on Wheels is popular among island locals and it's no surprise as to why – The truck offers the complete package (presentation, taste, quality and value) and a memorable experience!


We stopped by Camille's on Wheels food truck during lunch hour at South King Street and Alakea Street (in front of Central Pacific Plaza) in downtown Honolulu in a business area surrounded by high-rise buildings. There was a constant stream of customers lined up to order making it visibly clear this was the go to spot for lunch in the area. We had the opportunity to speak with owner Camille Komine — She was super-friendly, had a great sense of humor and was very sociable interacting with each one of her customers. We enjoyed learning about all the love and hard work she puts into her food truck business — not only is Camille passionate about what she does, she's incredibly good at it!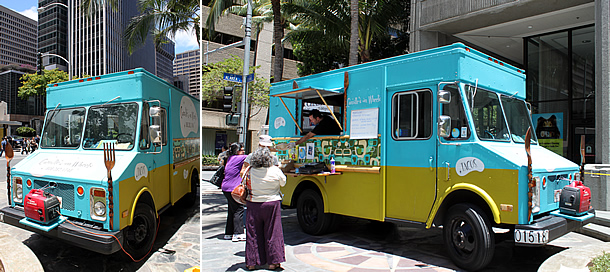 Before Camille Komine opened her doors into the food truck business, she worked in Hollywood productions as a buyer and food stylist working on films such as Kevin Costner's film Dragonfly, Clint Eastwood movie Hereafter (with Matt Damon), George Clooney movie Descendants (banquet scene) and others. Prior to that she lived in San Diego working as a cook in various restaurants. After over two decades in the film industry, Camille left Hollywood to pursue her passion for entrepreneurship (and creativity with food styling and cooking) by launching her food truck business in Honolulu, Hawaii.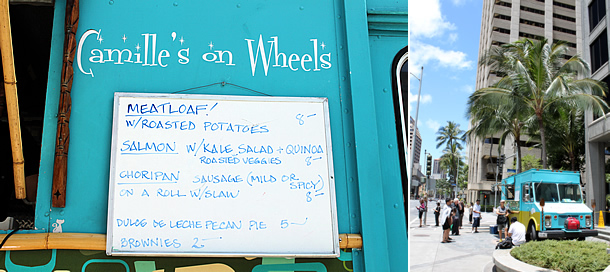 Camille's on Wheels is known for nutritious dishes, global tacos (Thai pork, Quinoa, Chimichurri), salmon dish, choripan sandwich, meatloaf, and sweet and savory pies. Also, environmental friendly products are used (no plastic or Styrofoam used in take-outs) along with fresh and local produce handpicked from farmers market.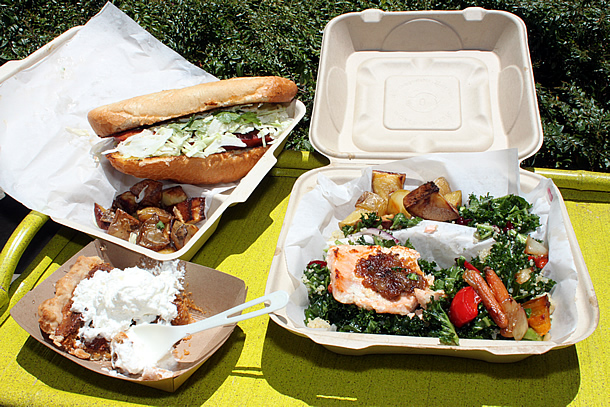 We ordered a salmon dish, choripan sandwich and dulce de leche pecan pie for dessert. Everything we had was incredible!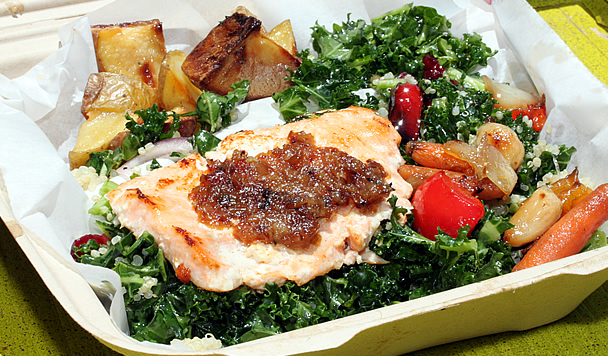 The salmon dish came with a beautiful piece of salmon on kale salad & quinoa whole grain seeds, roasted veggies, and potatoes.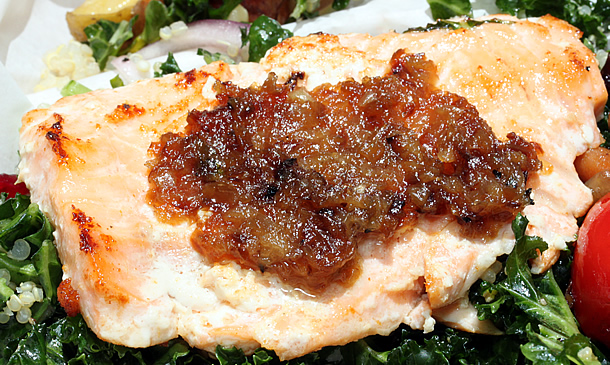 The salmon was fresh, juicy and cooked to perfection and topped with a delicious caramelized onions puree sauce.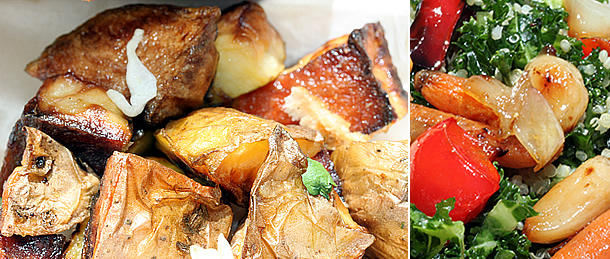 The side of roasted potatoes and veggies were excellent. Both were cooked just right and not over seasoned which emphasized the deliciousness of the natural flavors and textures.

The choripan sandwich came with spicy sausage split down the middle, topped with coleslaw and served on a fresh roll.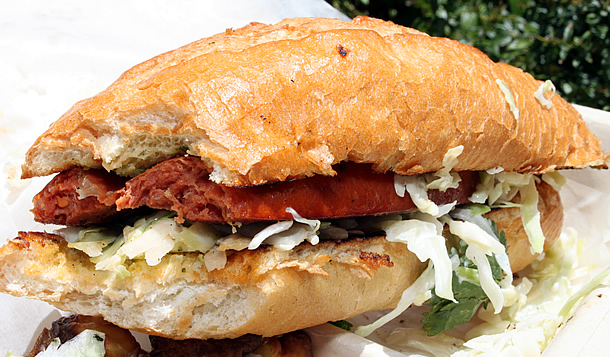 The sausage was juicy, flavorful and had a nice kick to it and coalesced perfectly with the fresh slaw and fresh roll.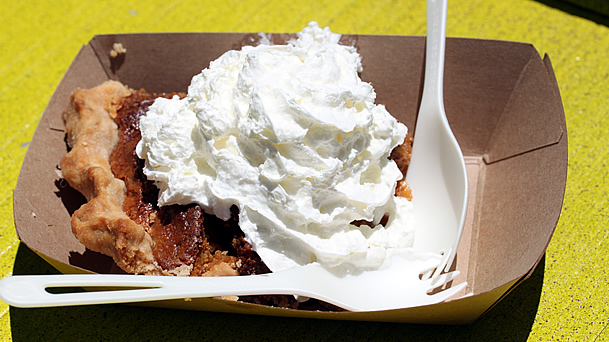 The dulce de leche pecan pie topped with whipped cream was to die for and one of the best desserts we've had to date. It tasted like a hybrid between pecan and pumpkin pie and had our mouths watering at every bite.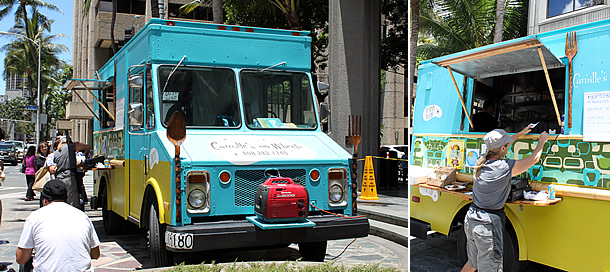 For to die for salmon w/ kale, choripan sandwich and pecan pie Camille's on Wheels in Honolulu is a must visit! Owner Camille Komine demonstrates food truck excellence and executes at every level — Presentation, taste, quality and value. Summed up in one word…AMAZING!!