Top 10 Valentine's Day Spots in San Diego to Appease Both Men and Women!
Created and Rated by Food Smackdown
For interviews, for permission to use content… or for additional questions, contact steve@foodsmackdown.com
FoodSmackdown.com is the website that has brought Southern Californian's closer to the finer foods in life through their extensive restaurant reviews. With Valentine's Day fast approaching, and knowing most people's last minute fumbles to plan a night out, they've gone ahead and rifled through their dining experiences to bring lovers a list of the top hip-romantic eateries in San Diego. So take a seat, peruse the list, and plan an evening that's sure to please the taste buds and the wallet.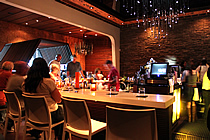 #1) STARLITE. With a name like the Starlite, diners know at once that they're in for a hip yet romantic venue for toasting their love. Guests can choose to dine indoors in a posh, dimly lit atmosphere sprinkled with twinkle lights across the ceiling, or hang out under the stars on the patio which is also equipped with a full outdoor bar. The menu ranges from appetizers and salads to main entrees and desert. Go with a giant Brandt Burger topped with caramelized onions and Gruyere cheese, or go with the macaroni and cheese for some gourmet comfort food. http://www.foodsmackdown.com/2011/07/starlite-san-diego-california/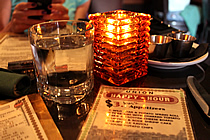 #2) TRACTOR ROOM. For a cozy feel and burgers that are out of control, take in an evening at the Tractor Room in Hillcrest. A touch of the farm greets customers as they ascend the steps to this upscale gastropub. Though the prices may seem a bit higher than average, a couple can easily split one of their mouth-watering entrees and wind up feeling full. Dive into the Prime Beef Burger with mozzarella cheese, lean smoked bacon, lettuce, and tomatoes while snacking in between bites on the generous helping of seasoned criss-cross fries that come with. http://www.foodsmackdown.com/2011/05/the-tractor-room-san-diego-california/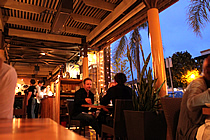 #3) WHISKNLADLE. Have some casual fun at the always classy Whisknladle in downtown La Jolla. Large open windows and dimmed lighting create the perfect mood for enjoying one of their seventeen scrumptious dinner items. Savor each bite of the WNL burger which is bursting with artisan cheese, bacon, lettuce, caramelized onion, and a fried egg, but don't forget to save room for dessert. The Valhrona Dark Chocolate Pots De Creme is a distinguished way to round out the holiday thanks to its rich taste and side of coconut macaroon shortbread. http://www.foodsmackdown.com/2011/06/whisknladle-la-jolla-california/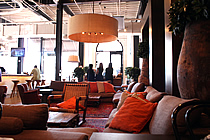 #4) SEARSUCKER. Head down to the Gaslamp quarter and take a bite out of Searsucker's menu of New American Classic cuisine. Whether it's a deceptively simple salad, ocean fare, or a burger slathered in gruyere cheese, onion jam, and baconaise, Searsucker's extensive list of reasonably priced meals has something for everyone. Pair their entrees with local craft beers, handcrafted cocktails, or a selection of wines from around the world and take a load off in their swanky and hip warehouse. http://www.foodsmackdown.com/2011/11/searsucker-san-diego-california/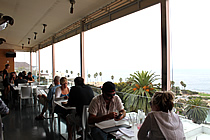 #5) GEORGE'S AT THE COVE. Go a different route for Valentine's Day this year by enjoying lunch or an early dinner at George's at the Cove. This tri-level eatery offers gorgeous ocean views and balcony seating for a romantic meal beachside. Sit on the rooftop or middle levels and enjoy their casual bistro menu or try their upscale restaurant and bar on the bottom floor. Driven by what's fresh for the season, their menu is always rotating with delectable burgers and fresh seafood. http://www.foodsmackdown.com/2011/09/georges-at-the-cove-la-jolla-california/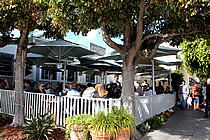 #6) THE COTTAGE. Get up early and make googley eyes over a cup of fresh brewed coffee and soul food at The Cottage in La Jolla. This quaint country-esque retreat features sunny, outdoor patio seating or tables inside their clean, modern dining room. Their breakfast and brunch menus boast a number of tempting treats like French toast stuffed with strawberry compote and marscarpone cheese, or creamy eggs benedicts with Canadian bacon, sautéed mushrooms, and roasted tomatoes. So get comfy and plan out the whole day while fueling up. http://www.foodsmackdown.com/2011/12/the-cottage-la-jolla-california/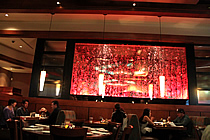 #7) BISTRO WEST. For the couple who digs gourmet burgers, Bistro West in Carlsbad is a must hit! They'll be amazed by the Blue Cheese Burger's generous helping of tomato, signature sun dried tomato truffle aioli, caramelized red unions and blue cheese on the juicy Kobe beef blend patty. The elegantly designed interior creates an upscale ambiance and displays modern art as well as a large, hanging, color-changing light show tank diners will remember for years to come. http://www.foodsmackdown.com/2011/04/bistro-west-carlsbad-california/
#8) URBAN SOLACE. At Urban Solace in North Park lovers of all ages can enjoy the night on the patio, made cozy by heat lamps and flickering candles. Urban Solace offers a very unique array of New American Comfort Food using the best possible products available including naturally produced meats and organic veggies from local farms. Snuggle under the stars and savor their Niman Ranch Chuck Burger with their smoked tomato jam, or spoon into a heavenly helping of their Mac 'n Cheese with Duck Confit, blue cheese, and roasted garlic. http://www.foodsmackdown.com/2011/06/urban-solace-san-diego-california/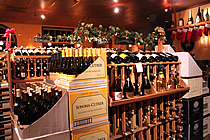 #9) 3RD CORNER. At 3rd Corner Wine Shop & Bistro in Encinitas, it's easy to wine and dine the love of your life. They're stocked with over 800 wines that pair well with their extensive and varied menu. Sample their tangy and savory Meyer Angus Beef Burger with aged cheddar cheese, tomato onion jam, applewood smoked bacon, and lemon aioli, and make sure to leave room for the garlic oil and parmesan seasoned fries that come with. http://www.foodsmackdown.com/2011/12/the-3rd-corner-encinitas-california/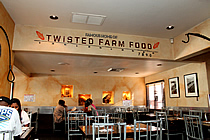 #10) HASH HOUSE A GO GO. Have some serious good eats fun at Hash House a Go Go in Hillcrest. With their humongous portions, eclectic food arrangements, and "twisted farm food" theme, the Hash House is an interesting spot to experience with a loved one. A couple can easily split one their massive and delicious mashed potato, bacon, and cheddar cheese burgers which comes with crispy criss-cross fries. Make sure to leave room for the sweet and tantalizing biscuits covered in honey. http://www.foodsmackdown.com/2011/07/hash-house-a-go-go-san-diego-california/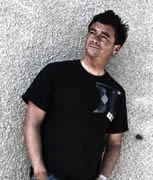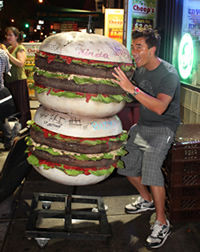 ABOUT FOOD SMACKDOWN: When the battle over where to eat lunch heats up, consult the website that has Southern California buzzing. FoodSmackdown.com is the only place to get honest, good-eats advice about the best places to dine on burgers, pizza, sandwiches, wings and food trucks. Founded by foodie, food photographer, and consultant Steve Carlson, known as a "famous food critic" by San Diego locals, Food Smackdown revolves around his personal experiences in some of the most highly recommended joints to small, hole-in-the-wall restaurants. Food Smackdown puts a wealth of delectable knowledge right at the fingertips of SoCal's populace, so there's never another dining fiasco. The site features reviews that include mouth-watering photos, directions and pricing, atmosphere and service ratings, and of course how it all adds up on the taste buds.
For additional information about Food Smackdown, or to schedule an interview with editor, writer, and foodie expert Steve Carlson, contact steve@foodsmackdown.com.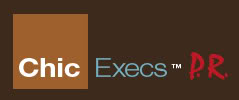 ChicExecs PR is an "out of the box" PR company which represents over 100 clients. ChicExecs has created an innovative approach to PR dedicated to helping businesses receive media coverage. Our revolutionary automated system is changing the face of PR. To learn more about ChicExecs visit www.chicexecs.com.