Top 10 Sports Bars in San Diego for Watching the Super Bowl
Food Smackdown's Top 10 Best Burger Sports Bars in San Diego, California!
For interviews, for permission to use content… or for additional questions, contact steve@foodsmackdown.com
Nothing sums up the Super Bowl as well as the co-mingling of friends, grub, and grog, but with the holiday bustle still fresh on our minds who wants to do all the prep work for another event? This February 5th ditch the vacuum, dip mix, and hostess face and suggest a night out at one of the top hot spots in San Diego. Steve Carlson, the renowned foodie and restaurant critic behind FoodSmackdown.com has sample and reviewed his way throughout the county to come up with the top 10 sports bars.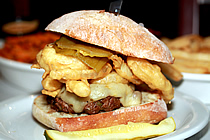 1. Slater's 50/50. Slaters 50/50 is the spot to hit when looking for a great sports bar atmosphere that's still family friendly. For a reasonable price guests can design their own gourmet burger or order one of their already stacked ones. Ask the friendly staff for recommendations and do not forget to try an order of their French fries with bacon-infused ketchup or sweet potato fries with pumpkin sauce. Your taste buds will thank you later. http://www.foodsmackdown.com/2011/11/slaters-5050-san-diego-california/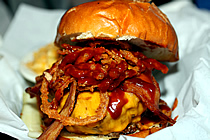 2. Dirty Birds. Got a hankering for some wings? Then check out Dirty Birds in Pacific Beach. Take a seat in the hip little eatery that's only a block or so from the beach, and get ready for a flavor explosion. Like their name suggest, this place serves up spicy wings slathered in their own house-made sauces with homemade ranch or blue cheese dip on the side. They've got 23 flavors to choose from and a hotness scale that goes from one to five. Get a group together and try as many as possible, and don't forget to grab a beer to wash it all down. And by the way, their burgers are amazing too. http://www.foodsmackdown.com/2012/01/dirty-birds-pacific-beach-san-diego-california/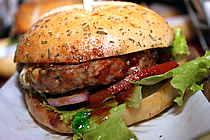 3. Bare Back Grill. For burgers with a twist, head over to the Bare Back Grill in the Gaslamp District. The prices are a tad bit high, but some of their offerings are a little more exotic than a regular burger joint. Give lamb a try and order their Bare Lil Lamb Burger which comes on an herb bun with blue cheese, mint dressing, beetroot, house chutney and garlic aioli. Relax and enjoy the game and spend time between quarters playing with their giant Jenga set, table top games, or their drinking games. http://www.foodsmackdown.com/2011/05/bare-back-grill-san-diego-california/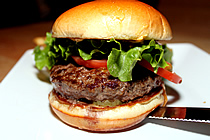 4. STACKED. Get hip to the iPad craze by putting in an order at Stacked in Fashion Valley. Their innovative ordering system uses tablets to allow guests to build the perfect burger. Choose everything from the toppings and type of cheese, to the condiments and bun for the perfect burger every time. For football fans that aren't into the burger scene, Stacked also offers a number of other tasty and customizable meals including pizzas, salads, and dessert. http://www.foodsmackdown.com/2011/09/stacked-san-diego-california/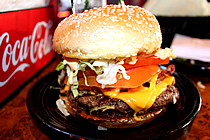 5. Nicky Rottens. Nicky Rottens in the Gaslamp District or Coronado is sure to be a hit with mobster movie fans. Gather together the guys and head over to this bar to watch the game in a posh mafia-inspired atmosphere. The Nicky Rottens Burger comes with apple wood smoked bacon, lettuce, tomato, onion, cheddar cheese, and rotten sauce for a burger that's so tasty it must be criminal. For a huge burger and a basket of crispy fries the price is reasonable and the experience a must try. http://www.foodsmackdown.com/2011/04/nicky-rottens-san-diego-california/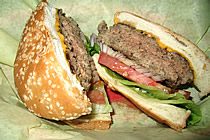 6. Rocky's Crown and Pub. For some good old burgers and beer, try out Rocky's Crown and Pub in Pacific Beach. This one isn't for the family folks, but it's a friendly and fun place to spend the day watching the game with pals. A little bit noisy, a little bit crowded, great service, and one of the best cheeseburgers in San Diego defines this joint. Juicy meat and simple toppings go together like a dream to perfectly satisfy those burger cravings and keep customers coming back. http://www.foodsmackdown.com/2011/04/rockys-crown-pub-pacific-beach-california/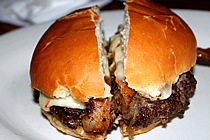 7. Waterfront Bar and Grill. The Waterfront Bar and Grill is a relaxed tavern with lots of bar seating and an outgoing staff. While their menu is packed with all sorts of grub, their burgers are their specialty. The Texas Bacon Burger is touted as one of the best in the biz and comes with a side of simple yet delicious fries. Grilled onions, perfectly crisped bacon, and a juicy patty unite to form the perfect burger for enjoy with a pint and watching the game. http://www.foodsmackdown.com/2011/04/the-waterfront-bar-and-grill-san-diego-california/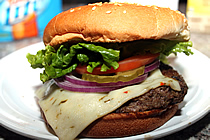 8. Crazee Burger. Get out of your shell and head over to Crazee Burger in Old Town San Diego. This place combines old American tradition with a European bistro feel and offers up unique dishes like their Ostrich burger. Who would have thought that the funny looking bird could produce a lean, healthy, and tender burger? Well the folks at Crazee Burger did, and have been serving it up with all the burger trimmings and a zesty lemon chive cream sauce. Pair it with their lightly salted and parmesan sprinkled sweet potato fries for a complete meal. http://www.foodsmackdown.com/2011/06/crazee-burger-san-diego-california/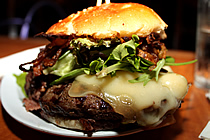 9. Encinitas Ale House. The Encinitas Ale House offers game enthusiasts a modern tavern look and feel, plenty of beer choices, and "Locally World Famous Burgers". For a monster of a burger, the Grass Fed Kobe Wagyu Burger is almost more than you can fit in your mouth. Gruyere cheese is melted atop the Wagyu Kobe Beef patty and topped with crumbly gorgonzola, onion straws, tomato, and baby greens. Prices run a bit high here, but for a gourmet burger and grown-up atmosphere it's worth a try. http://www.foodsmackdown.com/2011/06/encinitas-ale-house-encinitas-california/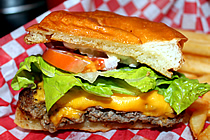 10. Bergie's Pub. Go to Bergie's Pub and let them know Food Smackdown sent you and print this coupon for 20% off your order of their pub grub. This fun mom and pop spot has a hole-in-the-wall feel and friendly service that's happy to help. Their patties are comprised of grass fed natural Angus beef that makes for a mouth watering burger. Prices range from $6-8 for a burger with a side of fries coming in at only a $1 or $2 depending on the size. If you're looking for a decently priced place to watch the game with lots of cold beer and delicious food, then Bergie's is the place. http://www.foodsmackdown.com/2011/05/bergies-pub-san-diego-california/
While this is only a handful of great sports bars, check out FoodSmackdown.com and use their E.A.T.S. rating system (Economics, Atmosphere, Taste, and Service) to find the spot that's perfect for you.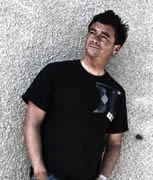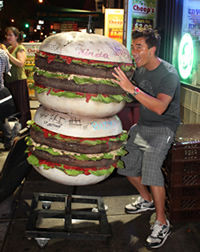 ABOUT FOOD SMACKDOWN: When the battle over where to eat lunch heats up, consult the website that has Southern California buzzing. FoodSmackdown.com is the only place to get honest, good-eats advice about the best places to dine on burgers, pizza, sandwiches, wings and food trucks. Founded by foodie, food photographer, and consultant Steve Carlson, known as a "famous food critic" by San Diego locals, Food Smackdown revolves around his personal experiences in some of the most highly recommended joints to small, hole-in-the-wall restaurants. Food Smackdown puts a wealth of delectable knowledge right at the fingertips of SoCal's populace, so there's never another dining fiasco. The site features reviews that include mouth-watering photos, directions and pricing, atmosphere and service ratings, and of course how it all adds up on the taste buds.
For additional information about Food Smackdown, or to schedule an interview with editor, writer, and foodie expert Steve Carlson, contact steve@foodsmackdown.com.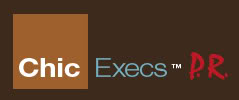 ChicExecs PR is an "out of the box" PR company which represents over 100 clients. ChicExecs has created an innovative approach to PR dedicated to helping businesses receive media coverage. Our revolutionary automated system is changing the face of PR. To learn more about ChicExecs visit www.chicexecs.com.