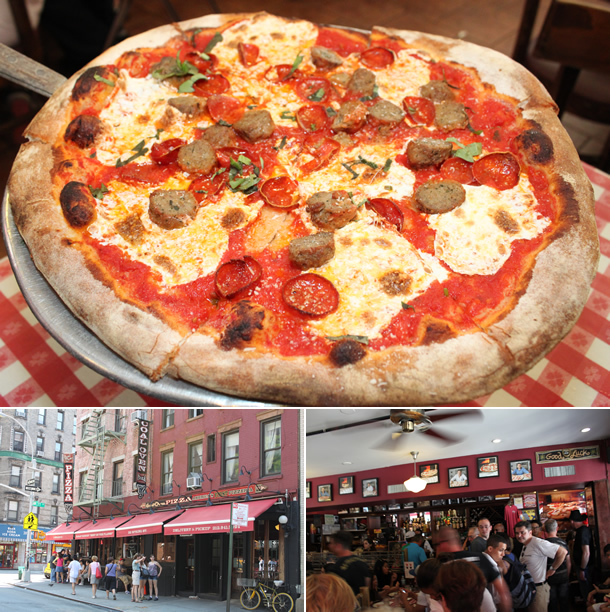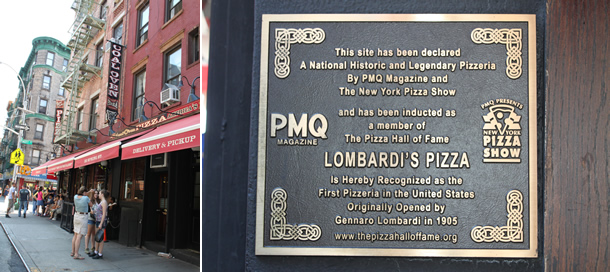 Lombardi's Pizza in New York is a historic landmark popular among tourist and locals alike. Over a century ago in 1905, Lombardi's was licensed by the City of New York becoming America's first pizzeria. Today, it is still highly regarded as one of the best pizzerias in New York and across America. With all the hype and being the first pizzeria in the United States, we had to try the pizza at Lombardi's. And our experience did not disappoint!


In 1984 the original Lombardi's restaurant closed but re-opened in 1994 about a block away at 32 Spring Street (by pizza makers John Brescio and Gennaro Lombardi's grandson, Gennaro Lombardi III). While the change in location combined with a decade gap may raise question on which pizzeria can claim to be the "oldest" Lombardi's is still a distinguished landmark offering some of the best pizzas in America with an amazing story that cannot be denied.


The atmosphere was fun, popular and casual. The inside was small with two levels of seating giving it an intimate original pizzeria like feel to it. There was brick walls, a bar area and tons of pictures on the walls (many of celebrities who have eaten there). Downstairs was additional seating and the awesome coal oven that pumps out the amazing pizzas. The menu was very simple. Original pizzas (red or white) large 18" or small 14" (no slices), a personal calzone, a couple salads and appetizers and beverages.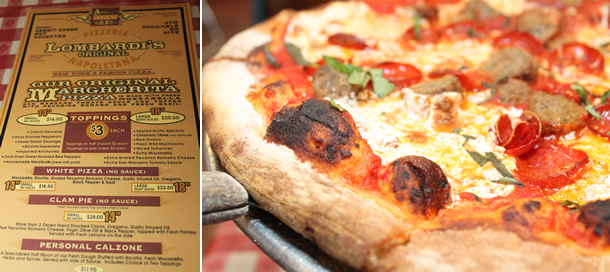 On the recommendation of our waitress, we ordered a small 14" original pizza ($16.50) and added pepperoni ($3.00) and Sweet Italian sausage ($3.00). It was a great suggestion and more than enough for the two of us to eat.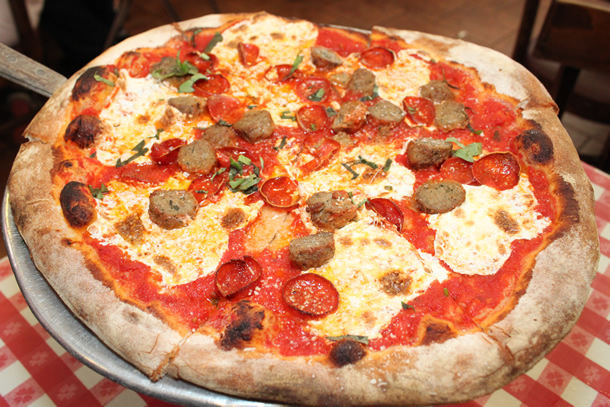 The coal oven pizza was amazing and one of the best tasting pizza's we've had to date! The pizza came with fresh mozzarella, a San Marzano tomato sauce and topped with Romano and fresh basil. The pepperoni and Sweet Italian sausage we added were delicious.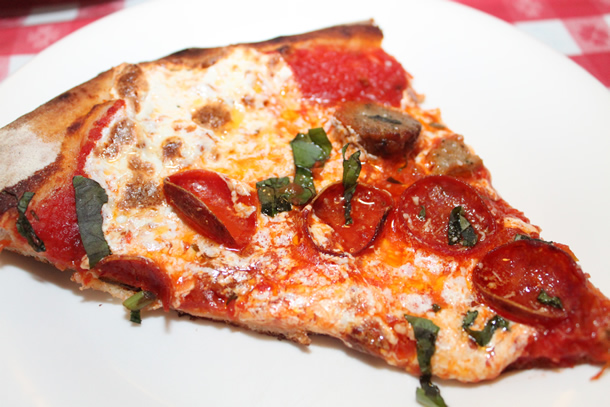 The most distinguishing feature was the crust. The coal oven cooked crust put this pizza over the top. The crust had an amazing light crisp texture that was tasty and second to none.


For amazing pizza where the original way of making a New York pizza in a coal oven is still used, Lombardi's is a must try. Lombardi's does not sell pizza by the slice (popular in New York but not traditional). Instead, only whole pies are made to order and its cash only. So be sure you have enough cash with you before ordering!