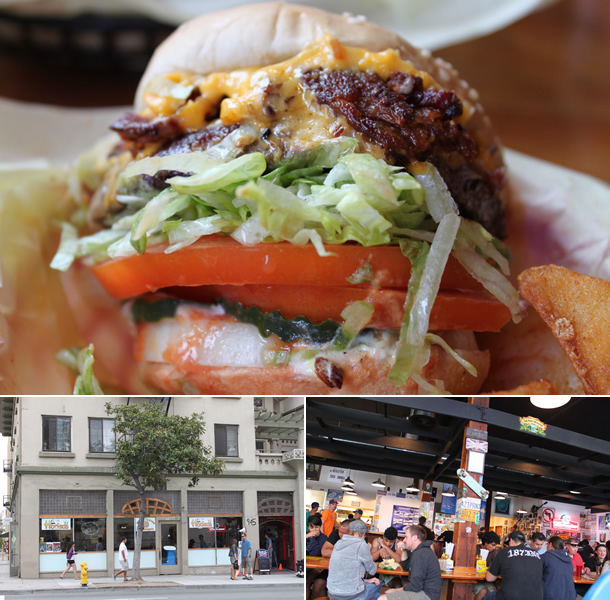 A second Hodad's location is now open at 945 Broadway in San Diego (between 10th and Broadway). The new Hodad's location is several blocks from Petco Park and the main Gaslamp District shops and restaurants on 5th street. While the location and atmosphere is very different from the Hodad's Ocean Beach location it did not look like the new downtown location had any trouble packing in customers.


When we visited Channel 8 News happened to be filming which emphasized Hodad's popularity and the press it attracts (Hodad's has been featured on the Food Network in Guy Fieri's Diners, Drive-ins and Dives in August 2008). We visited on a Sunday and it seemed a bit slow as the tables were not full at 4:30pm. However, by 5:30 pm the tables were full and a line began to form outside. This was different from our Hodad's Ocean Beach experience where 30-45 minute lines seemed common even during non-peak hours.


The inside décor was much like the Ocean Beach location with the signature license plates, surfboards and skateboards hanging on the wall along with the large wood surfboard table in the middle for seating. The atmosphere was fun, outgoing and loud with the music and crowd (similar to the Ocean Beach location). The downtown location has much more space between tables (feels roomier) so you don't get the crammed in feeling you do at the Ocean Beach location. However, we felt the crammed in feeling at the Ocean Beach location actually added to the experience giving it a much more unique, beach-like and hole-in-the-wall feel to it than the downtown San Diego location which felt more restaurant-ish. The service at Hodad's was fast and very friendly. The food was also very good.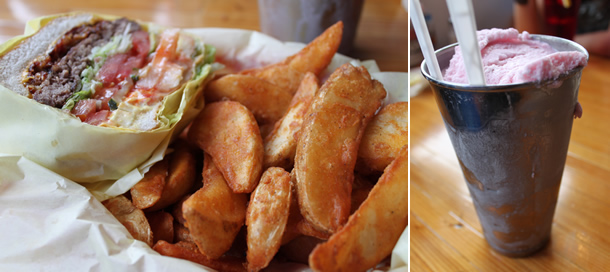 We ordered a Single Bacon Cheeseburger with a basket of fries ($7.75); a ½ order of onion rings ($4.50) and a strawberry shake ($4.75).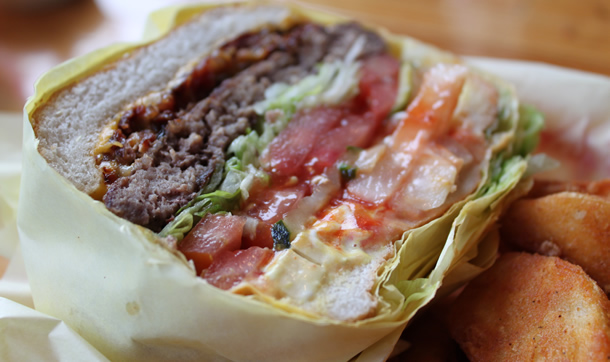 The Single Bacon Cheeseburger came with mayo, mustard, onion, ketchup, pickle, tomato and lettuce and was perfect for us to share and we had more fries than we could eat (we brought some home). The burger was very tasty (however some of the bacon was burnt and the burger was cooked a little more than we preferred) which was similar to our experience at Hodad's in Ocean Beach.


The fries and onion rings were also very good. The fries are more like potato wedges than fries but still very yummy. The fries were crispy on the outside and lightly seasoned (they also taste good warmed up in an oven at home). The onion rings were large, delicious with a perfect crunch and served with ranch dressing.

The strawberry shake is to die for! In our opinion Hodad's has the best shakes we've had at any burger joint to date. The shakes are thick (scoop of ice cream on top), tasty, huge and more than enough for two to share. If you go to Hodad's (and you like ice cream) we highly recommend trying a shake (vanilla, strawberry or chocolate).


If you're in the Gaslamp area and want to experience the tasty burgers, fries and shakes Hodad's offers (with possibly shorter lines and less crowded) the downtown San Diego location may work for you. However, if you want to experience the full beach-vibe, relaxed and more unique hole-in-the-wall like experience that originally attracted so many people to Hodad's (including Guy Fieri) and distinguished it from so many other burger joints we highly recommend the original Hodad's Ocean Beach location. In either case, Hodad's has obviously made a name for itself (and for good reason) and is clearly one of the best burger joints in San Diego. Superb service, fun and unique atmosphere, excellent food with large portions and all for a very reasonable price!