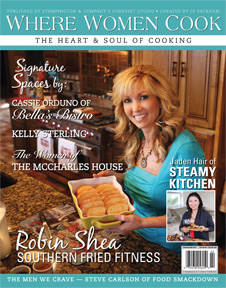 Steve Carlson of Food Smackdown featured in "THE MEN WE CRAVE" section in the national magazine Where Women Cook — Summer 2012 issue.
Read about CEO/Founder Steve Carlson and Food Smackdown and check out two exclusive recipes from The Lime Truck (Food Network's The Great Food Truck Race Season 2 Winner).
Where Women Cook is a top selling magazine published by Stampington & Company and can be found in Barnes & Nobles, Home Depot, Lowe's, JoAnn's, Michaels, Costco, Whole Foods, and more.
To read full feature click here.