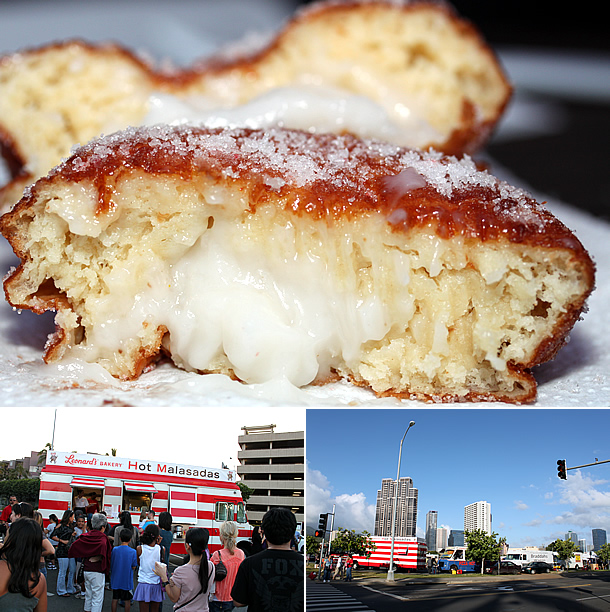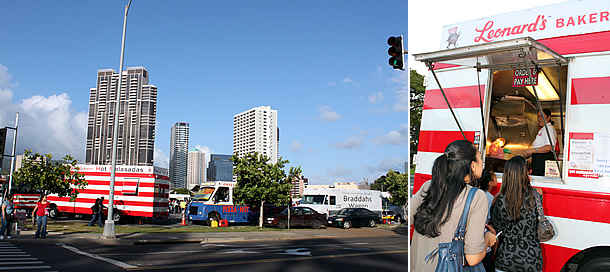 Leonard's Bakery opened in Honolulu Hawaii in 1952 and when they debuted their malasadas it became an immediate hit. Since then Leonard's Bakery has become one Hawaii's most popular food attractions with country-wide acclaim. And after eating their malasadas, it's no wonder why. Their malasadas are mind-blowingly delicious!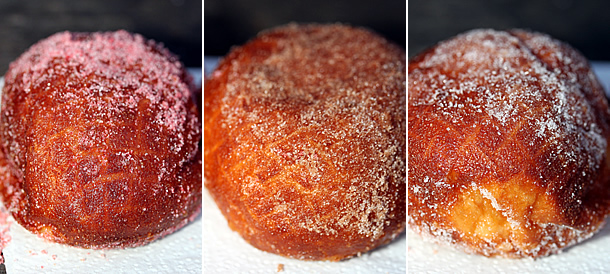 A malasada is a fried dough pastry dipped in sugar that originated in Portugal. During the late 1800′s, Portuguese laborers came to Hawaii to work in the plantations. During their migration they introduced their traditional foods to the Hawaiian people — one which became a local staple and found in numerous bakeries in the Hawaiian Islands was the "malasada."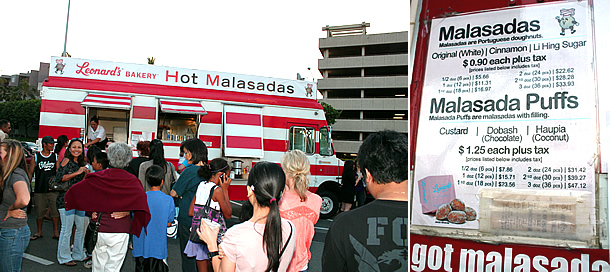 Leonard's Bakery fries generously-sized balls of dough until the crust is golden brown with a light and fluffy inside. And they always use the finest ingredients which gives their malasadas a fresh sweet toasted flavor, both crunchy and chewy.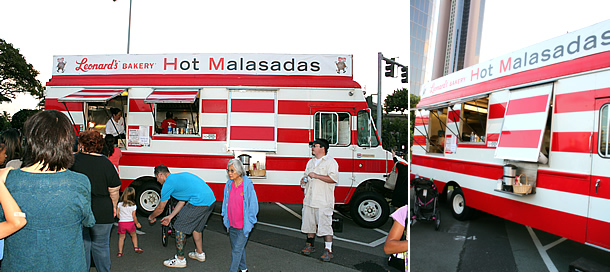 Leonard's Bakery has a storefront and two lunch wagons (Malasadadmobile) available for catering and special events. We caught up with their mobile food truck at the popular Eat the Street event in Honolulu Hawaii.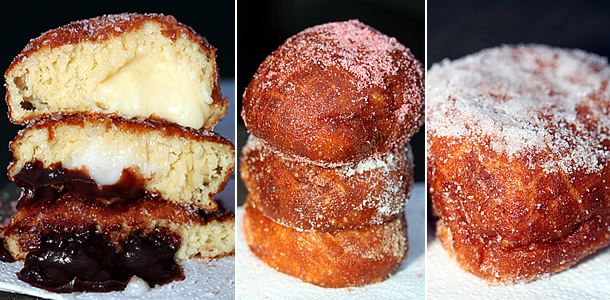 The line to get malasadas was long but well worth the wait! We tried the custard, Dobash (chocolate) and Haupia (coconut) malasada puffs and an original cinnamon malasada. Each one tasted amazing.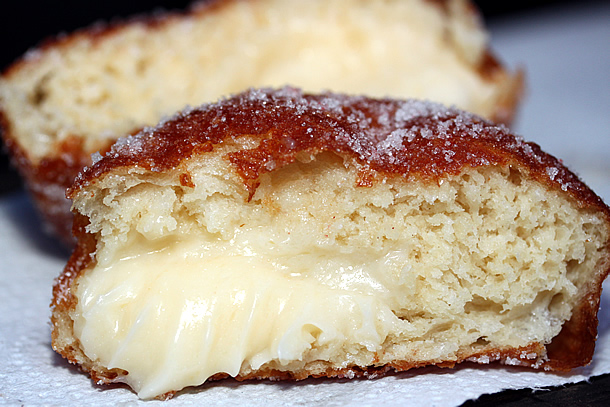 The custard malasada puff was creamy and delicious.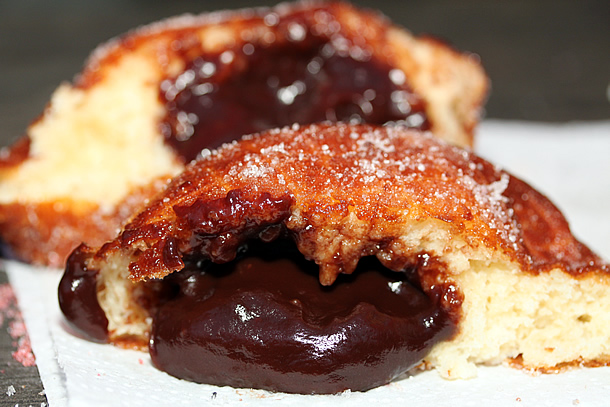 The Dobash (chocolate) malasada puff was MMMMM MMMM GOOD!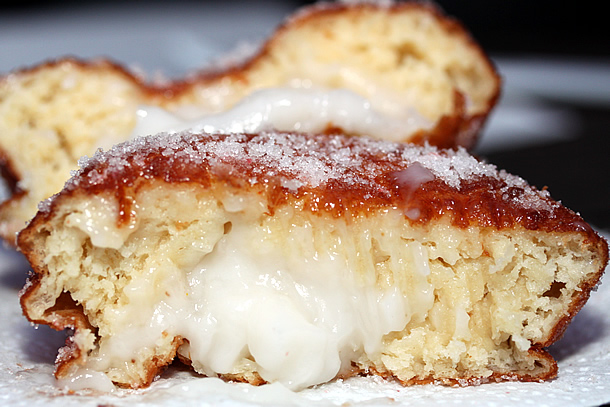 The Haupia (coconut) malasada puff was to DIE FOR!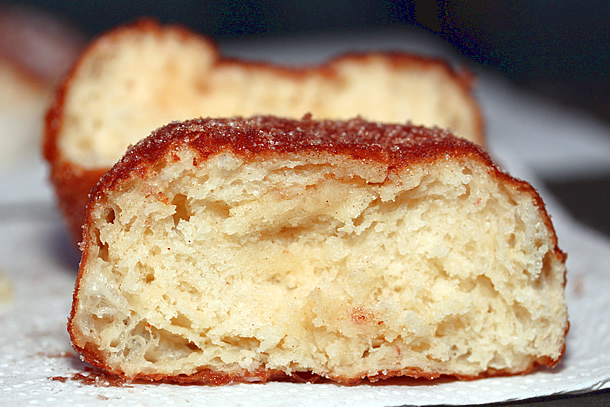 And the original cinnamon malasada simple and absolutely delicious.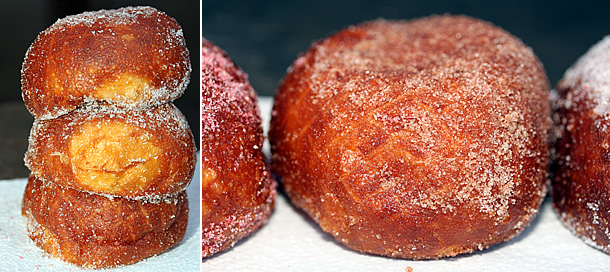 Each of the malasadas had a thin, crispy, golden brown outer layer, coated with sweet granulated sugar. The inside was soft, hot and had a moist sponge consistency and the puffs were filled with delectable cream.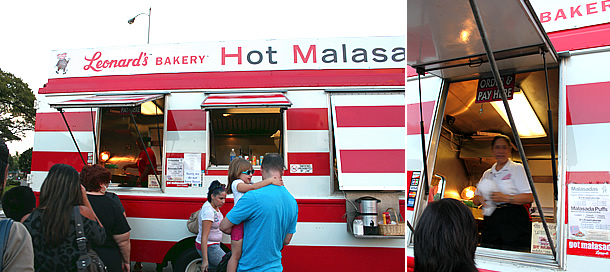 For freshly made piping hot, pillowy, fried dough balls of sweet deliciousness, be sure to visit Leonard's Bakery or drop by their Malasadadmobile. If you're in Hawaii, it's a MUST VISIT!