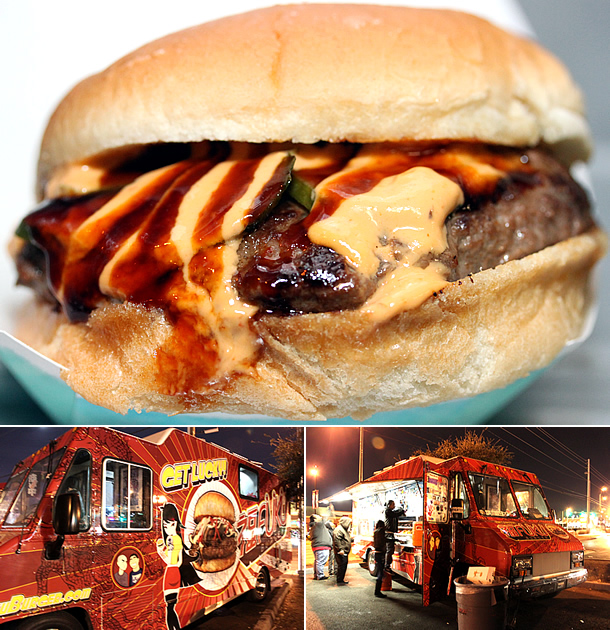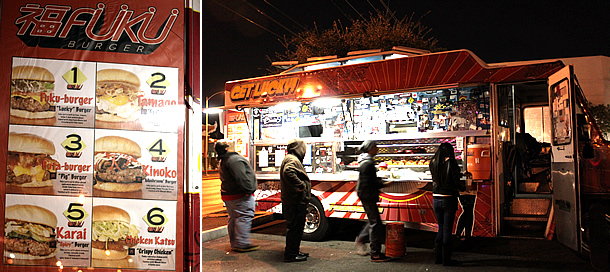 Since June 2010, Fukuburger has been serving Asian inspired burgers on the streets of Las Vegas to the late night crowd into the wee hours of the night. Fukuburger (Fuku) is one of the most popular food trucks in Las Vegas drawing crowds of people and it's no surprise as to why. The menu is simple (like In-N-Out), the atmosphere is fun, the staff is hip and friendly and the burgers are delicious!


Fukuburger is co-owned by friends Colin Fukunaga and Robert "Mags" Magsalin. Colin and Robert were servers at Tao before they took a calculated risk on entrepreneurship with their Asian-inspired food truck concept. In the end, their risk came with great reward. Fukuburger not only operates a successful food truck in Las Vegas, but in October 2011, they partnered with son of Hard Rock Café founder Peter Morton (and grandson of Morton's Steakhouse chain founder Arnie Morton) launching a trendy 60 seat brick-and-mortar restaurant (Fuku Burger) in Hollywood with a similar menu as their food truck.


The trucks burger menu selection was simple and straightforward consisting of just six burgers (Fuku "Lucky" Burger, Tamago "Egg" Burger, Buta "Pig" Burger, Kinoko "Mushroom" Burger, Karai "Spicy" Burger). Fukuburger is known for its all-American burgers with a Japanese twist – serving American classics mixed with bold Japanese inspired sauces and toppings such as Wasabi mayo, pickled red ginger and teriyaki.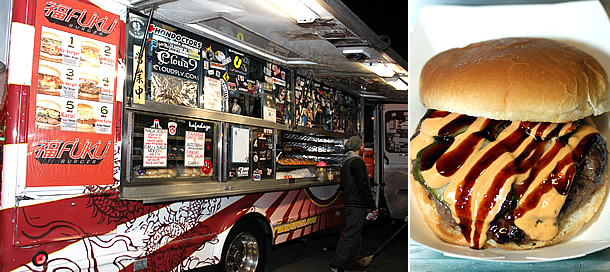 One of the key factors to Fukuburgers success is their high quality beef and signature marinade. The beef is marinated in Fuku's signature sauce before it is cooked giving it a moist and uniquely delicious flavor. And the meat is ground fresh daily from their butcher then marinated and hand-formed into patties.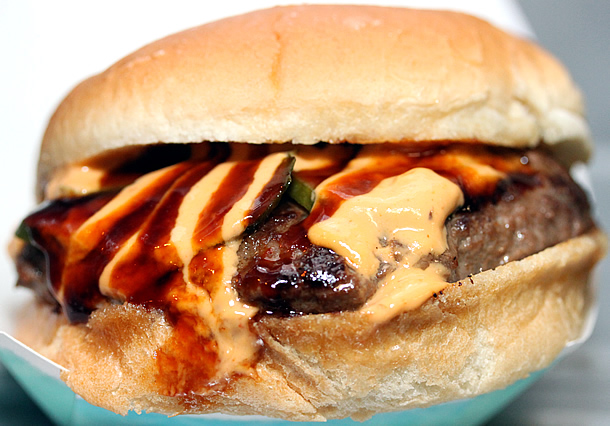 We ordered the Karai Burger ("Spicy" Burger) and it was delicious. The Karai Burger came with a signature Fuku-patty with pickled cucumbers, avocado cream and finished with habanero kabyaki and served on a simple yet delectable hamburger bun.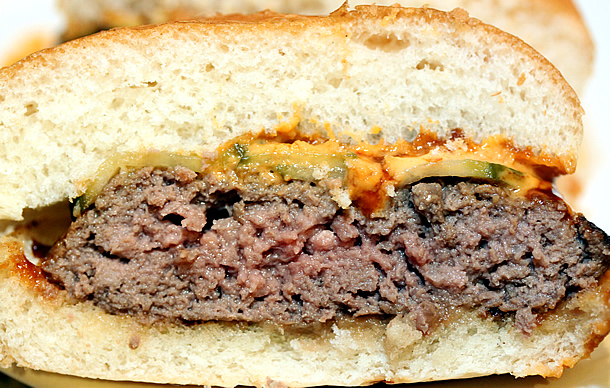 The burger was juicy, tasty and cooked to perfection. The marinated beef added excellent flavor to the patty. And the habanero kabyaki offered a little bit of heat but it was nicely balanced with the avocado cream and pickled cucumbers.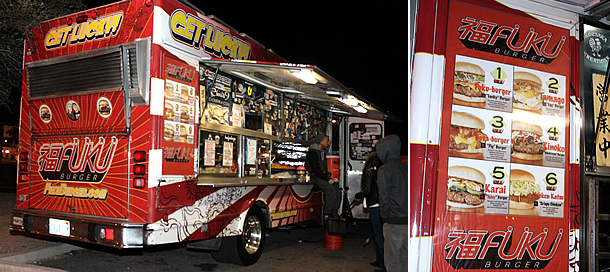 If you're in Las Vegas be sure to catch up with Fukuburger Truck. It is super popular and their all-American burgers with a Japanese twist are unique and absolutely delicious!