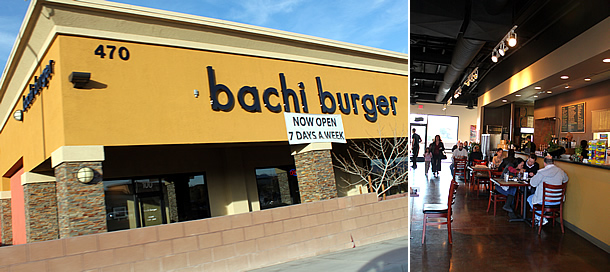 Off The Strip but worth the trip, Bachi Burger in Las Vegas makes some of the most mouthwatering Asian-style burgers we've had. The staff is friendly and they also have some amazing appetizers and unique French fries too.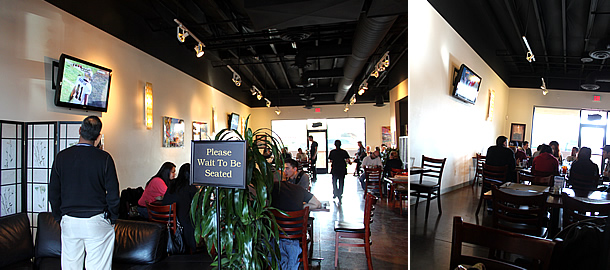 Bachi Burger is located on 470 E Windmill Ln (between Bermuda Rd and Amigo St). The trendy gourmet burger spot is located in a developing area in a strip mall just a few miles south of the Vegas Strip. The atmosphere was sit-down casual with a modern feel.


The inside had a clean and contemporary design with exposed pipes for an industrial touch. There were dark wood tables and trimmings inside with awesome artwork for sale by local artists showcased throughout restaurant (a portion of the artwork sales are donated to community organizations).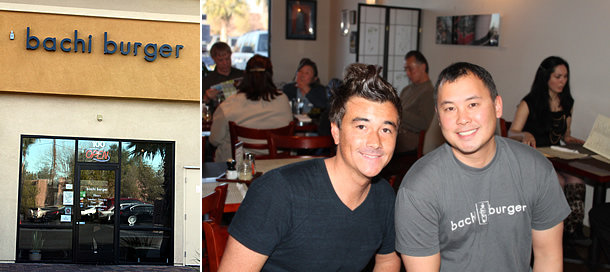 Bachi Burger is the inspiration of Lorin Watada (Culinary Director) who served as a corporate chef for Roy's before branching out. We had the opportunity to sit down and chat with Lorin – He was super-friendly, hospitable and we really enjoyed talking with him about Bachi Burger's history and menu inspirations.

Bachi is an abbreviated term for the word "Hibachi" with a dual meaning referring to a method of Japanese style grilling and to treat others how you would like to be treated. The burgers are inspired from the varied Asian influences of the Hawaiian Islands using the freshest ingredients most of which are locally sourced, natural and organic. Bachi Burger is high on hospitality, supporting the community and using recycled and eco-friendly products whenever possible.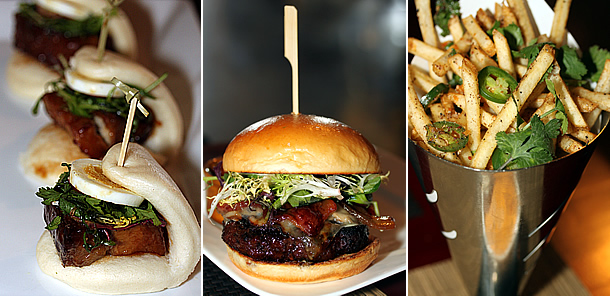 We had the Pork Belly Steamed Buns ($10), Kiki's Burger ($9.50) and Salt & Pepper Garlic French Fries ($4). Everything we had was delicious.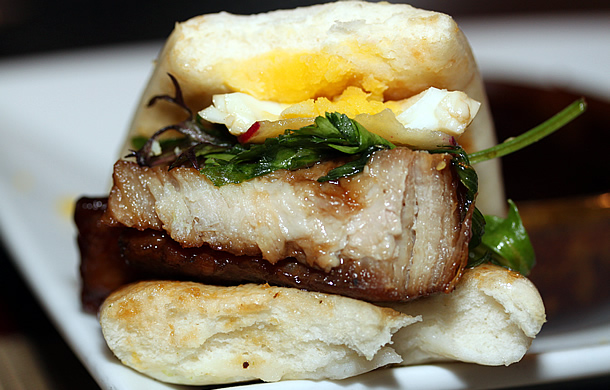 The Pork Belly Steamed Buns appetizer was delicious. It came with Duroc pork belly, cilantro scallions, radish, boiled egg, Chinese black vinaigrette, and five-spice Hoisin BBQ sauce.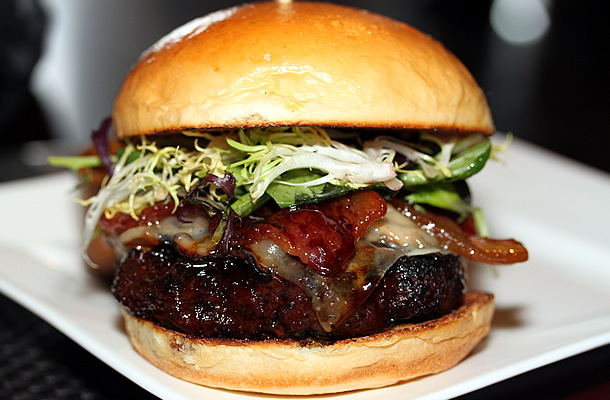 The Kiki's Burger was outstanding. It came with sautéed Shitake, Enoki and Eryngi mushrooms, caramelized bacon, sweet onion marmalade, gruyere cheese, and garlic chili aioli and served on a sweet bun.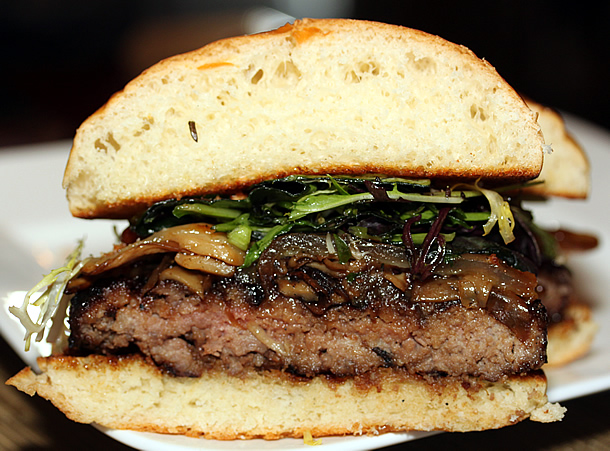 The burger was cooked perfectly and the ingredients were fresh and harmonious, creating a well-balance mix of delectable flavors.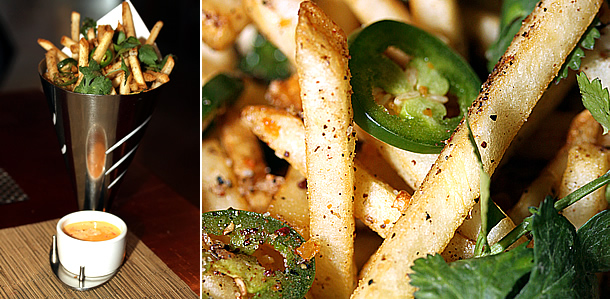 The garlic salt and pepper fries were uniquely delightful. The French fries were generously seasoned with Maui onion sea salt, garlic chili aioli and spicy jalapenos which added a nice kick to it.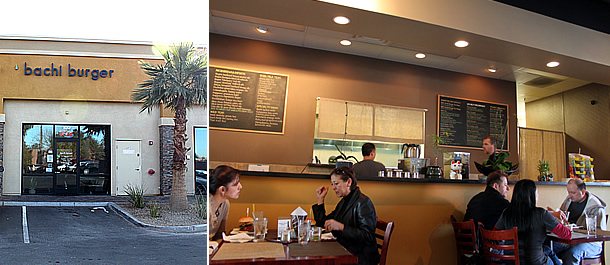 For lip-smacking Asian-inspired burgers paired with delicious fries, be sure to visit Bachi Burger in Las Vegas Nevada. Try the Pork Belly Steamed Buns, Kiki's Burger and Salt & Pepper Garlic fries. You won't be disappointed!