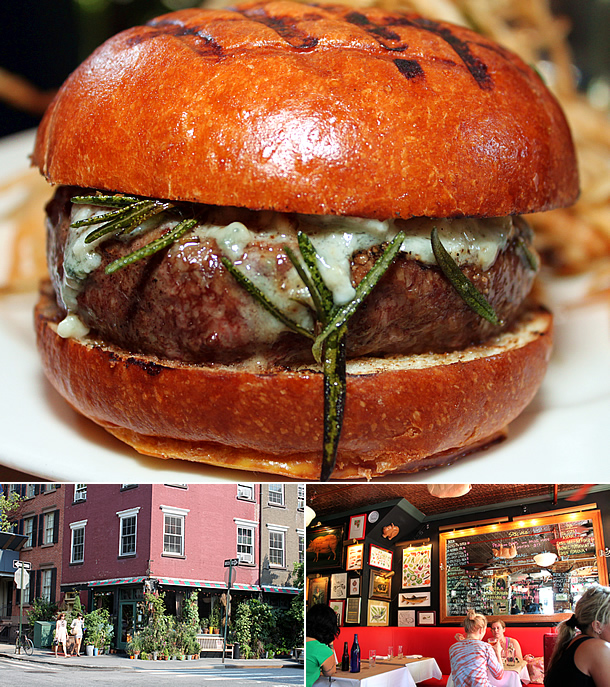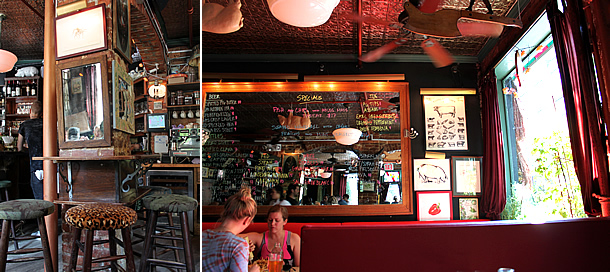 Once an apartment now converted to a restaurant, The Spotted Pig in West Village is said to be New York's first gastropub. The Spotted Pig is hip, super-popular and has a fun and unique atmosphere with one of the best burgers in New York. The gastropub has earned a prestigious Michelin rating and is a local hotspot owned and backed by an amazing team of celebrities.

The Spotted Pig is located at 314 W 11th Street in the West Village neighborhood in New York City. It is unassumingly located on a quiet corner (on Greenwich St. and W. 11th St.) surrounded by multi-level apartments with brick exterior. From the street, the gastropub blends in with the surrounding apartments but can be spotted by its green and red striped awnings and green framed door with several potted plants and wooden bench in front.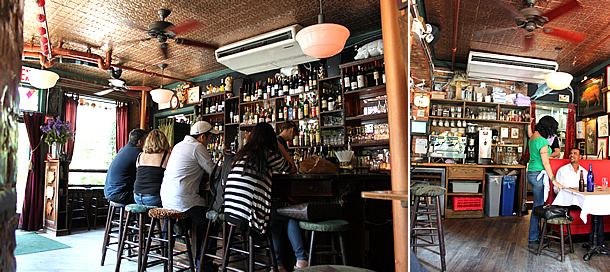 The Spotted Pig had a warm, cozy, boutique-ish atmosphere with a cool ambiance and décor. The restaurant had two levels of seating for about 100 people total. The modern British pub had a casual setting with a lofty apartment feel with fun mismatched nooks and crannies throughout. The insanely hip gastropub is often jam packed with customers (8pm to 10pm is usually the busiest time) with waits that can be to 2-3 hours.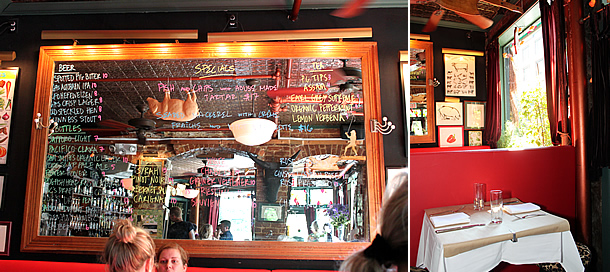 The Spotted Pig opened in February of 2004. It is owned by celebrity Chef April Bloomfield, restaurateur Ken Friedman, and backed by a stacked celebrity team of investors who are mostly from the entertainment industry — Hip-hop artist Jay-Z, DJ and producer Fatboy Slim, U2′s lead singer Bono, R.E.M.'s lead singer Michael Stipe, prominent music-industry lawyer Michael Guido, longtime U2 manager Paul McGuinness and restaurateur, media personality and famous American chef Mario Batali.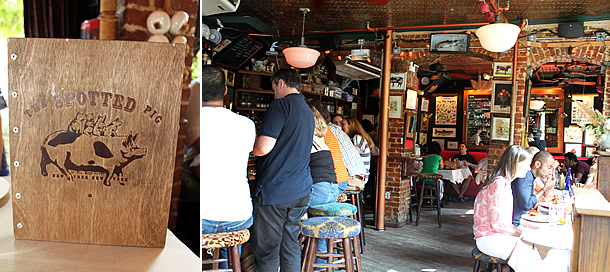 Before opening The Spotted Pig, celebrity Chef April Bloomfield trained in Ireland, England and California. In addition, she brought a wealth of culinary experience having cooked at notable restaurants like the River Cafe, Kensington Place, Bibendum and Chez Panisse.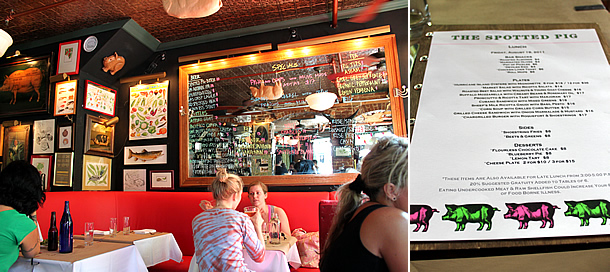 The Spotted Pig serves seasonal British & Italian dishes using local ingredients when possible. One of their most famous dishes is the Chargrilled Burger which has drawn many been featured on many top burger lists so of course we had to try it.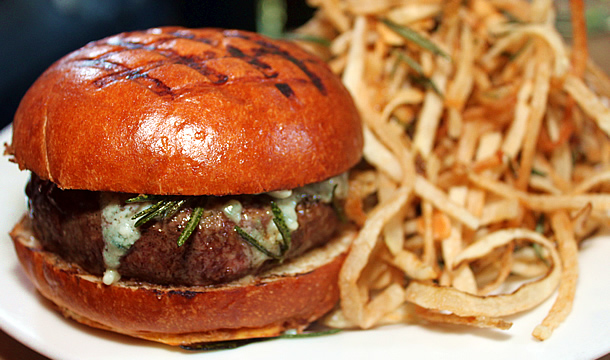 We ordered the signature chargrilled burger w/ Roquefort cheese which came with shoestring fries ($17).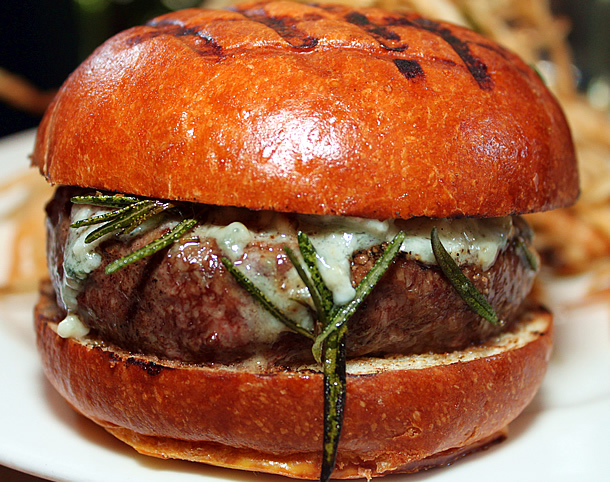 The chargrilled burger was simple yet incredible and one of the best burgers in New York we've had. The burger came served on a delectable grilled bun and topped with a delicious and highly-flavored blue cheese, Roquefort cheese, considered one of the greatest cheeses of France.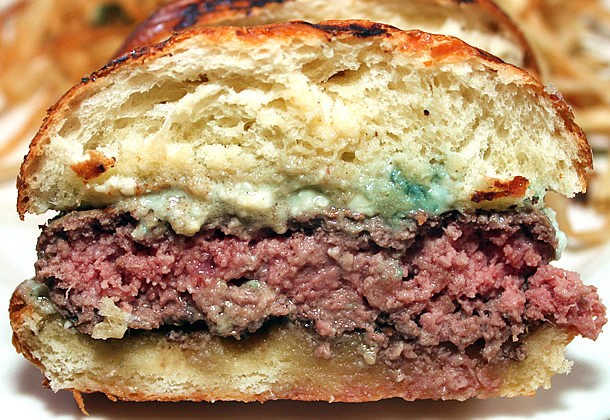 The delicious burger made from a blend of brisket, rump and chuck was tasty, juicy, cooked and flavored to perfection. The melted Roquefort over the burger was distributed so it could be tasted in each bite.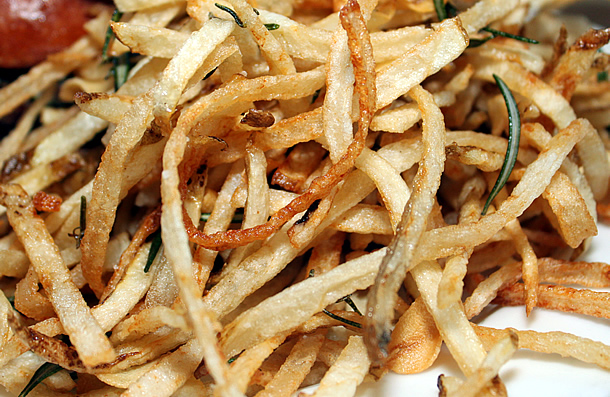 The heaping mound of shoestring fries that came with the burger were excellent and quite addictive. The fries were thing, crispy on the outside and lightly salted.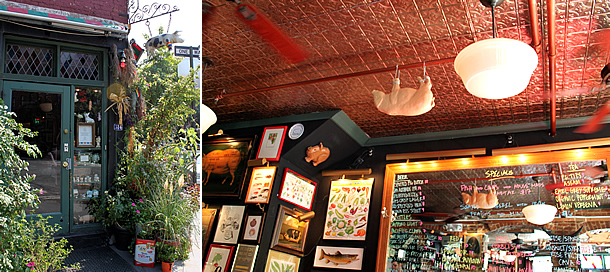 If you're looking for a hip gastropub with one of the best burgers in New York, be sure to visit The Spotted Pig in West Village. It's a must visit in NYC!