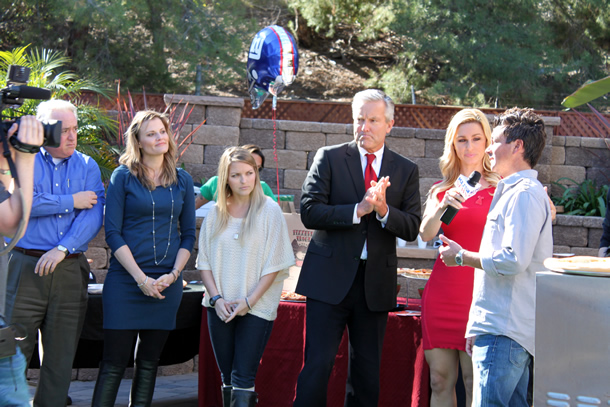 Steve Carlson from Food Smackdown has sampled pizzas all across San Diego and has ate at some of the best pizza places throughout the country. This years Super Bowl party would not be complete with out pizza pies. That's why Food Smackdown has created a list of Top Pizza Places in San Diego to help guide you on one of the biggest days of the year for pizza sales — The Super Bowl!
KUSI News TV teamed up with Steve Carlson from FoodSmackdown.com for a Top Pizza Places in San Diego segement for Super Bowl 46. The live feature included some of the best pizza places in San Diego from Food Smackdown's list — BASIC, Blackstone Pizza, Carmine's, Lefty's Chicago Pizza, Pizzeria Luigi, Sicilian Thing and URBN. If you missed it, check out part of the first segment here.

Seen with Steve Carlson from Food Smackdown in pictures above are KUSI News teams very own Alexis DelChiaro, David Davis, Brad Perry, Leslie Lopez, Bridget Naso and Aida Soria.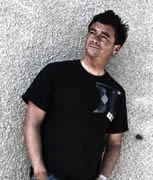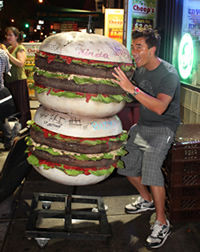 ABOUT FOOD SMACKDOWN: When the battle over where to eat lunch heats up, consult the website that has Southern California buzzing. FoodSmackdown.com is the only place to get honest, good-eats advice about the best places to dine on burgers, pizza, sandwiches, wings and food trucks. Founded by foodie, food photographer, and consultant Steve Carlson, known as a "famous food critic" by San Diego locals, Food Smackdown revolves around his personal experiences in some of the most highly recommended joints to small, hole-in-the-wall restaurants. Food Smackdown puts a wealth of delectable knowledge right at the fingertips of SoCal's populace, so there's never another dining fiasco. The site features reviews that include mouth-watering photos, directions and pricing, atmosphere and service ratings, and of course how it all adds up on the taste buds.
For additional information about Food Smackdown, or to schedule an interview with editor, writer, and foodie expert Steve Carlson, contact steve@foodsmackdown.com.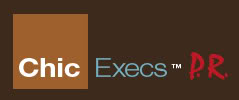 ChicExecs PR is an "out of the box" PR company which represents over 100 clients. ChicExecs has created an innovative approach to PR dedicated to helping businesses receive media coverage. Our revolutionary automated system is changing the face of PR. To learn more about ChicExecs visit www.chicexecs.com.