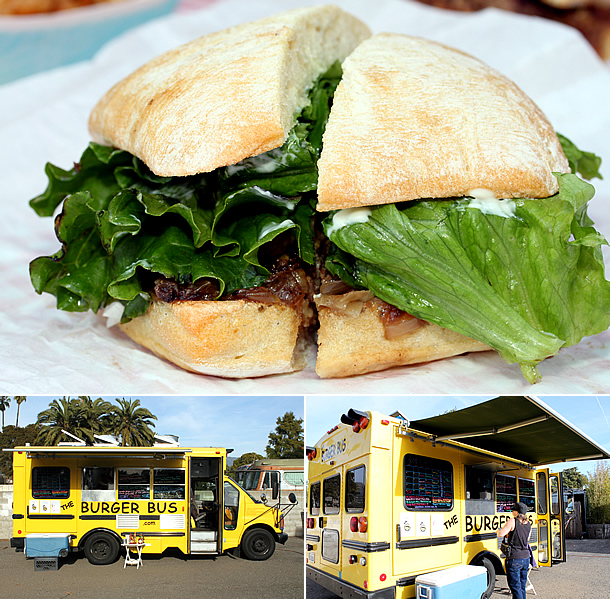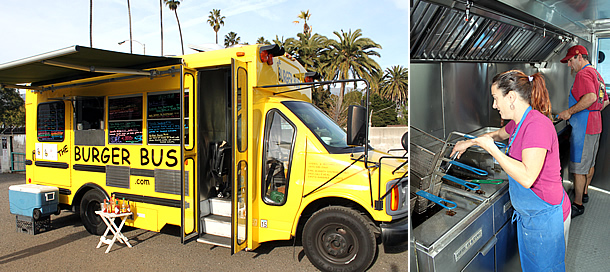 The Burger Bus in Santa Barbara, California is small school bus transformed into a food truck that makes burgers. Husband and wife team and Burger Bus owners Michael and Cheryl Gardener chose a school bus because new food trucks were too expensive and used trucks were dated and insufficient. As a result, they've created one of the most original and fun food trucks in town – The Burger Bus.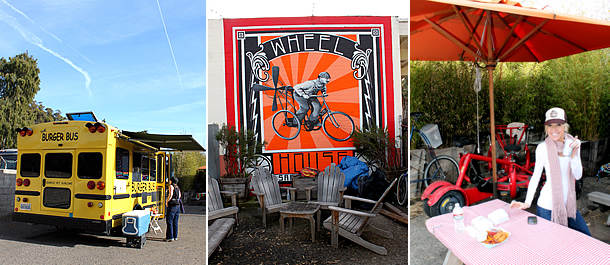 We caught up with Michael and Cheryl at their weekly Friday truck-stop at the Wheelhouse in Santa Barbara and had a chance to speak with them. While many food truck owners seem to experience burn-out – Michael and Cheryl seem to have an internal fire about what they do. The couple was super-friendly, welcoming, sociable and very-enthusiastic and we could tell they took great pride in perfecting their burgers.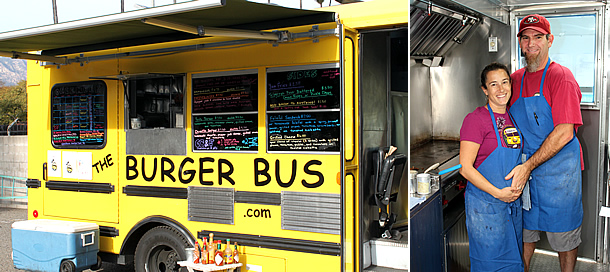 The burgers at the Burger Bus are made of 100% grass-fed and hormone-free beef from Shalhoobs Meat Company and they use other locally-sourced products. The jalapeño jelly used on their burgers from a local company and the fresh-baked ciabatta rolls from a local bakery.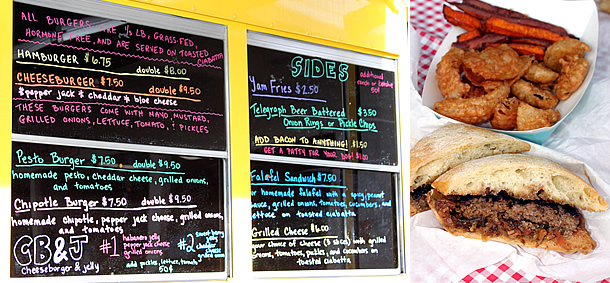 We ordered a Gonzo Burger (not on the menu), a Cheeseburger and a mixed side of yam fries, Telegraph Beer battered onion rings and pickle chips.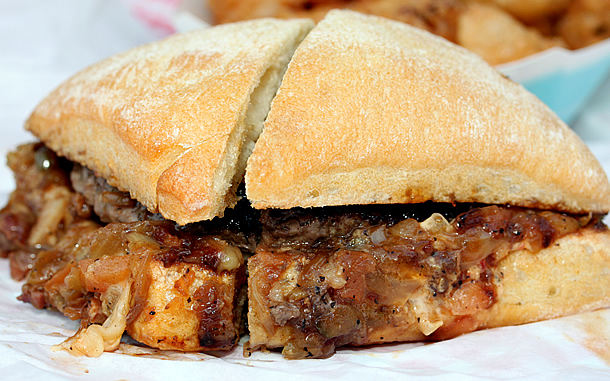 The "Gonzo" is not on the menu — It is a well-thought out concoction of whatever Chef Michael feels like making you at the moment you order. You can of course give input or remind him of what he made you the last time you ordered but it's fun to live a little and let him do his thing!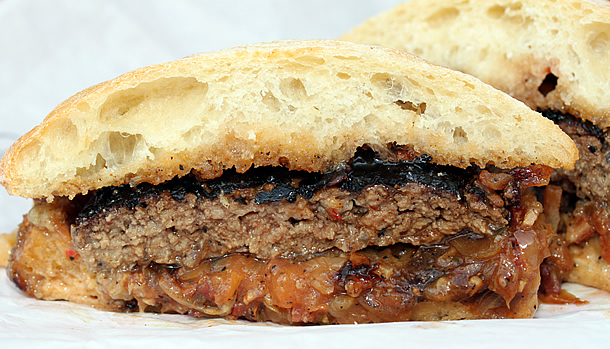 The Gonzo Burger we had was incredible and one of our favorites! It came with a chipotle grilled patty, bacon, blue cheese, tomato, pickle, grilled onion, falafel sauce and hot jelly on a fresh ciabatta bun. The chipotle grilled patty was juicy, flavorful and cooked to perfection. The fresh ciabatta bun from a local bakery was excellent. We were a bit skeptical about hot jelly on the burger but it turned out to be absolutely amazing. All the flavors on this burger blended perfectly together – If we had to grade this burger we'd have to give it an A+.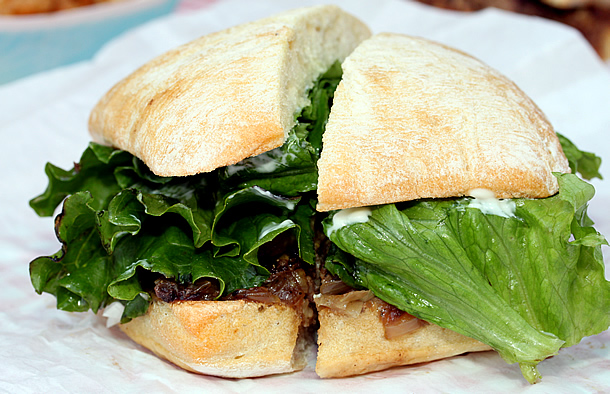 The cheeseburger was also delicious! The cheeseburger came with a 1/3 lb. of beef, cheddar cheese, mayo, mustard, grilled onions, lettuce, tomato and pickles served on a ciabatta bun.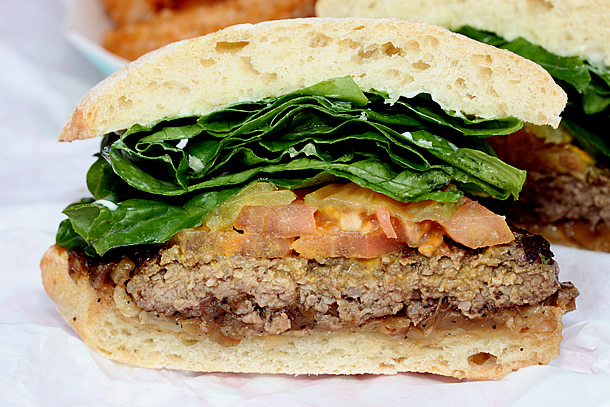 The meat was juicy and cook to perfection. We loved the melted cheddar along with all the fixings on the fresh ciabatta bun. All burgers come with a 1/3 lb. of grass-fed beef, hormone free and are served on a fresh ciabatta bun from a local bakery.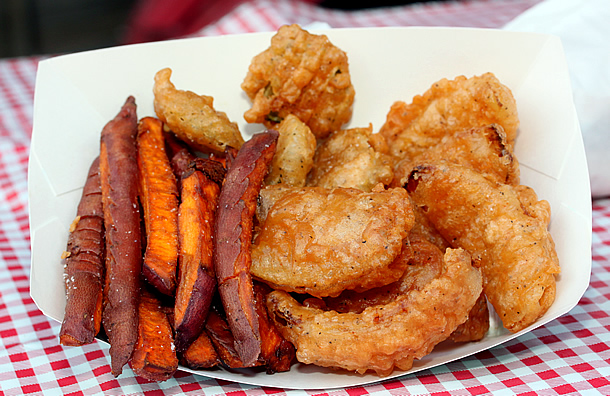 The yam fries, Telegraph beer battered onion rings and pickle chips were to die for! Not because they were deep-fried but because they were soooo good!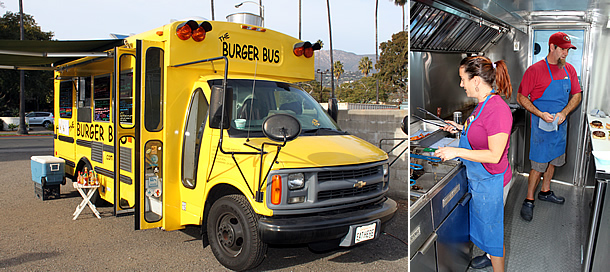 We thoroughly enjoyed our visit at the Burger Truck in Santa Barbara California. The burgers were amazing and the fried sides were to die for. If you're in the Santa Barbara area, Burger Bus is a must try! Be sure to get the "Gonzo" burger (not on the menu) – You won't be disappointed!