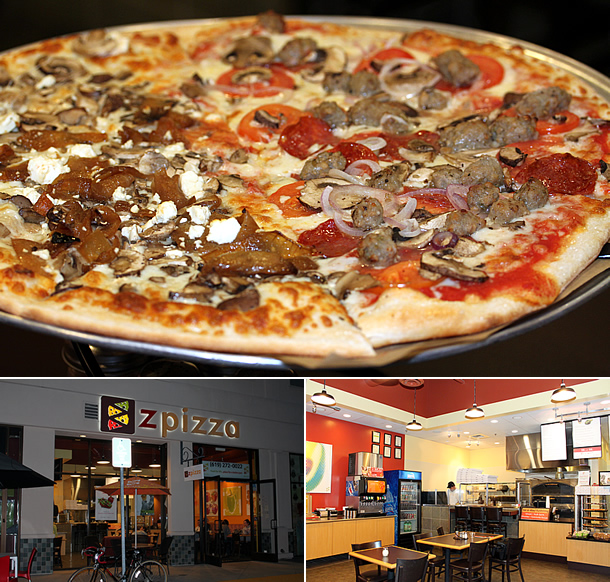 ZPizza offers an alternative to the greasy pizza we've grown to love so much. The pizza we had at Zpizza was delicious, flavorful and probably one of the healthiest pizza's we've had. There was hardly any grease on the pizza and we actually felt healthy after eating it.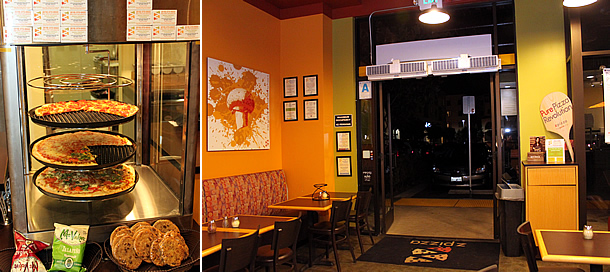 ZPizza was founded by Sid Fanarof in Laguna Beach California – Inspired by the artist community and healthy environment Laguna Beach offers. ZPizza makes health conscientious pizza using all organic ingredients and rich and flavorful Wisconsin cheese. Zpizza uses the finest, freshest and healthiest ingredients available. Also, ZPizza supports the preservation and improvement of the environment with many environmental initiatives such as organic and allergen-free ingredients (gluten-free and vegan), 100% recyclable containers and bags and eco-delivery bikes to reduce carbon emissions to name a few.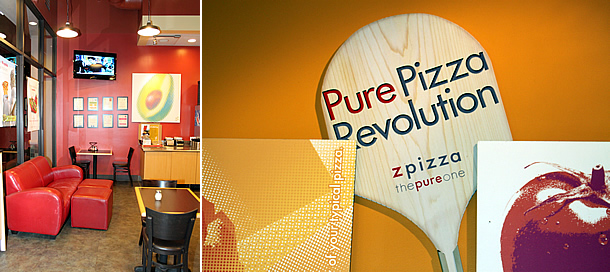 The inside of ZPizza was clean and comfy with warm colors and a contemporary design. There was cozy booth seating, a small couch area for lounging and few table and chair setups. The ZPizza we visited was unassumingly located in a strip mall (and was hard for us to find) on Linda Vista Rd in San Diego.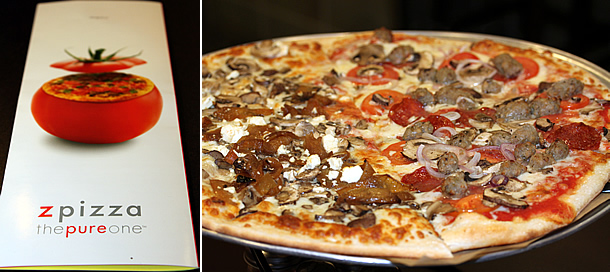 We ordered one x-large pizza – Half American and half Tuscan ($19.95). Zpizza's dough is made from 100% organic wheat flour prepared fresh every day, hand-thrown and fire-baked until uniquely crisp. ZPizza combines select ingredients using award-winning skim mozzarella from Wisconsin, certified organic tomato sauce, MSG-free pepperoni, additive-free sausage, and fresh produce.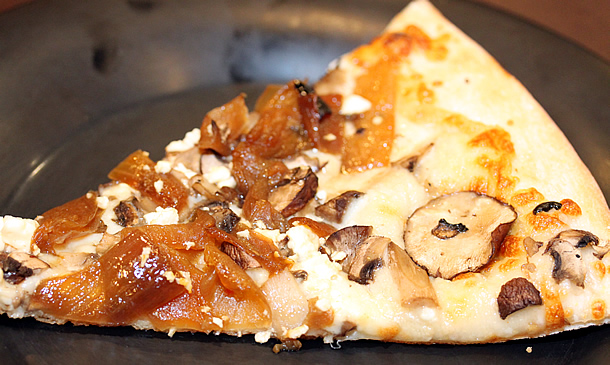 The Tuscan half was also good. If you like garlic and onions you'll probably like this pizza – The caramelized onions were slightly over-powering. It came with roasted garlic sauce, mozzarella, cremini, shiitake and button mushrooms, caramelized onions, feta, truffle oil and thyme.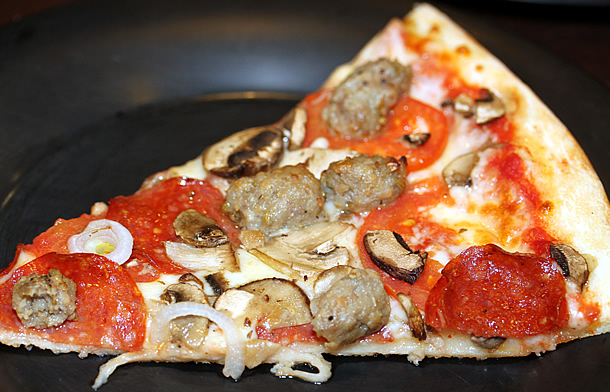 The American pizza half was delicious. It came with organic tomato sauce, mozzarella, pepperoni, sausage, tomatoes, mushrooms, bell peppers and red onions.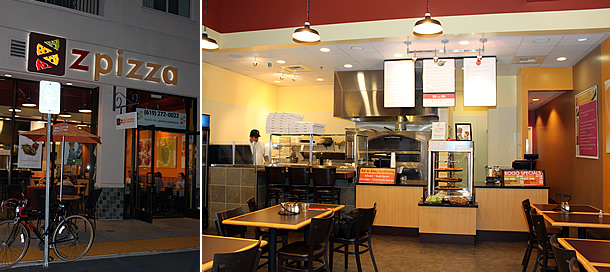 From the creation of their pizza to its delivery to the customer, ZPizza leaves no stone left unturned. For delicious and healthy pizza, give Zpizza a try. While it's not cheap, your body will thank you later!