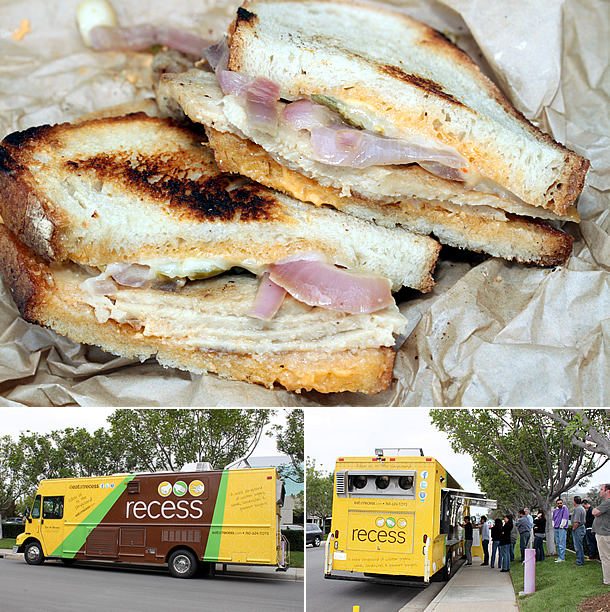 Recess is a state-of-the-art food truck (with a school theme) in San Diego California that combines playtime and technology with gourmet food truck fare. Eat at Recess had a cool 50-inch LCD and Xbox Kinect and Blu-ray player for entertainment and speakers playing any tune you can imagine.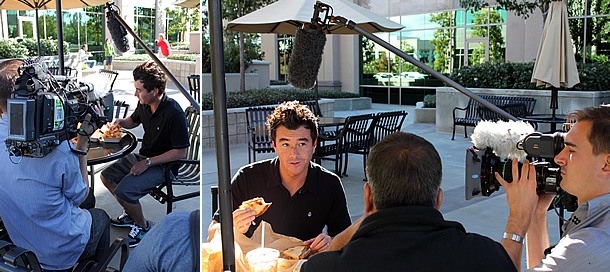 We caught up with Recess on two occasions – Once during a regular lunch stop and again when Food Smackdown was chosen to join Cooking Channel's Eat St. as an expert food critic during their taping of Recess. And rest assured, we had a lot of good things to say!

Recess was just one of four food trucks being filmed by Eat Street as part of a Season 3 episode featuring four San Diego food trucks. And it's no wonder why. Recess is unique, fun and the food is amazing! And not to mention, owners Jason and Rachel are super friendly too.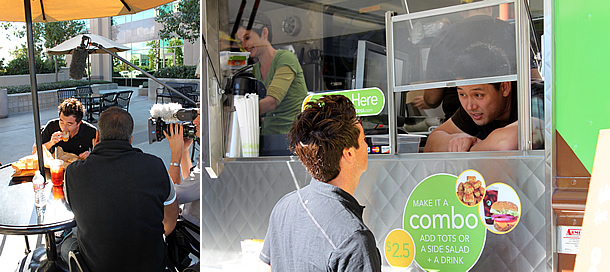 The mobile playground serves custom organic salads, sandwiches, and gourmet burgers not found in your typical lunch box or brown bagged lunch. Recess sources organic and local ingredients whenever possible and continually adds organic and local farmers to their list.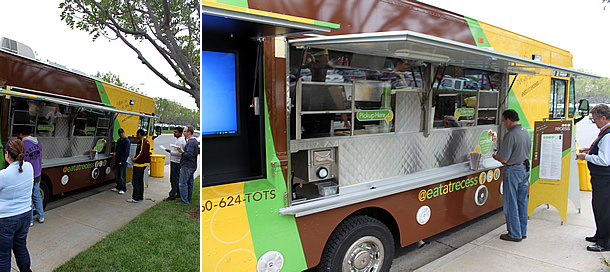 At Recess food truck you can also place your order online and they'll text you when it's ready. Their menu consisted of hot and cold sandwiches, sides, beverages and breakfast. The animal products used are all natural and humanely raised and they use local and organic produce as much as possible. Also, everything is served in earth-friendly 100% compostable packaging.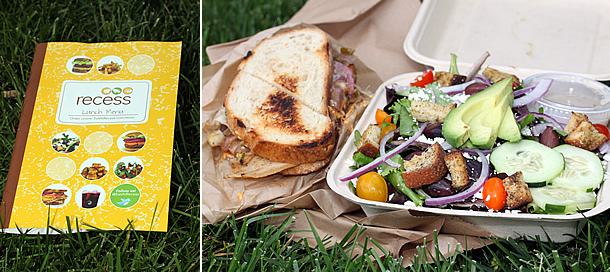 We ordered the Red Light vegetarian turkey sandwich ($6.50), the Exchange Student salad ($7.50), The Bully Burger ($7.50), AP Tater Tots ($3.00), Remedial Tots ($3.00) and a Recess Shirley Temple ($1.80).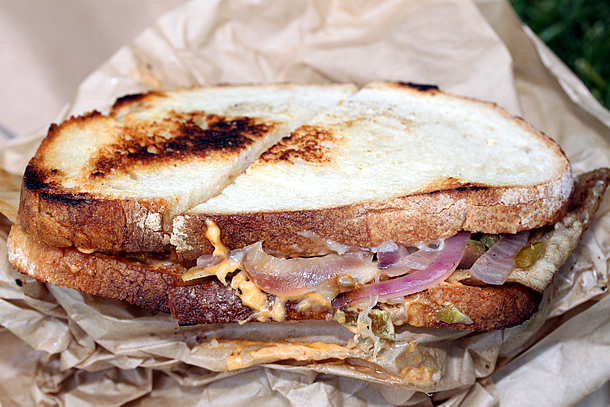 The Red Light sandwich was delicious and came with grilled vegetarian turkey, caramelized onions, melted Havarti, jalapenos and spicy Recess sauce on buttery and lightly toasted sourdough bread.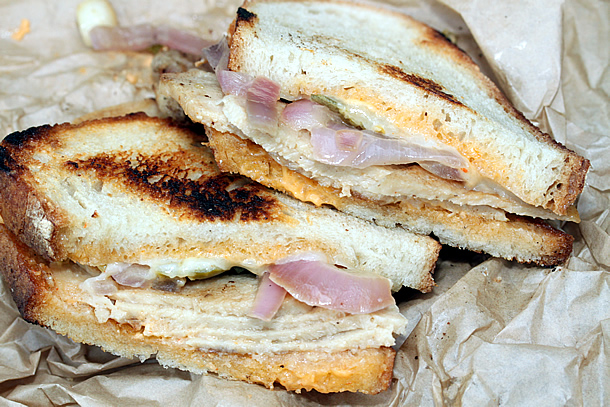 The grilled vegetarian turkey was amazing. The meatless turkey was moist, full of flavor and tasted just like real turkey. The spicy Recess sauce and jalapenos added a nice little kick to the sandwich which we really liked. For a not-so-spicy option you can choose the Green Light sandwich (rather than Red Light), which replaces the jalapenos and spicy Recess sauce with garlicky aioli.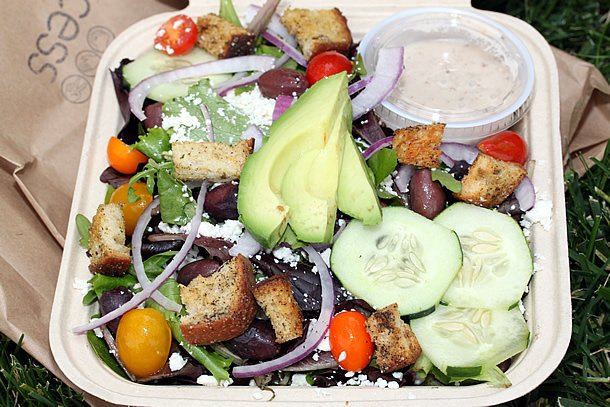 The Exchange Student salad was piled high with fresh and crisp veggies – The salad was gourmet and delicious. It came with cool cucumber, Kalamata olives, tomatoes, sliced red onion, and crumbled feta on a bed of organic spring mix, sprinkled with seasoned croutons. On the side was a delicious creamy Greek dressing. There's also a cool option on the menu to build your own salad.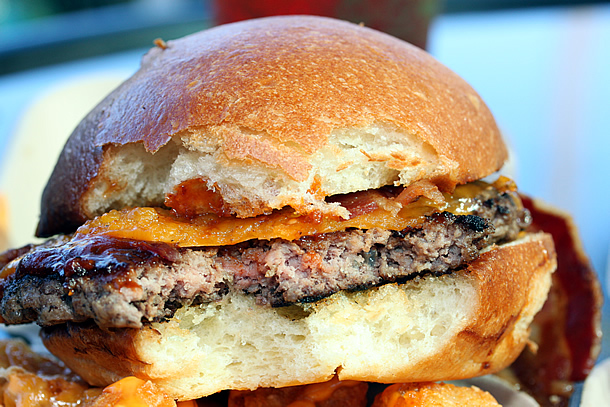 The Bully Burger was also delicious. It came with a 1/3lb grass-fed patty, top it with applewood smoked bacon, slather on spicy BBQ sauce, grilled onions and cheddar. The beef juicy and cooked to perfection (pink throughout).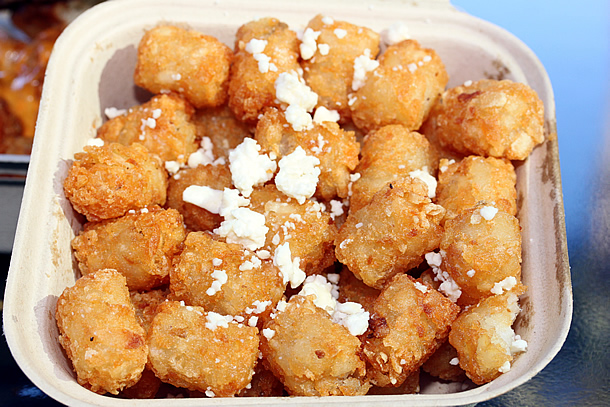 The AP Tots were incredible! The AP tots were a crisp golden brown on the outside but moist and super juicy on the inside. The tots were cooked to perfection with truffle oil and topped with tasty feta cheese.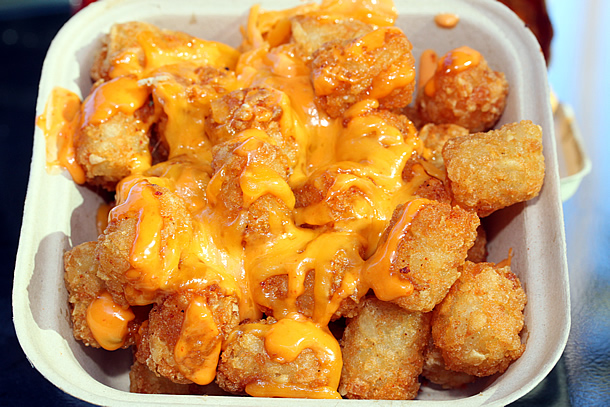 The Remedial Tots were also mind-blowing! These tots were seasoned with zesty crispy bacon-salt and topped with cheddar cheese and Recess signature sauce. The tots were mouth-watering, crisp on the outside and were bursting with flavor with each bite.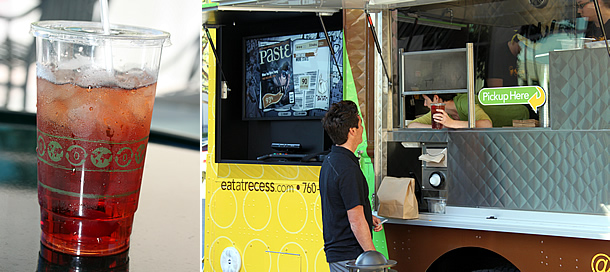 The Recess Shirley Temple ($1.80) was spot on and an excellent addition to our meal. It was made from the perfect blend of Boylan's Ginger Ale and Boylan's Black Cherry soda – It was crisp and refreshing with a twist of sweetness.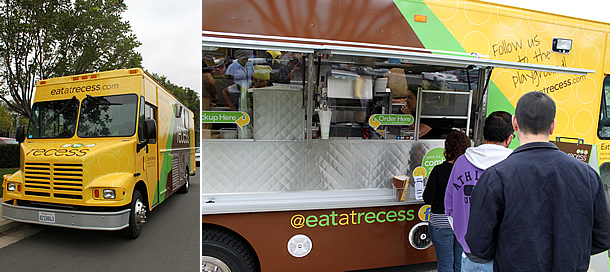 When the lunch bell rings there's one food truck that stands out, Recess. To make the most of your lunch hour with entertainment and great eats, stop by Recess food truck. You won't be disappointed!