Food Smackdown Donates to the Junior League of Orange County's The Christmas Company Event!
Food Smackdown's Top OC Burger Spots and Food Trucks Silent Auction Gift Basket!
For interviews, for permission to use content… or for additional questions, contact steve@foodsmackdown.com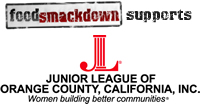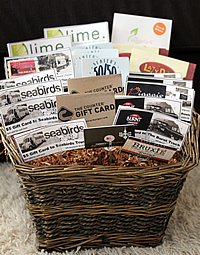 Thousands of guests will be converging at the Orange County Fair and Event Center November 17th-20th for the Junior League of Orange County's 36th Annual event, The Christmas Company. Food Smackdown is excited to partner with this fantastic charity to bring awareness and raise money for programs that support the health, safety, and education of women and children in the Orange County community.
FoodSmackdown.com is the premier site for the latest and tastiest in restaurant critiques from around the San Diego and Orange County areas. From mouthwatering photos to helpful articles on restaurants' service, atmosphere, and the price to product ratio, Food Smackdown takes note of the best of the best. They've gathered together gift cards from the top OC burger spots and food trucks into a silent auction gift basket plentiful enough to get you through the holiday season.
All proceeds from the event will be passed back to the Junior League of Orange County and distributed to non-profits like Second Harvest Food Bank, Olive Crest, The Orangewood Children's Foundation, the Children's Hospital of Orange County, and more. So break out that pocketbook and get a taste for the top thirteen food stops in the OC.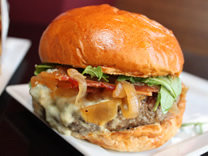 TWENTY FIVE DEGREES – HUNTINGTON BEACH, CA. Don't let the bordello mood at 25 Degrees confuse you. This Huntington Beach staple is a high class burger bar where customers can get a truly gourmet burger paired with specialty wine, handcrafted cocktails, or adult-inspired milkshakes and sodas. Old Hollywood charm pairs well with their Number One burger topped with caramelized onions, prelibato gorgonzola, crescenza, bacon, arugula, and Thousand Island dressing. http://www.foodsmackdown.com/2011/06/25-degrees-huntington-beach-california/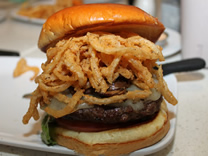 THE COUNTER – NEWPORT BEACH, CA. The Counter is Newport Beach and Irvine's very own build your own burger joint offering over 300,000 different burger combinations for a dining experience that changes every time. Relax in their hip atmosphere while picking out every ingredient from the bun to the cheese. They've also got scrumptious pre-selected burgers like their Signature Burger complete with 1/3 lb patty, cheddar, a lettuce blend, onion, pickle, and tomato. http://www.foodsmackdown.com/2011/06/the-counter-newport-beach-california/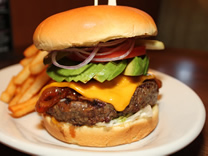 THE LAZY DOG CAFE – WESTMINSTER, CA. The Lazy Dog Café in Westminster is a fun stop for the whole family thanks to its warm atmosphere and cooked-to-perfection burgers. They offer the classic Lazy Dog Burger as well as a number of gastronomic delights including the Baja California Burger with roasted jalapenos and the Asian Ahi Tuna Burger. Each burger is served with the customer's choice of either coleslaw, sweet corn salad, or fries. http://www.foodsmackdown.com/2011/09/the-lazy-dog-cafe-westminster-california/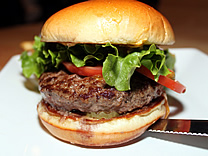 STACKED – CERRITOS, CA. Cerritos is home to Stacked, where the food is always well built thanks to its cutting edge new way of ordering. Each table is equipped with a tabletop iPad where customers get to customize their meal and send it off to the kitchen. Stacked uses high quality ingredients in all their hamburgers, pizzas, salads, sausages, and desserts. http://www.foodsmackdown.com/2011/09/stacked-san-diego-california/
THE VEGGIE GRILL – IRVINE, CA. The Veggie Grill in Irvine has got all the vegetarians covered with their own take on burgers. Their Vegan VG-Cheeseburger has been touted as one of the best of its kind with a wheat meat soy burger and vegan cheese that tastes and feels close to the real meat thing. Fast, friendly service and an inviting atmosphere make The Veggie Grill a safe place to take the plunge into a veggie-centric meal. http://www.foodsmackdown.com/2011/07/the-veggie-grill-burger-irvine-california/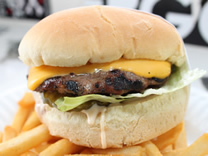 TK BURGERS – HUNTINGTON BEACH, CA. For a quick and delicious burger that won't break the bank, TK Burger in Mission Viejo, Huntington Beach, or Costa Mesa is sure to please. Their fresh burgers are prepared with meat delivered daily and showcased on custom baked buns. Relax in their surf themed dining area while munching on a cheeseburger paired with their perfectly crispy fries special for only $5.59. http://www.foodsmackdown.com/2011/09/tk-burgers-huntington-beach-california/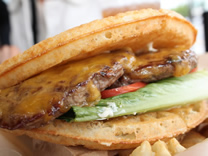 BRUXIE – ORANGE, CA. Check out Bruxie in Orange (or visit their second location that just opened in Brea) for a unique Belgium waffle burger and delicious desserts. This little hole-in-the-wall stop boasts a retro design and a strong love for the waffle. Choose from over a dozen sandwiches served on waffles and complete with waffle fries. Top it all off with one of their soft serve frozen custards, shakes, sundaes or floats. http://www.foodsmackdown.com/2011/06/bruxie-tustin-california/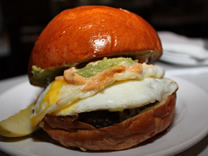 SLATER'S 50/50 – ANAHEIM, CA. Slater's 50/50 in Anaheim Hills and Huntington Beach is home to Slater's 50/50, a fun sports bar stocked full of reasonably priced food and an extensive beer list of over 50 brews. Their claim to fame is the enormous "50/50″ burger that comes with a patty topped with a fried egg, avocado mash, pepper jack cheese, and chipotle mayo. Pair it with their half off appetizers at happy hour! http://www.foodsmackdown.com/2011/06/slaters-50-50-anaheim-hills-california/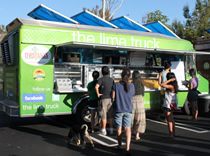 THE LIME TRUCK – ORANGE COUNTY, CA. As seen on the Food Network's The Great Food Truck Race hosted by Tyler Florence, Orange County's Lime Truck is a bright beacon of good eats to the communities of Orange County. Their menu offers a number of delicious items for dining on-the-go. Try their Yum Yum Lamb Sandwich for a bit of juicy Greek gyro paired with cool Tzaziki and spicy Siracha sauces. http://www.foodsmackdown.com/2011/08/the-lime-truck-orange-county-california/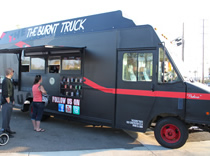 THE BURNT TRUCK – ORANGE COUNTY, CA. The Burnt Truck is an Orange County favorite among foodies and gourmet food truck fanatics. It's an on-the-go eatery that specializes in $2.50 gourmet sliders, tater tots, and yummy combos. Take a break and kick back in the parking lot with friends and family at one of their weekly OC food truck stops and eat as many sliders as it takes to fuel up. http://www.foodsmackdown.com/2011/08/the-burnt-truck-orange-county-california/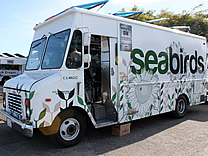 SEABIRDS TRUCK – ORANGE COUNTY, CA. Prowling the Irvine streets is the Seabirds Food Truck. Their delectable vegan meals are made from the freshest ingredients from locally grown, organic farms. For those looking to delight their taste buds, the Beer Battered Avocado Tacos are a must sample. Creamy avocado wedges are topped with a cilantro-jalapeno sauce and red cabbage slaw that add depths of flavor. http://www.foodsmackdown.com/2011/11/seabirds-food-truck-irvine-california/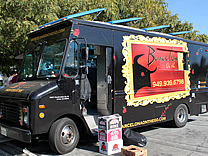 BARCELONA ONTHEGO – ORANGE COUNTY, CA. Costa Mesa is home to another exotic food truck–Barcelona Onthego. The flavors of Spanish cuisine collide with modern cooking techniques and local products for flavorful results. Their signature USDA Prime Top Sirloin and Fries with Chimichurri is a delectable mingling of premium beef with garlic and spices atop crunchy fries. http://www.foodsmackdown.com/2011/11/barcelona-onthego-irvine-california/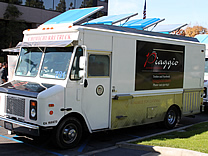 PIAGGIO GOURMET ON WHEELS – ORANGE COUNTY, CA. Piaggio Gourmet on Wheels is a tasty stop for authentic Argentine food with everything on the menu for only $9 or less. Their blend of Argentine flavor with the American food culture has taken empanadas, skirt steak, and chimichurri to SoCal's streets. Each week the menu changes, but if the chance arises check out their Porker Sandwich featuring marinated pork loin, roasted red peppers, bleu cheese, and chimichurri. http://www.foodsmackdown.com/2011/11/piaggio-gourmet-on-wheels-newport-beach-california/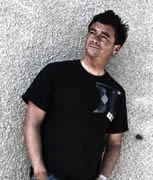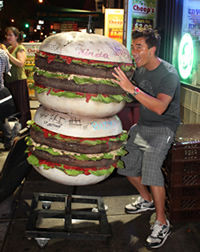 ABOUT FOOD SMACKDOWN: When the battle over where to eat lunch heats up, consult the website that has Southern California buzzing. FoodSmackdown.com is the only place to get honest, good-eats advice about the best places to dine on burgers, pizza, sandwiches, and wings. Founded by foodie, food photographer, and consultant Steve Carlson, known as a "famous food critic" by San Diego locals, Food Smackdown revolves around his personal experiences in some of the most highly recommended joints to small, hole-in-the-wall restaurants. Food Smackdown puts a wealth of delectable knowledge right at the fingertips of SoCal's populace, so there's never another dining fiasco. The site features reviews that include mouth-watering photos, directions and pricing, atmosphere and service ratings, and of course how it all adds up on the taste buds.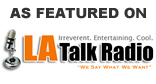 Steve Carlson from Food Smackdown joins LA Talk Radio's Broad Topics with Laura Nickerson, LaFern Cusack & Lauren Kelley live on-air on Tuesday, November 15, 2011 to talk about Food Smackdown and its involvement in The Junior League of Orange County's The Christmas Company charity event! You can listen to the podcast or download here.
For additional information about Food Smackdown, or to schedule an interview with editor, writer, and foodie expert Steve Carlson, contact steve@foodsmackdown.com.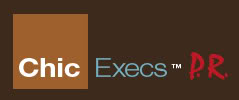 ChicExecs PR is an "out of the box" PR company which represents over 100 clients. ChicExecs has created an innovative approach to PR dedicated to helping businesses receive media coverage. Our revolutionary automated system is changing the face of PR. To learn more about ChicExecs visit www.chicexecs.com.