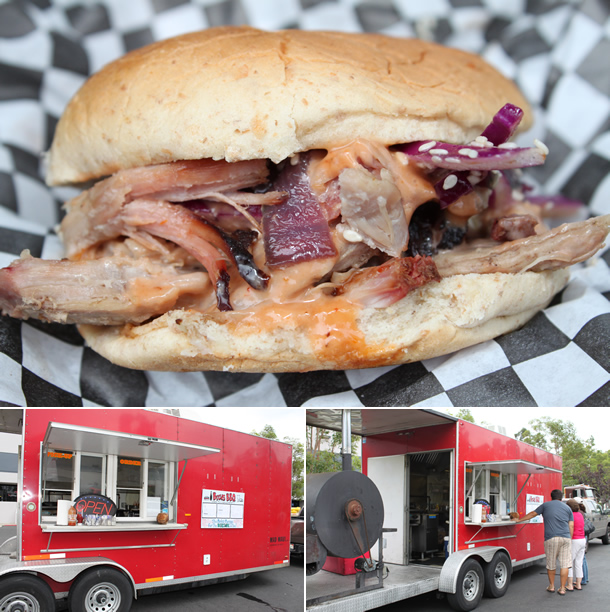 Mad Maui BBQ food truck makes stops throughout the week in North County San Diego but also provides catering for parties and special events. We actually heard about the Mad Maui BBQ food truck through a coupon deal. Hawaiian BBQ fusion food from a restaurant on wheels sounded to cool to pass up! And we're so glad we tried it. Mad Maui BBQ had delicious food, a unique design and friendly service.


We visited the Mad Maui BBQ food truck on Labor Day. It was parked in front of The Lost Abbey Brewery in San Marcos (located at 155 Mata Way at Rancheros Drive). The unassuming location tucked away in what looked like an industrial area could make it a little hard to find unless you knew about it.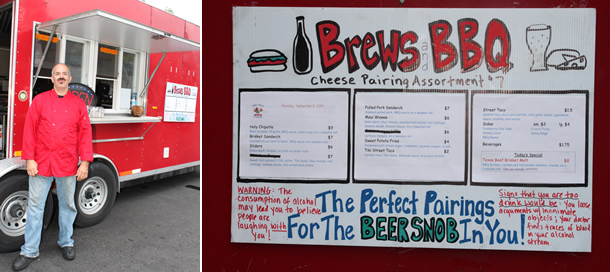 The food truck had a cool design with a brilliant red color and open BBQ on the back of the trailer. It was nice to meet and speak with the friendly owner (Tore). Tore Trupiano and Melissa Tanksley are the owners and masterminds behind Mad Maui's creativity.


We ordered a Maui Wowee sandwich ($6), a Texas Beef Brisket Melt ($8) and a side of sweet potato fries ($4). The Texas Beef Brisket Melt was the special of the day.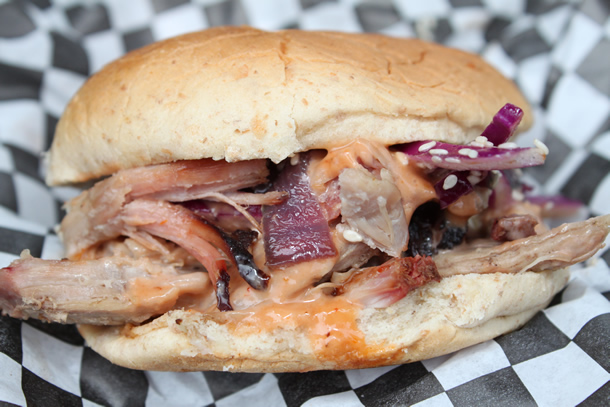 The Maui Wowee sandwich was delicious. It came with delicious Kalua pork, blue cheese, sautéed red onions, red cabbage, sesame seeds, and Wowee sauce in a Hawaiian bun.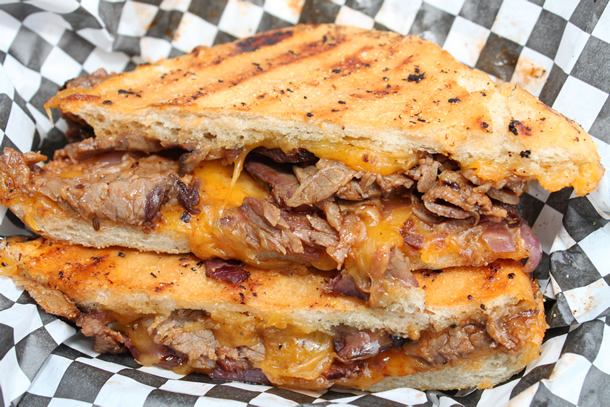 The Texas Beef Brisket Melt was also very good. It came with BBQ brisket, caramelized red onions, and cheddar cheese on a Ciabbata roll. The sandwich had a grilled flavor and was full of meat and cheese.

The sweet potato fries were yummy and had a crinkle cut texture. The fries were soft on the inside with a nice light crisp on the outside.


Overall we enjoyed our experience at the Mad Maui BBQ and having Hawaiian BBQ from a food truck with "flavor so insane it will drive you mad!" The food we ordered was delicious, the service was friendly and the prices were reasonable (everything on the menu was under $10). For Hawaiian food meshed with some of the Mainland's most favored BBQ tastes, Mad Maui BBQ food truck is a must try!