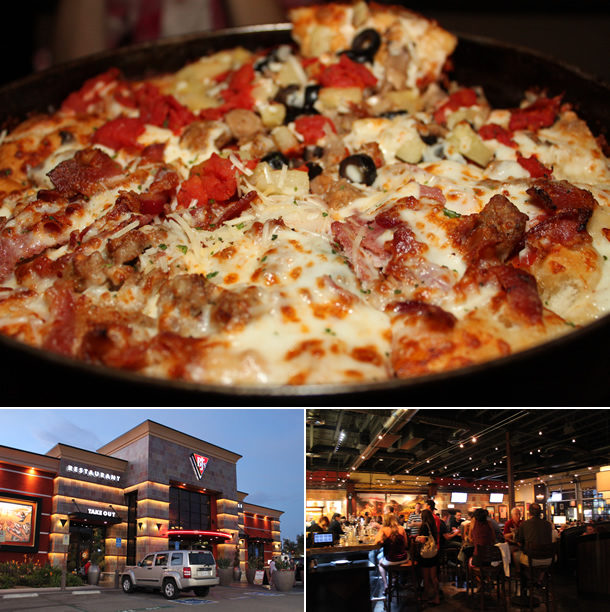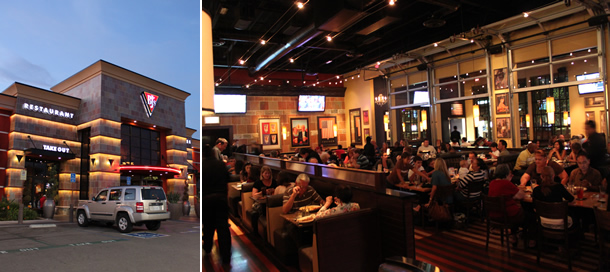 We hadn't been to BJ's Restaurant & Brewhouse (BJ's) in years. But when we heard about their "Party for Two" special ($19.95 for two starters, a medium pizza and a Pizookie dessert) and received a coupon for a free birthday Pizookie dessert via email it seemed like the perfect time to go. And we're so glad we did!

The first BJ's Restaurant & Brewhouse opened in 1978 in Orange County, California (it centered on bringing the unique flavor of deep-dish pizza to California). As of August 2011, BJ's Restaurants, Inc. owns and operates 109 locations throughout the United States with locations in California, Texas, Arizona, Colorado, Oregon, Nevada, Florida, Ohio, Oklahoma, Kentucky, Indiana, Louisiana and Washington. The BJ's we visited is located in the city of Carlsbad (in North County San Diego) just off the 5 freeway on Paseo Del Norte between Cannon Road and Palomar Airport Road.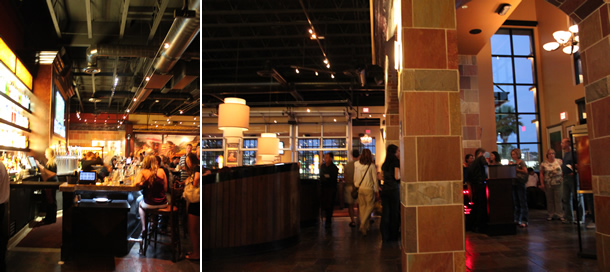 The BJ's in Carlsbad had a fun and relaxed sports bar atmosphere with dimmed lighting which made for a romantic yet casual dining experience (perfect for a fun night out with friends and family or a date). It had a clean, modern and industrial design with a warehouse feel to it with its high ceilings, openness, exposed pipes and four huge roll-up windows (that resembled large roll-up industrial garage doors).

We ordered the "Party for Two" special ($19.95) which included two small salads or soups, a medium signature pizza and one of BJ's famous Pizookie desserts. We also had a free Pizookie birthday coupon for an additional dessert.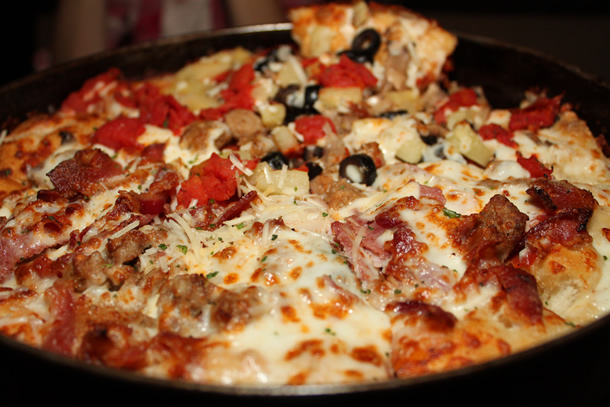 On the medium pizza (8 slices) we had half BJ's Favorite and half Gourmet Five Meat. We also added extra cheese to our pizza and pineapple on half. There was no additional cost with this special for adding toppings which was really nice! The deep dish style pizza was delicious and very filling (2-3 slices each was more than enough).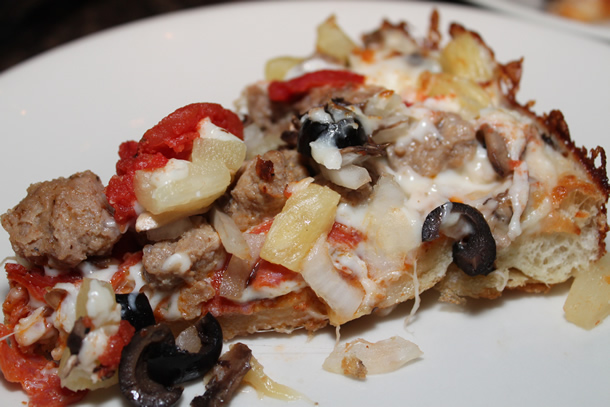 The BJ's Favorite pizza half was delicious. It came with oven baked meatballs, pepperoni, Italian sausage, mushroom, green peppers, black olives, white onions and seasoned tomatoes. We removed the green peppers and added pineapple and extra cheese.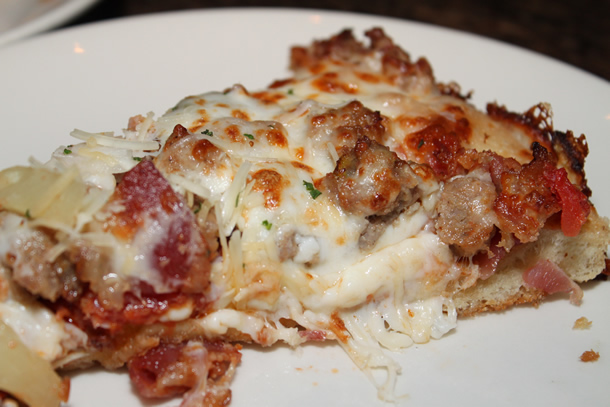 The Gourmet Five Meat pizza half was also super tasty. It came with house-made meatballs, pepperoni, oven roasted ham, salami, Italian sausage and a sprinkle of Parmesan cheese. We also added extra cheese.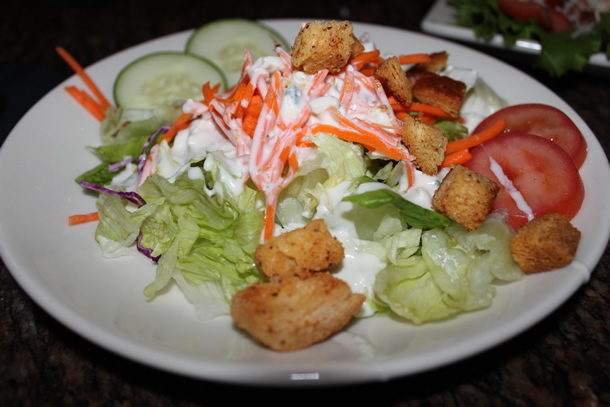 For our starters, we had a small house salad and a mozzarella and tomato salad. The small house salad came with iceberg lettuce, red cabbage, cucumbers, carrots, cucumber slices, tomatoes, croutons and topped with our choice of dressing (we chose blue cheese). The salad was fresh, crisp and very good.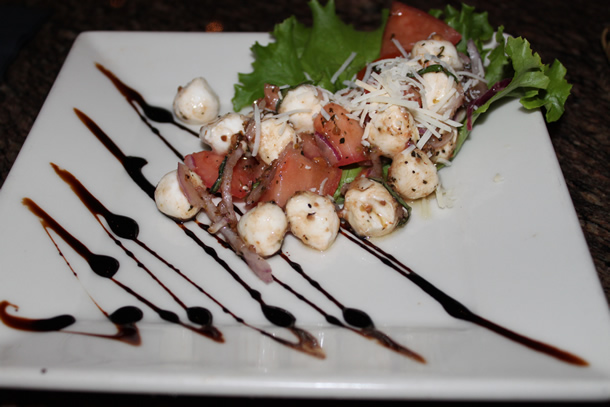 The small mozzarella and tomato salad came with fresh mozzarella balls, tomato wedges with basil, red onion and Parmesan cheese drizzled with balsamic glaze. Overall, we thought the salad was just ok. There was one piece of lettuce and the salad filled about a third of the plate.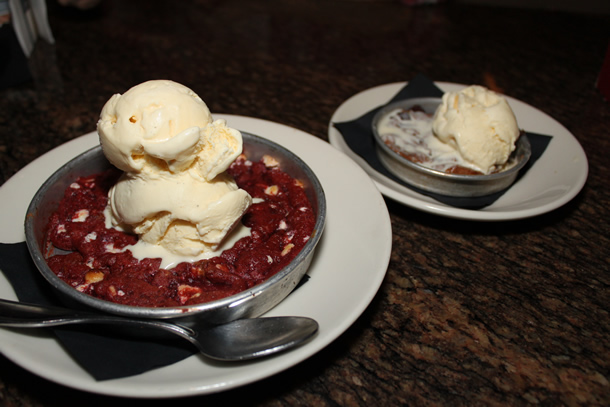 The Pizookie desserts were to die for! We chose the Red Velvet Pizookie and we also had a birthday coupon for a free original Pizookie.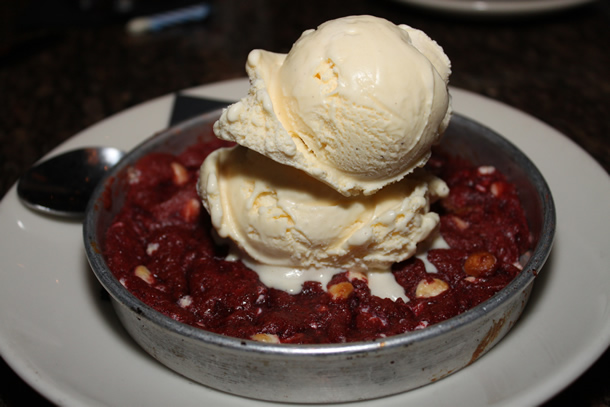 The Red Velvet Pizookie was amazing. It came in a deep dish with freshly baked red velvet cookie, sweetened cream cheese chunks, white chocolate chips, and topped with two scoops of vanilla bean ice cream.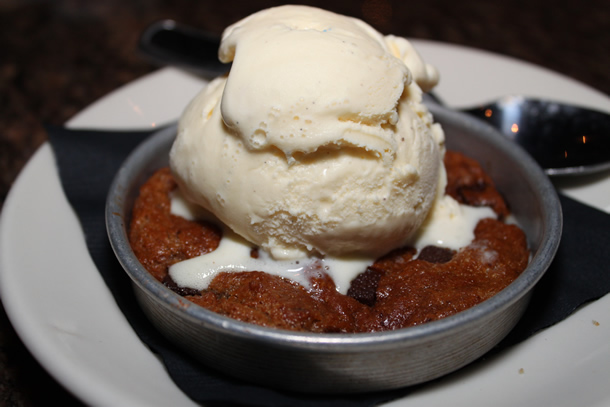 BJ's Famous Pizookie (the original Pizookie) was also excellent. It came with a freshly baked chocolate chip cookie topped with two scoops of vanilla bean ice cream.

Overall we really enjoyed our experience at BJ's. We felt the party for two special ($19.95) was a great deal. It was more than enough food for two. The deep dish pizza was delicious and the Pizookie dessert to die for! For a fun time out with friends, family or your date, BJ's pizza will not disappoint! If the Party for Two special is running be sure to check it out (you'll definitely get your monies worth)!