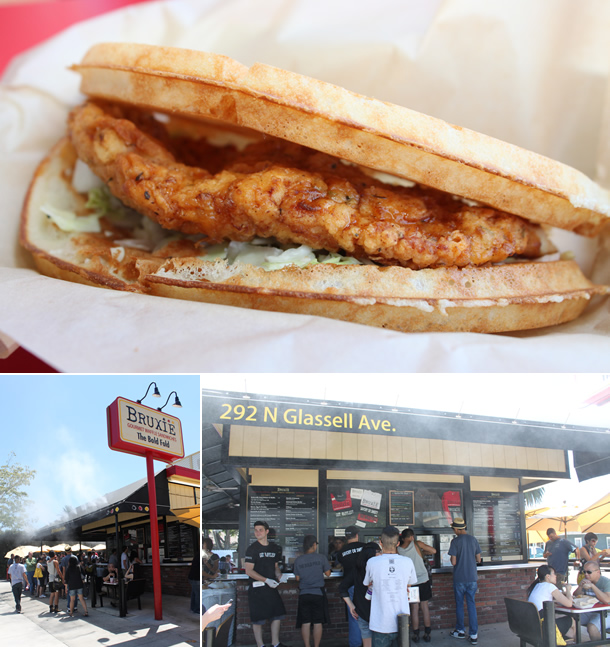 We're back! A few weeks ago we visited Bruxie in Orange to experience the "Bold Fold" and try their Bruxie Burger. It was mad delicious and had us wanting to come back for more. This time we wanted to try their famous Buttermilk Fried Chicken and Waffle Sandwich. Once again, Bruxie did not disappoint. The buttermilk chicken and gourmet waffle sandwich was excellent!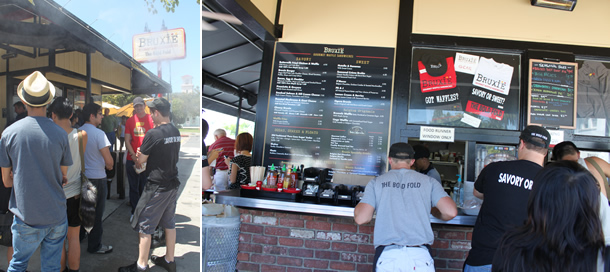 Bruxie is located in the city of Orange (in Old Town Orange) on the corner of Glassell Street and Palm Avenue. The establishment opened in November 2010 and has been growing in popularity ever since. Bruxie has plenty of media attention but even more fans and happy patrons (their 3400+ Facebook followers will agree). And Bruxie #2 (a second location) is projected to open in Brea in November 2011 (the one-year anniversary of the Orange location). More about Bruxie's History can be found in our Bruxie Burger review post.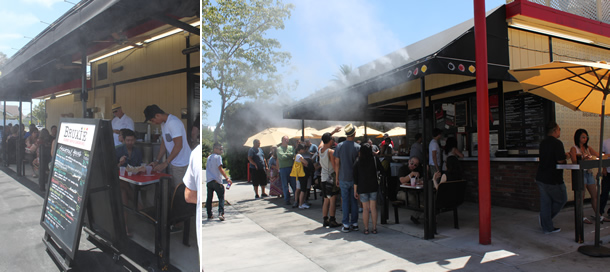 When we visited Bruxie on a Sunday afternoon it was super busy. There was literally a line of customers wrapped around the building eagerly waiting (under refreshingly cool misters that were recently installed) to place an order. The line moved quickly and the service was personable and very friendly (as it was last time we visited). It was nice to see and catch up with one of the owners (Kelly) – He's super personable and can be seen roaming around greeting and checking in with his customers. It's not often we see restaurant owners present and providing this type of personal attention (which really adds to the Bruxie experience).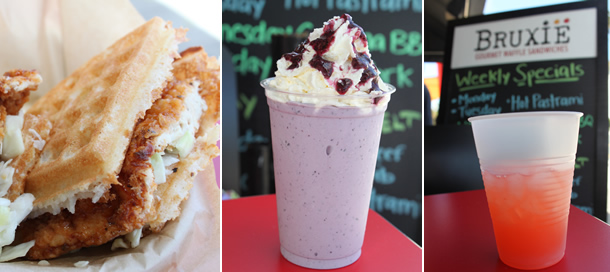 We ordered the Buttermilk Fried Chicken and Waffle Sandwich ($6.95) and a Blueberry Shake ($4.95). We also tried the strawberry lemonade.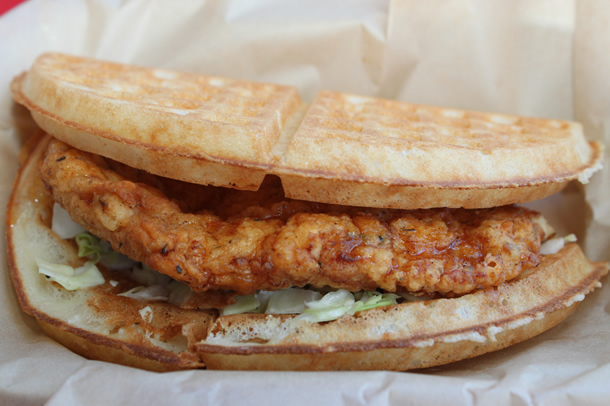 The Buttermilk Fried Chicken and Waffle Sandwich was amazing! It came with chili honey and coleslaw and was served on a fresh gourmet waffle (which was light but not sweet with a perfect light crisp to it).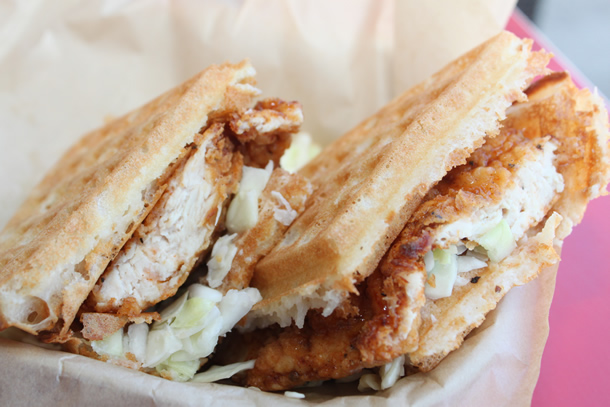 The fried chicken was juicy and cooked to perfection (it had the perfect light crunch on the outside). The sweet and spicy chili honey added excellent flavor and the coleslaw was fresh and super tasty. The gourmet waffle was delicious and it held up the chicken and coleslaw just fine. The waffle can get soggy if the sandwich sits for a while (such as taking it to go or home for leftovers) so you may want to request having the coleslaw on the side if you plan on getting it to go!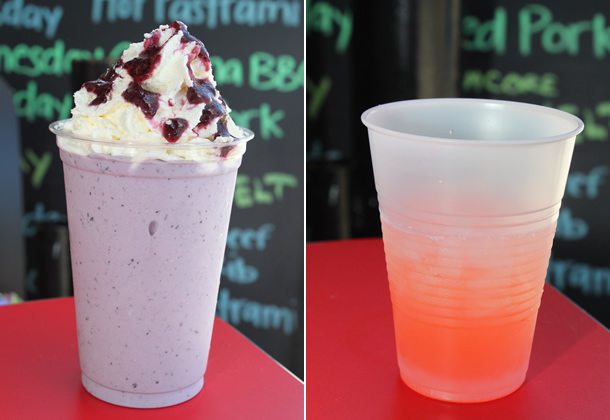 The Blueberry Shake (recommended and made by owner Kelly) was to die for! This was one of the best shakes we've had to date. It's seasonal and not on the menu but don't be afraid to ask for it! We are big fans of blueberries so this was a real treat for us. The shake was made from creamy frozen custard, topped with whip cream and fresh blueberry preserve, and loaded with blueberries (an antioxidant superfood) so it's somewhat nutritious! The strawberry lemonade was also very good. The strawberry lemonade was ice cold, tasty and hand-made with delicious strawberries. This was not the kind of lemonade you get from a grocery store freezer – It had great flavor, wasn't watered down and very refreshing on a hot summer day.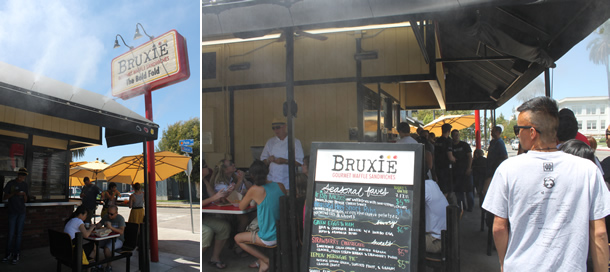 Bruxie in Orange again exceeded our expectations by offering the complete package – a fun atmosphere, personable and friendly service and delicious food! If you're in Orange County Bruxie's gourmet sandwiches and soft serve frozen custard desserts and shakes are a must try – You won't be disappointed!