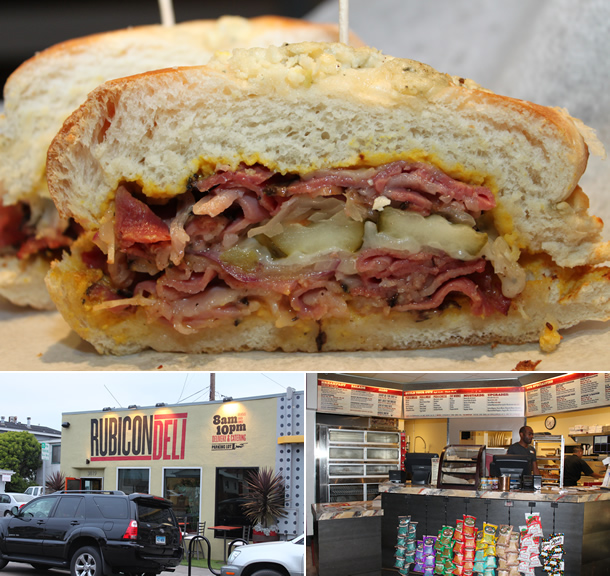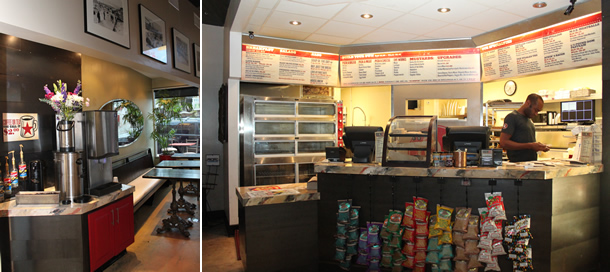 We were encouraged on Food Smackdown's Facebook page to try the "Dom Pastram" sandwich at a place called The Rubicon Deli in Mission Beach in San Diego. Having plenty of positive reviews, some press (in San Diego Union-Tribune) and most importantly a recommendation from one of our valued readers we had to try The Rubicon Deli out. And we're so glad we did!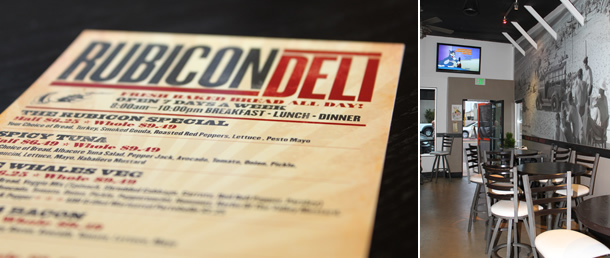 The original Rubicon Deli was created and opened in 1993 by Cheri Corsiglia (Evan Corsiglia's mother) on the West Shore of Lake Tahoe (which later moved to Reno Nevada in 2008 with help from her son Evan). In September 2009, Evan Corsiglia teamed up with two long-time friends (and San Diego residents) Antonio Carasali and Oliver Lang to open their own Rubicon Deli location in Mission Beach in San Diego.


The Rubicon Deli is located on Mission Boulevard (in Mission Beach San Diego) between Seagirt Ct. and Salem Ct. The establishment is on the main street (so it's easy to spot) and shares a building with a Laundromat as well as a small parking lot (on the side of the building) which was very convenient giving its beach location where parking is hard to come by. The atmosphere was fun, clean and casual with a modern downtown beach (and hole-in-the-wall) feel to it. The décor consisted mostly of black-and-white framed pictures with one wall entirely covered with a very cool black-and-white vintage beach picture. There was comfortable seating inside and few pub table and chair setups outside so you could enjoy the delicious sandwiches inside or outdoors.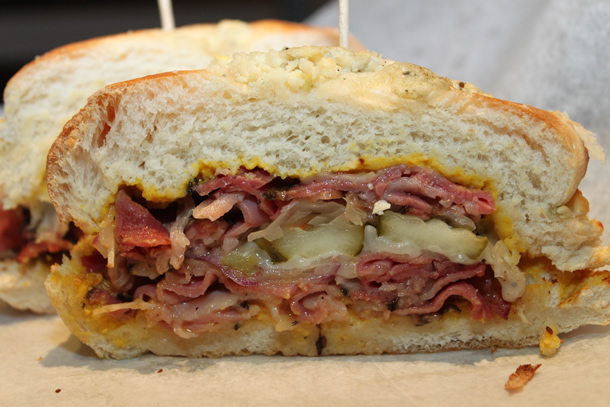 We ordered a half size "½ pound Dom Pastram" sandwich ($6.49 for half and $9.49 for whole sandwich). It was a good size sandwich and the half size was enough for the two of us to share (for a light-bite to eat). The Dom Pastram sandwich came with hot pastrami, Swiss, sauerkraut, onion, pickle, yellow mustard and our choice of bread (we selected Blue Cheese bread) and was served with two yummy soft chocolate chip cookies.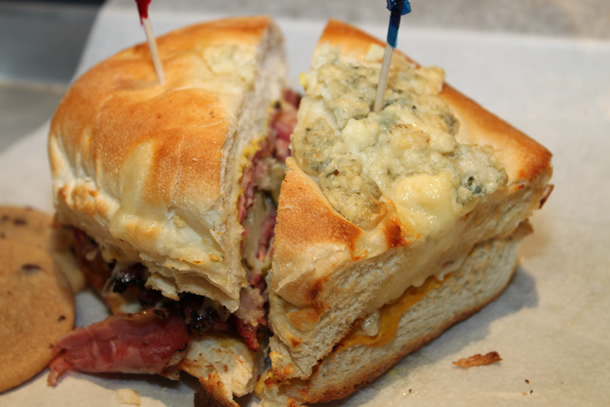 The Dom Pastram was served hot, juicy and it was full of flavor. The bread with crumbled blue cheese baked on the top was absolutely amazing. While not huge fans of sauerkraut it was delicious on this sandwich. The Dom Pastram was excellent and one of the best sandwiches we've had!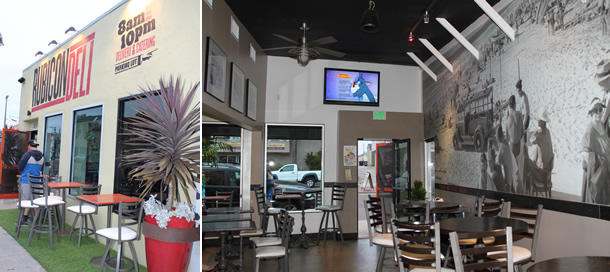 Overall, our Rubicon Deli experience in Mission beach exceeded our expectations. It had a great beach atmosphere, a very clean and modern design and the Dom Pastram sandwich was amazing. The service was fast, welcoming and very friendly. If you're in the Pacific Beach or Mission Beach area The Rubicon Deli is definitely worth a visit!