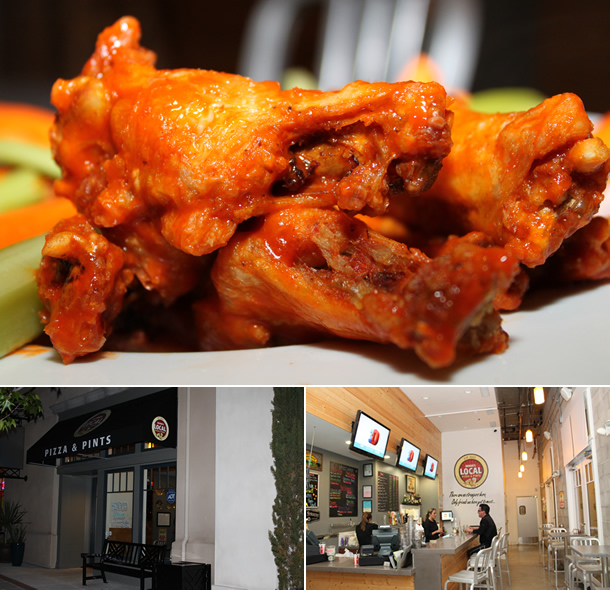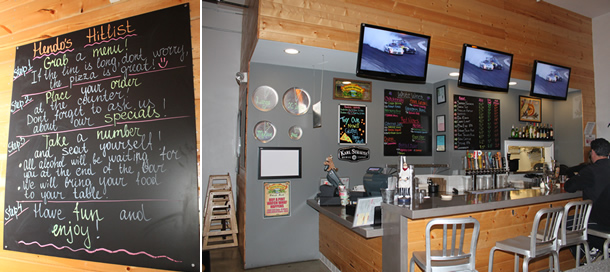 While searching for the best wings in San Diego we heard positive feedback from San Elijo Hills locals about a Monday Night wings special ($0.25 a wing) at Hendo's Local Pizza & Pints in San Marcos California. With the positive feedback and exceptional price of $0.25 a wing we had to try these wings out. And our experience did not disappoint. The Buffalo wings at Hendo's exceeded our expectation!


Hendo's Local Pizza and Pints is located in the San Elijo Community in San Marcos California in North County San Diego. The establishment is located on the corner of San Elijo Hills Rd at Cooke St. next to an Albertson's grocery store. Its corner location on the main street makes it easy to spot. Hendo's Local Pizza & Pints opened in June 2010 by owners Glen and Janee Henderson (a second location is schedule to open near the end of June 2011 in the Bressi Ranch community in Carlsbad next to Board and Brew).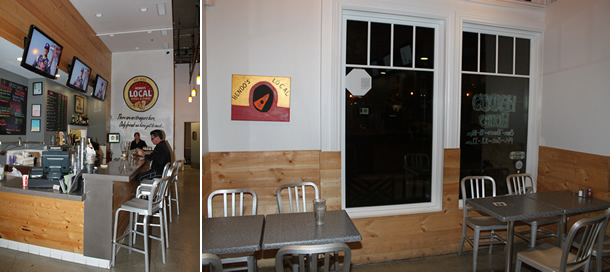 Hendo's Local Pizza and Pints in San Marcos had a fun, casual and family friendly environment with a sports-enthusiast vibe to it (which emphasized the owner's Glen and Janee Henderson's passion for sports, family and friendships). There was a cozy indoor bar with inside seating that consisted of a few pub tables and a couple table and chair setups.


There was also spacious outside seating in an open but heated patio area. There were three large flat screen TV's inside and in the heated patio area for watching sports (emphasizing the sports-bar setting). Hendo's also features an extensive wine list and carries 12 beers on tap.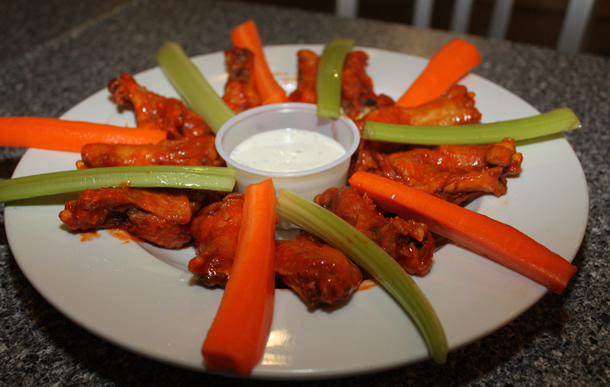 We visited Hendo's on a Monday evening (around 8pm) to try the wings and to take advantage of the Monday Night Madness $0.25 a bone-in wing special which runs from 6pm to close. When we arrived it was not busy at all (maybe one or two customers came in while we visited). The chicken wings were deep fried and tossed in our choice of sauce (sweet BBQ, Buffalo, Hot or Hendo's Hot) and serve with ranch dressing (or blue cheese). We ordered 13 Buffalo wings with blue cheese and the total with tax came to $3.26.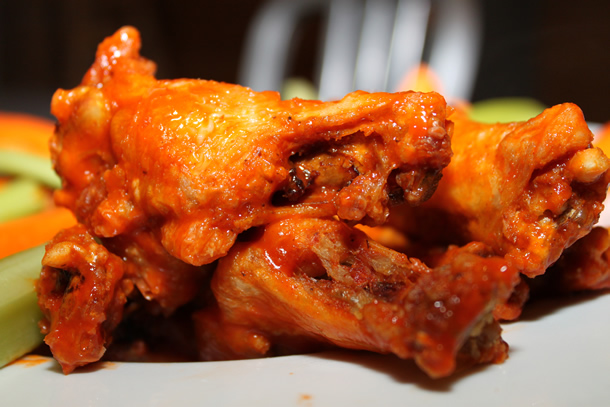 While it did take some time for the Buffalo wings to come out it was worth the wait! The bone-in chicken wings came out fresh and hot and were served creatively on a plate with celery and carrots (which not many wing places seem to do any more). The wings had a good amount of meat and had excellent flavor. These were some of our favorite wings in San Diego (and we loved the price)!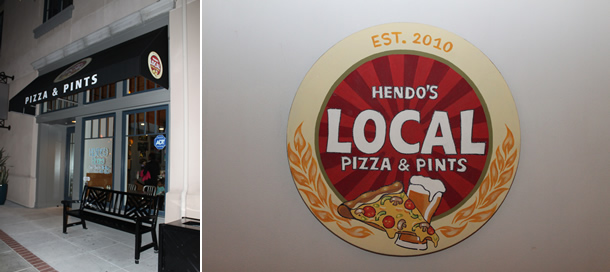 Overall, our Buffalo wing experience at Hendo's Local Pizza & Pints in San Marcos exceeded our expectations. And with the Monday Night Madness $0.25 a bone-in wing special (from 6pm to close) it made for an exceptional deal. For great tasting wings at an exceptional price we recommend Hendo's Local Pizza & Pints Monday Night Madness special! You can visit the San Marcos location or second location in Carlsbad (scheduled to open near the end of June 2011).