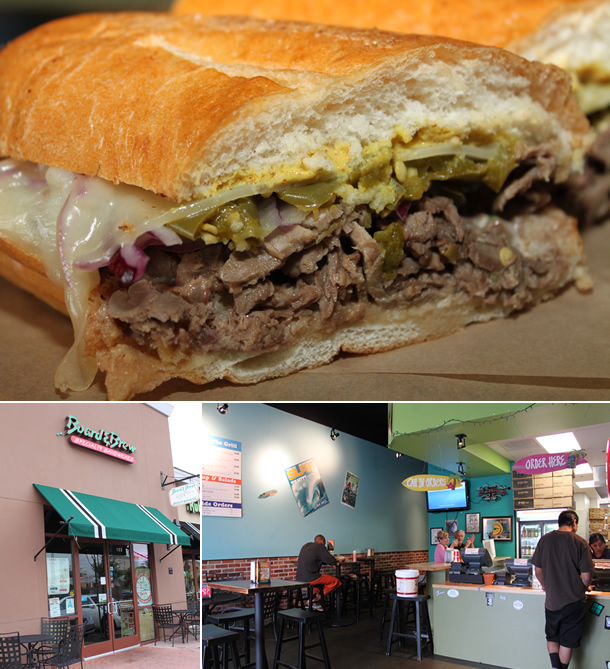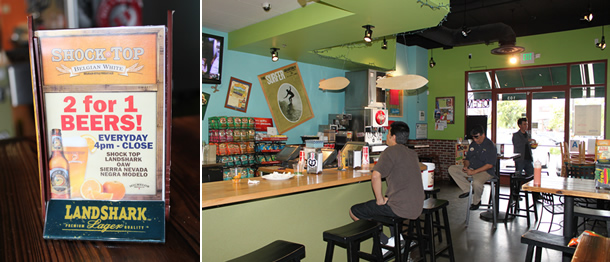 While searching for the best sandwiches in San Diego we kept hearing about a place called Board & Brew. With a strong and loyal fan base (over 4200 Facebook fans), local press and outstanding reviews we had to try Board & Brew sandwiches out for ourselves. Based on our experience Board and Brew definitely lived up to all the hype!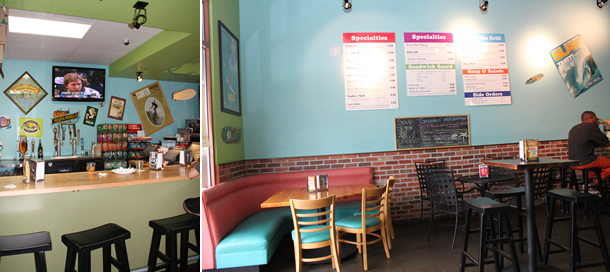 The original Board and Brew opened in Del Mar in 1979. In addition to the Del Mar location, Board and Brew now has two other locations (using the same name but independently owned) in Carlsbad in North County in San Diego and San Clemente in Orange County.


We visited Board and Brew in Carlsbad which is located in a small space in the Bressi Village Shopping Center (sandwiched between Hendo's Local Pizza and Pints and Rubio's). The establishment is located in the master planned community of Bressi Ranch just a few miles inland on Palomar Airport Road off El Fuerte Street (its tucked away location can make it difficult to find unless you're looking for it). The inside had surf décor, some brick-trimmed walls and bright pastel colors. The atmosphere was clean, modern and refreshing with a beach like feel to it (even when located several miles inland from the beach). There was a small bar area and two flat screen TV's for watching sports.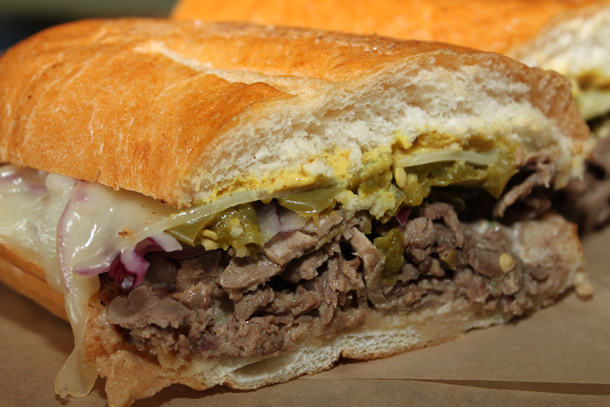 After much deliberation (over the Turkado, Tom's Choice and Roast Beef Spicy) we decided on the highly touted Roast Beef Spicy sandwich ($6.75). The Roast Beef Spicy was delicious! It came with fresh baked Angus roast beef, melted Swiss cheese, jalapenos, mayo, spicy mustard, red onions and served on a toasted French baguette with a side of homemade Au Jus dipping sauce. The jalapenos the came on the sandwich were no doubt HOT and SPICY (evident by our running noses and sweating)! Dipping the sandwich in the Au Jus added to the deliciousness of this sandwich (also kept the spiciness under control). Overall, The Roast Beef Spicy was excellent and one for our favorite roast beef sandwiches to date!


Board and Brew uses freshly baked bread (delivered daily), certified Angus top round (roasted every day), fresh boneless chicken breast (never frozen), premium all natural oven roasted turkey breast and their secret sandwich sauce. For a delicious sandwich with the highest quality ingredients, generous portions all at a reasonable price Board and Brew would be a great choice! You can visit the original Del Mar location (which put this amazing sandwich shop on the map) or now a Carlsbad or San Clemente location near you.