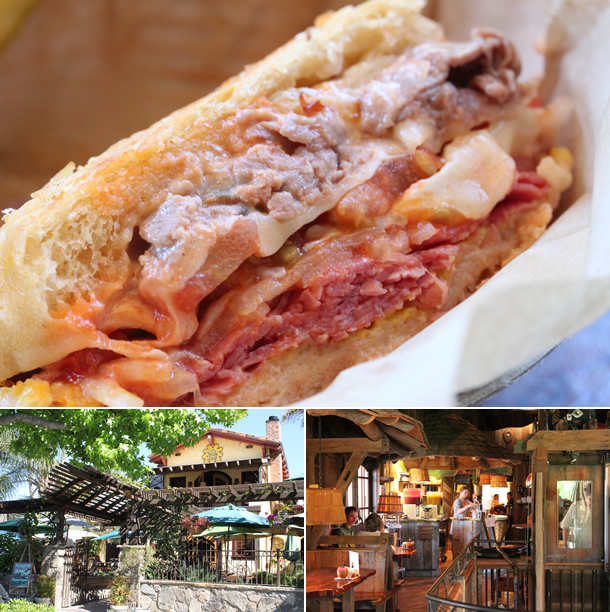 While looking for the best sandwich places in San Diego we came across The Yellow Deli in Vista in North County San Diego. With a lot of hype and reviews about The Yellow Deli having some of the best sandwiches in San Diego we had to try this place out.


The Yellow Deli has five locations – Chattanooga Tennessee, Island Pond Vermont, Oneonta New York, Boulder Colorado and Vista California. Fortunately for those in San Diego there's a location in Vista in North County San Diego and one coming soon to Valley Center in California. We of course visited The Yellow Deli in Vista (while this place is good it's not worth a trip out-of-state to one of the other locations).

Our waitress was very friendly and when we asked about the story of The Yellow Deli she was happy to hand us a flyer with a story about the history that was printed in The Vista Press ("The Progressive Newspaper of Northern San Diego County"). I don't think we fully grasp the story but what we do get is this place has good food and a really cool and relaxed atmosphere with very friendly service and workers who have a relaxed and happy approach to servicing their customers. There are outside seating areas and inside seating areas upstairs and downstairs. There are also places to lounge on couches and comfy chairs throughout that make you feel like you're at Starbucks. The inside is dimly lit and has a rustic, tavern-ish, mining look with rod iron railings and lots of wood tables, beams, walls, posts, tables and chairs (almost Knott's Berry Farm-ish in a way).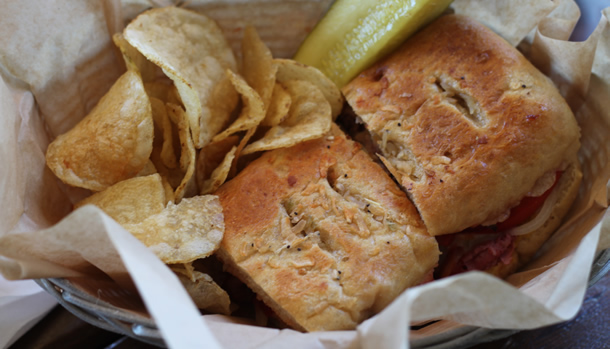 We ordered a two Deli Rose Sandwiches ($7.75 each) which was served with chips and a pickle, a ½ order of the garden salad ($3.75) and a cranberry cashew salad ($5.75). For drinks we had a root beer on tap ($2.00) and a Hibiscus Deli Cooler ($2.25).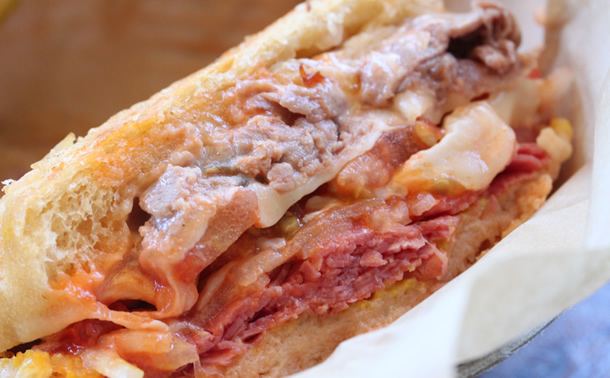 The Deli Rose Sandwich came with roast beef, corned beef, hot pepper cheese, provolone cheese, onions and tomatoes and was topped with a home-made special sauce and served on an onion roll. It wasn't clear by the menu but the sandwich was served warm. The sandwich also came with chips (a veggie bowl could be chosen instead) and a pickle. Overall, the sandwich was different than any sandwich we've had but it was very fresh and very good. In a way, it almost tasted like a hamburger (not just because we've ate a lot of hamburgers lately either – our friends eating the same sandwich thought the same thing). It was warm, with meat and melted cheese inside an onion roll and the special home-made sauce reminded us of ketchup and mayo (kind of like a burger). The chips and pickle served with the burger (I mean sandwich) were also very fresh and good.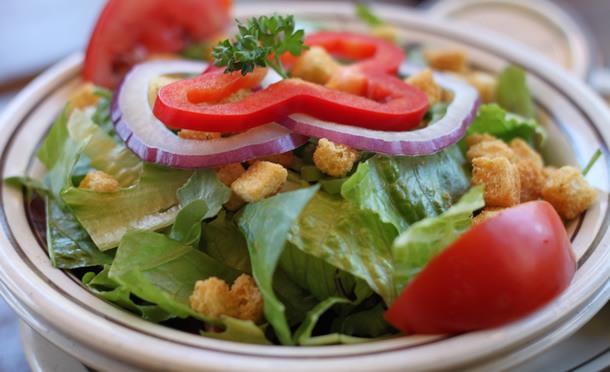 The ½ order of garden salad came with a slice of whole wheat sourdough bread lightly buttered. The salad was a mixture of mixed greens and came with fresh vegetables (peppers, tomatoes, onions, croutons). We asked for ranch dressing on the side.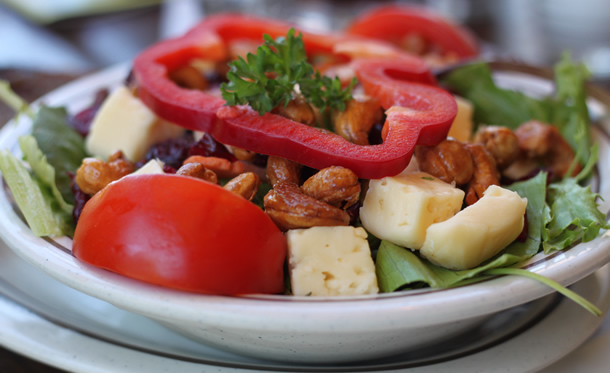 The cranberry cashew salad also came with a slice of whole wheat sourdough bread and the salad a mixture of mixed greens, Craisins, cashews, Havarti cheese, peppers and tomatoes. The mixed greens and veggies were very fresh. The salad came with a delicious house dressing.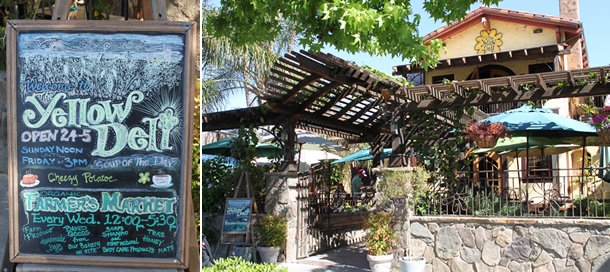 Overall we really enjoyed our experience at The Yellow Deli. The service was super friendly and the atmosphere was relaxing and very unique. The sandwiches, salad and drinks we ordered were all very good. If it was a little less expensive for the sandwiches and food we'd probably visit more often. If you're in the Vista area in North County San Diego and looking for a unique place to sit down and have good sandwiches, relax and socialize without tons of distractions or a lot of noise The Yellow Deli might be just the right place for you. We recommend giving this place a try!