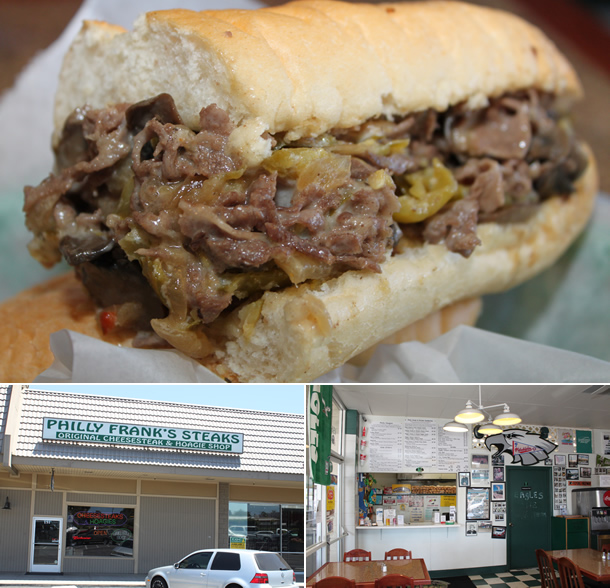 With a reputation (and plenty of great reviews to back it up) for having one of the best Philly Cheese Steak sandwiches in all of North County San Diego we had to try Philly Frank's Steaks out for ourselves. And our experience didn't disappoint. The Philly Cheese Steak sandwich was indeed delicious!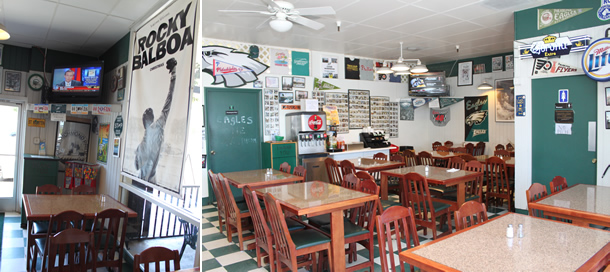 Philly Frank's Steaks is family owned and operated and definitely has a hole-in-the-wall like feel to it. It is located in San Marcos off S. Rancho Santa Fe Rd and close by the 78 freeway. It is visible from the main street and located in the San Marcos Village Shopping Center along with 99 Cents Only, Rite Aid, Save A Lot and other businesses. The atmosphere was casual and the inside was filled with memorabilia and Philadelphia related décor (such as Philadelphia sports teams, jerseys, pennants, pictures and more). Inside seating consisted mostly of tables and chairs. There was also a small patio area for outside seating. When we visited during the week day, it looked like several of the customers were people who worked in the general area and stopped by for a yummy sandwich during their lunch break.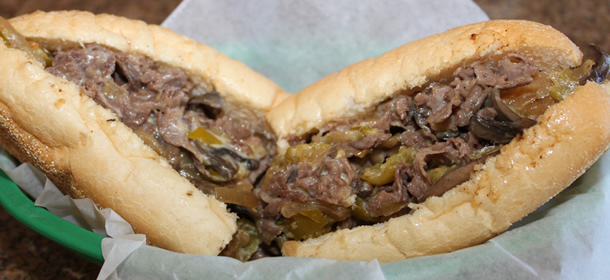 We ordered "The Works" sandwich ($8.85) on the recommendation of the co-owner (she said this was the most popular Philadelphia steak sandwich they served). The Works cheese steak sandwich came with thinly sliced steak, fried onions, sweet or hot peppers (we chose sweet), sautéed mushrooms, American cheese and was served on a fresh Amoroso Roll. The sandwich was rich, filling, fresh and super tasty. We shared the sandwich and it was enough for the two of us.


Overall, we were pleased with our Philly Frank's Steaks sandwich experience. We felt the prices were a little high though for the area ($8.85 for "The Works") but perhaps if you did your grocery shopping next door at the 99 Cent Store or Save A Lot that could make up for it. We also understand there are local coupons in circulation so that might be worth looking into to bring the cost down. That being said the sandwiches are delicious. And if you're driving through the North County area (or happen to work nearby) and looking for an original Philadelphia steak sandwich this place in San Marcos is worth a try!