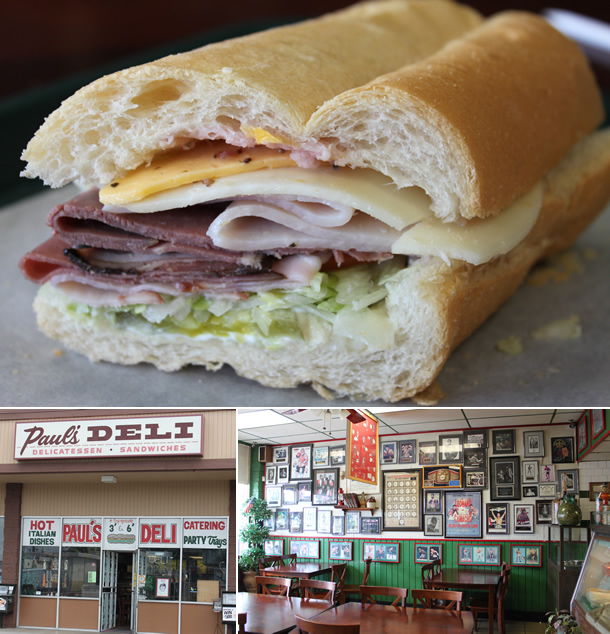 In our search for the best sandwich shop in Orange County we kept coming across an East Coast style authentic Italian deli and sandwich shop called Paul's Deli in Westminster. With glowing reviews pointing to Paul's Deli having some of the best sandwiches in Orange County we had to hit this place up. And we're glad we did!

Paul's Deli in Westminster has been serving Orange County since 1978. It is located in a strip mall between two small shops on the South-West corner of a major intersection (Goldenwest and Westminster). When we visited Paul's Deli we got to meet the owner "Paul." He was very friendly, personable, welcoming and we could tell customer service along with serving the finest sandwiches and food was top priority. All the workers were helpful, hospitable and super-friendly.


The inside of Paul's Deli was decorated with tons of framed pictures on the walls of famous boxers with boxing memorabilia throughout. Near the register and where we placed our order there was a large display case showcasing all the fresh deli meats, cheeses, and more. There was plenty of table and chair seating inside. Paul's Deli serves a large variety of fresh homemade hot dishes (including a variety of spaghetti dishes, ravioli dishes, penne pasta's, lasagna's and more), over a dozen hot sandwiches, over two dozen cold sandwiches, a half a dozen fresh salads and a couple delicious desserts (tiramisu and cannoli). The sandwiches are sold as a half sandwich (8 inches) or whole (16 inches). Paul's Deli also offers catering and online ordering.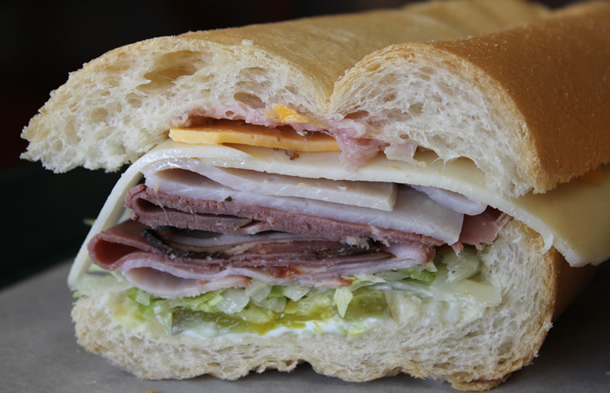 We ordered "Paul's Special" as a half sandwich ($7 for 8″ half and $13 for 16″ whole). Paul's Special sandwich came with lean smoked ham, roast beef, turkey breast with provolone and American cheeses. The sandwich was served on a French Roll (can be substituted for wheat, rye squaw, sourdough, or wheat roll) with mayonnaise, Italian dressing, pickles, lettuce, and tomatoes. The sandwich was delicious and the veggies, meat and bread were all very fresh. We split the 8" sandwich and it was enough for the both of us (for a light eat).

We also tried a couple side pasta dishes – one red sauce and one in oil. Both were very good. If we had to pick a favorite between the two it would be the red sauce pasta. But to each his/her own.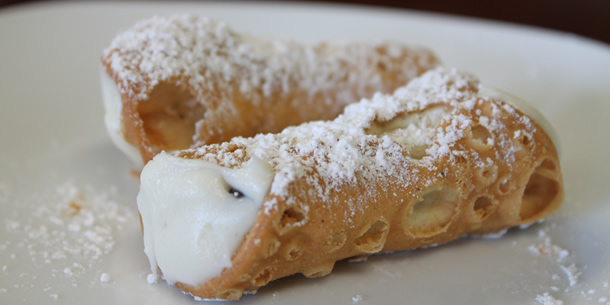 For dessert, we tried Paul's Cannoli's. I had a pastry shell filled with a sweet ricotta cheese and a chocolate chip mixture ($0.85 each or 3 for $2.25). The Cannoli's were light and scrumptious!


Overall we really enjoyed our experience at Paul's Deli. The sandwich we ordered ("Paul's Special") had great meat, cheese, veggies and was super fresh. The French roll it came on was also very fresh and good. The atmosphere was very memorable (a lot of boxing memorabilia) and the service was exceptional (which added to our wonderful experience). A large 16" sandwich at $13 (a small 8" is also available $7) should be more than enough for two to share (we shared a small 8" for a light eat and were satisfied). So for under $7 each (sharing the sandwich) it was a reasonable price for an amazing tasting East Coast style authentic Italian sandwich! If you're in Orange County and looking for a great sandwich (or catering) Paul's Deli is definitely worth a try!