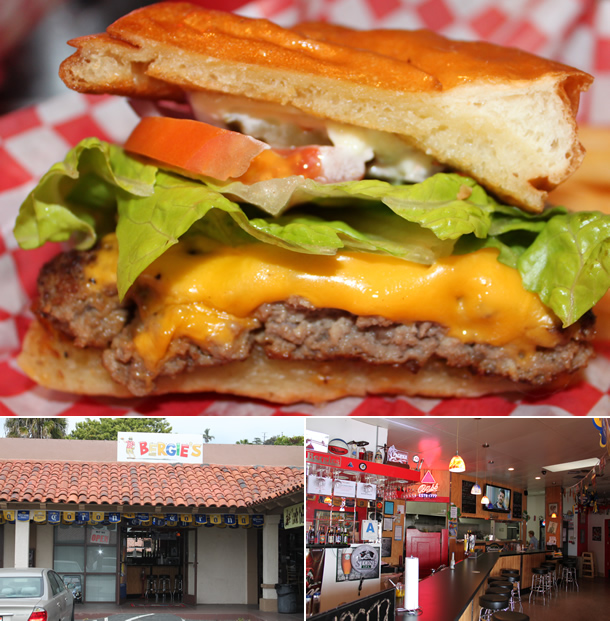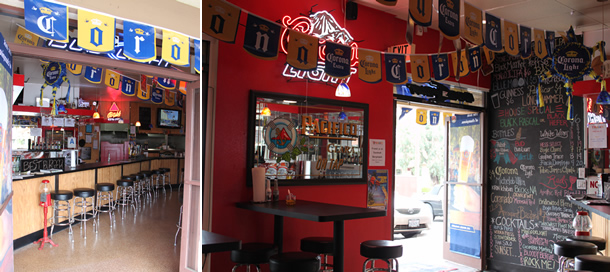 Bergie's Pub recently opened up in Old Town San Diego in January 2011 just a couple miles away from the San Diego Airport (on the opposite side of the 5 freeway) and just a few blocks from Crazee Burger. It is unassumingly located off the main strip in Old Town tucked into the corner of a very small strip mall or business plaza (with just a couple other businesses). Due to its discreet location, Bergie's Pub could be overlooked even for those who frequent the Old Town main strip area.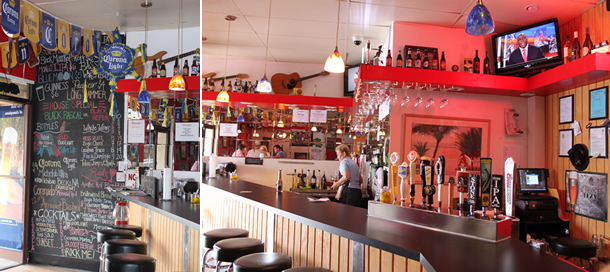 Inside Bergie's Pub were several pub tables with chairs for inside eating, over a dozen bar stools spanning across a long bar table and three flat screen TV's for watching sports. The inside décor consisted of beer bottles and guitars laid out high on a shelf, some mirrored walls, several chalkboard signs describing menu specials and sports décor and mementos placed throughout.

The atmosphere was fun, casual and refreshing with a look-and-feel that made us feel like we were in a bar and grill in Cabo San Lucas. The service was very personable and super-friendly too. Although Bergie's Pub has only been open a few months there has been some great hype about their burgers and plenty of positive reviews to back it up. And our experience did not disappoint!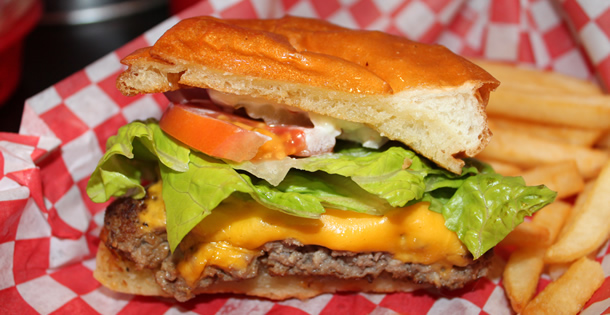 We shared a Bergie Cheese Burger ($6.50) and a side of fries ($1.00). The Bergie Cheese Burger came with mayo, lettuce, tomato, onions, pickles, American cheese (Swiss or cheddar is also available) and a third pound burger made of grass fed natural angus beef served on a delicious lightly-buttered bun. The burger was a decent size (order your own as sharing the burger is probably a stretch for most) and it was super juicy, tasty and cooked to perfection. The condiments were fresh and the bun was light and delicious.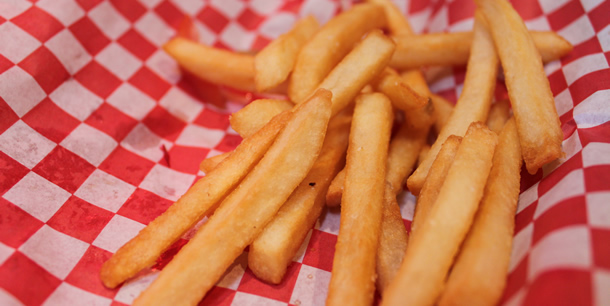 The side of fries was served in a basket with our cheeseburger. The fries were good, crisp on the outside and lightly salted. We've had better fries but for the price these were very good. There was also a decent amount of fries for the two of us to share.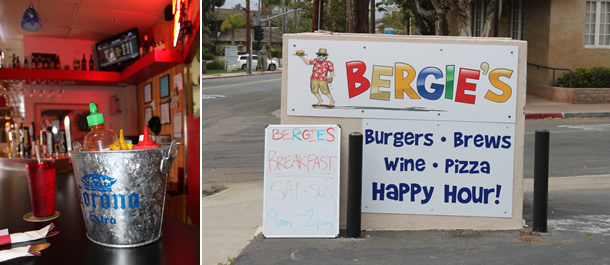 We were pleasantly surprised with our Bergie's experience. The 1/3 lb. cheese burger made of grass fed natural Angus beef and side of fries we ordered were reasonably priced and the taste was exceptional. Bergie's Pub has a fairly simple menu that includes grilled sandwiches and burgers, about ten starters (Buffalo wings, chicken tenders, mini corn dogs, garlic tater tots, fries, garlic knots, etc.), thin crust pizzas and soup and salad. Bergie's Pub also has a "work in progress" minimalist breakfast menu that looks very appetizing. The atmosphere was very cool, relaxing and vacation-like refreshing. If you're heading to or from the San Diego airport or in the Old Town area and looking for a fun and casual pub with great burgers and reasonable prices you'll want to check this hole-in-the-wall place out. You won't be disappointed. We can see this place growing to be a local favorite as word gets out. Don't forget to print out this deal and mention "Food Smackdown" to get 20% off your order.