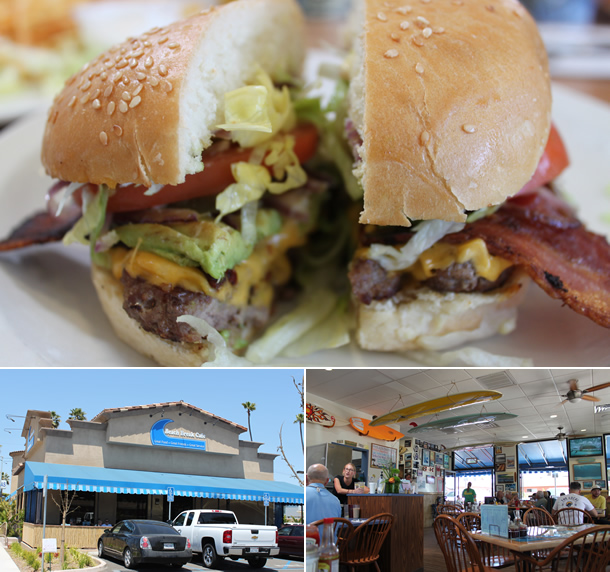 With numerous glowing reviews about Beach Break Café having some of the best burgers in North County in San Diego we had to try their burger out to see if it lived up to the hype. The "Beach Break Burger" lived up to the hype – It had a great beach atmosphere and one of the best burgers we've had in North County.


We visited Beach Break Café around noon on a Tuesday (Beach Break is open daily from 7am-2pm) which we were told was one of their slower days. Beach Break Café was located at 1802 S. Coast Highway in Oceanside. This is their new location and looked much bigger and looked more attractive than the old location just a block down the same street at 1902 S. Coast Highway.


Upon arriving at Beach Break Café there were signs pointing to the entrance on the South West corner of the building on the other side of the parking lot (on Cassidy Street). When we entered the restaurant we were very impressed with the interior layout and all the cool surfing and skateboarding décor. The atmosphere was very cool, clean, casual, and made us feel like we were in Hawaii or at a beach resort. We were seated right away, our waitress was friendly, ordering went fast and our food was brought out to us rather quickly. It was pretty busy for a Tuesday with a steady flow of customers so we could see how this place could get pretty busy on busier days, summers (it's close to the beach) and weekends. On the menu we were told by our waitress we could order breakfast or lunch anytime (hours are 7am-2pm daily). The breakfast menu had a large selection of breakfast plates that came with eggs, omelettes, scrambled-ins, breakfast specialties (pancakes, waffles, French toast) and sides. And the lunch menu a large selection of sandwiches, specialties from the grill (fish tacos, mahi-mahi burrito and sandwiches), Gary's burgers, and salads (soup of the day or chili was also available).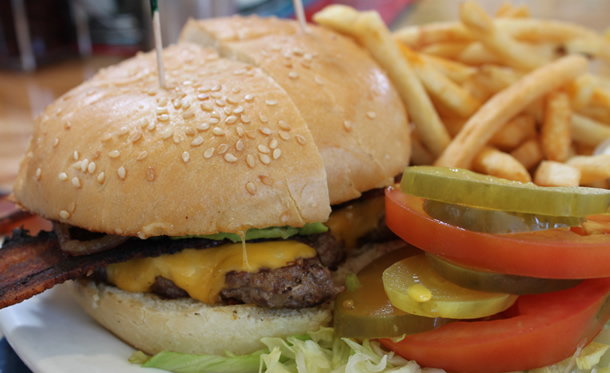 We ordered and shared the Beach Break Burger ($9.25) which came with a side (we chose French fries). With tax our total bill was $10.06.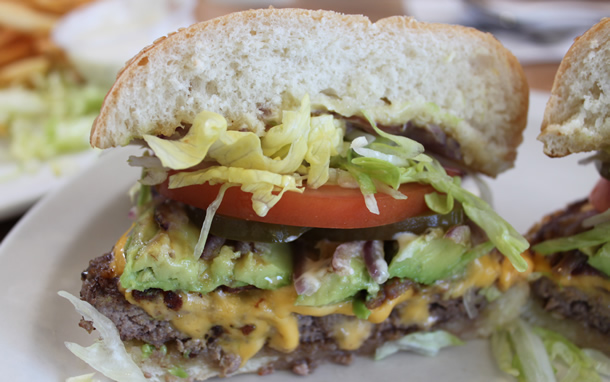 The Beach Break Burger came with 1/3 lb. of fresh ground beef, crispy bacon, avocado, American cheese, lettuce, tomatoes, fresh red onions (we opted to have onions grilled), and pickles and was served on a sesame hamburger bun (the lettuce, tomatoes and pickles were served on the side). The Beach Break Burger was a good size and super tasty. The burger was cooked just right with the cheese melted on top and all the toppings just added to the flavor. The bacon was nice and crispy and had good flavor (very meaty with little to no fat), the veggies really fresh and the bun soft and fresh as well. The burger was pretty big and was enough for us to share. Overall, the burger was delicious and definitely one of the best burgers we've had in North County San Diego!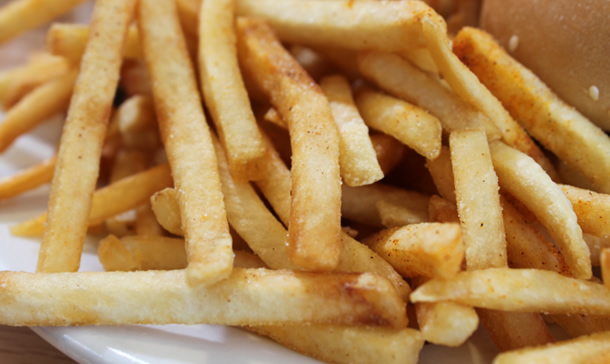 The fries that came with the burger were also very good. The fries were lightly seasoned (looked similar to a Lawry's season salt), not to thick or too thin and had a really nice crisp on the outside. Our waitress offered to bring ranch dressing with the fries and we were all for it (the fries were good dipped in ranch dressing and without it). We really liked the fries and it went well with the delicious burger.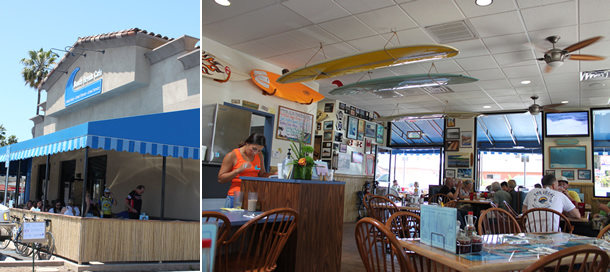 We really enjoyed our experience at Beach Break Café. The clean, relaxed surfing and beach tone atmosphere (with surfing and skating décor throughout) was very cool and one of our favorites (being a surfer and living in Southern California my whole life it would be hard not to love this place). The Beach Break Burger and fries we ordered were amazing and we have to say Beach Break Café lived up to the hype. This was one of the best burgers we've had in North County San Diego. We're a fan of Beach Break Café and look forward to returning.