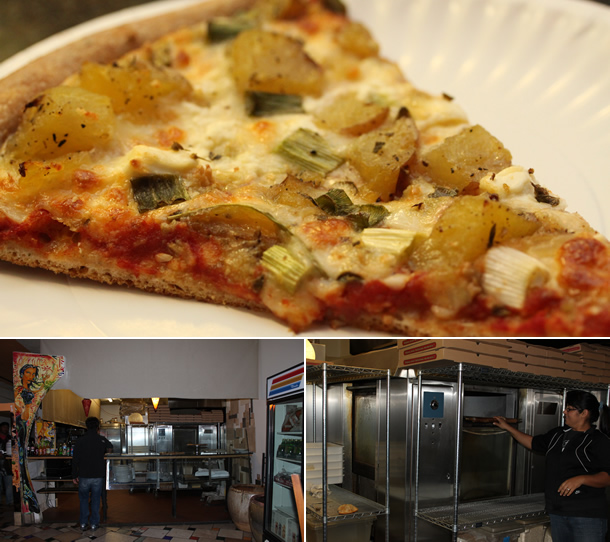 While searching for the best pizza in San Diego we kept hearing about a place called Zia Gourmet Pizza. With so many positive reviews and a reputation for serving some of the fanciest, delicious and health conscientious pizza in San Diego we had to try this place out.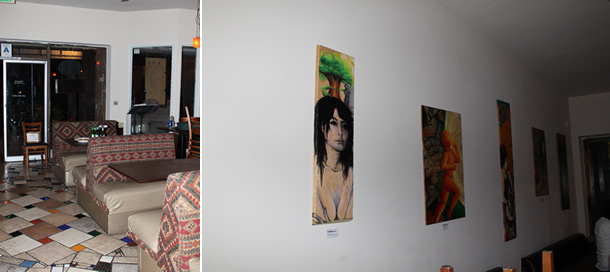 Zia Gourmet Pizza is located on Adams Avenue (between 33rd St. and Felton St.) in the Normal Heights area in San Diego. There are several business and restaurant establishments on Adams Avenue making it a fun and attractive location. The inside of Zia Gourmet Pizza had mosaic tiled floors and some very cool and interesting art work displayed throughout. Inside seating consisted mainly of booths, tables and chairs. We visited Zia Gourmet Pizza on a Friday evening. Unfortunately, we got there when they were closing (10:00 pm.) and we had just missed a live band. Fortunately, we were kindly greeted with a big smile to go in and we were able to try a couple of the few slices they had left. The workers were some of the friendliest and helpful (taking time to explain the menu, toppings, etc.) we've met and the service was second to none.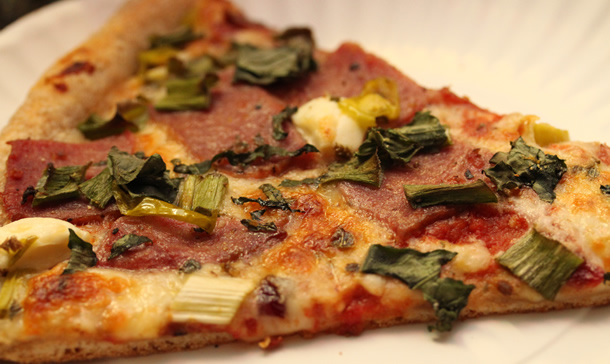 We ordered three slices of pizza – The New Yorker Pizza ($3), Potato Pizza ($3) and a slice of the Banana Split Pizza ($3.50) for dessert. The New Yorker Pizza slice came with lean turkey pastrami, scallions, pepperoncini, light cream cheese, fresh basil and topped with mozzarella. The toppings combined together tasted excellent.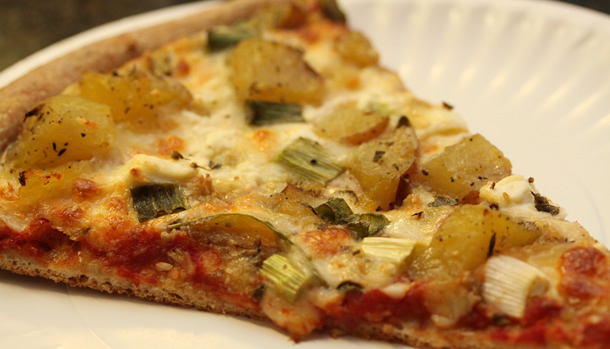 The Potato Pizza slice was also very good. It came with rosemary, fresh garlic, scallions, feta, and lean cream cheese and topped with mozzarella. We've never had anything quite like it before. To be honest, we were a little hesitant about the idea of eating potatoes on pizza (we're more comfortable eating our potatoes with steak or chicken). However, we're glad we tried it. The pizza was delicious and we're glad Zia Gourmet Pizza took us out of our comfort zone with this one!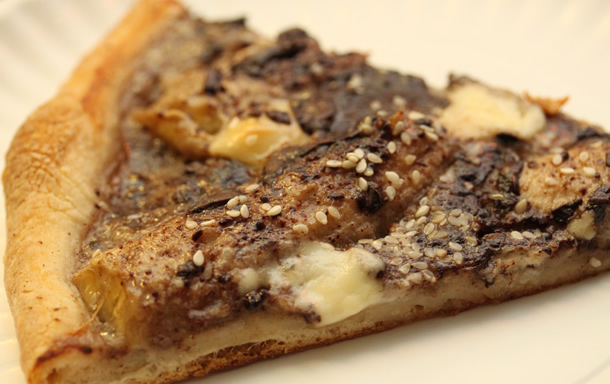 The Banana Split Pizza slice was amazing! It came with a generous layer of chocolate and topped with bananas, light cream cheese, chocolate chips and chocolate syrup on top. When we saw this on the menu it sounded pretty good but after tasting it we'd say it's amazing.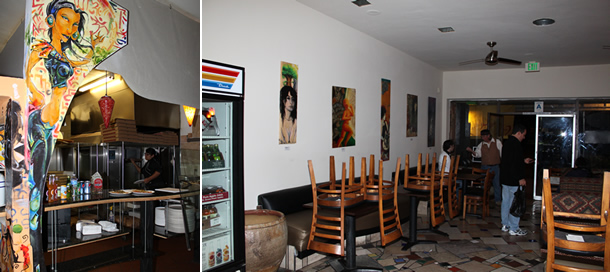 Overall we enjoyed our Zia Gourmet Pizza experience. Zia Gourmet Pizza has a great location (on main strip with other establishments), fun atmosphere, cool décor, outstanding service and delicious pizza! Each slice of pizza we tried was excellent and the fresh whole wheat pizza crust it came on was unique, tasty and cooked to perfection. If you're looking for healthy gourmet pizza with the perfect balance of fruits, vegetables, meats, herbs and spices Zia Pizza Gourmet in the Normal Heights area in San Diego is definitely worth a visit!