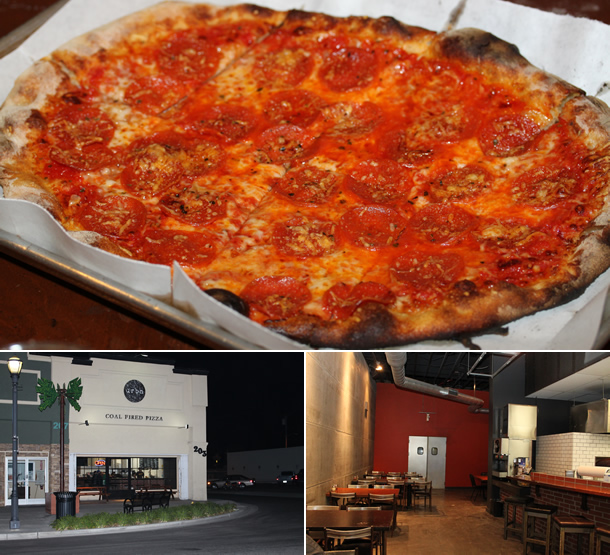 With hype about URBN (pronounced urban) Coal Fired Pizza having some of the best pizza pies in San Diego (and plenty of excellent reviews to back it up) we had to try this place out. URBN Coal Fired Pizza is owned by the same individuals that own and operate Basic Pizza located in downtown San Diego. However, URBN pizza is located in North County San Diego in the city of Vista on Main Street alongside a long strip of several shops and restaurants (which look to be somewhat newly developed). The "basic" keep it simple concept is felt throughout and accentuated at URBN Pizza by the simple and limited menu – two types of base pies (red pie or white pie) with toppings and one type of salad. Pizza is not sold by the slice.


URBN pizza had a fun, casual atmosphere and the décor is simple, modern and very cool with an industrial and New York type look and feel to it. Inside are exposed pipes to emphasize the industrial look, brick walls, a brick coal fired oven, several tables (padded chairs) and comfy padded bar stools for seating. The service was friendly and it was fun to watch our pizza being cooked in a coal fired oven.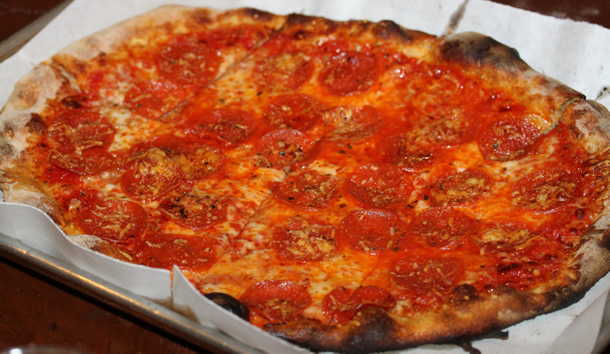 We ordered a small base red pie with mozzarella ($10) and added the topping pepperoni ($1.50) to our small base pie. Our total bill was $12.56.


The pizza came out of the coal fired oven hot, fresh and very good (making us salivate). This was one of the tastiest thin crust pizza pies we've had! The crust was thin but not too thin and the coal fired oven gave it the perfect crisp and a wonderful flavor.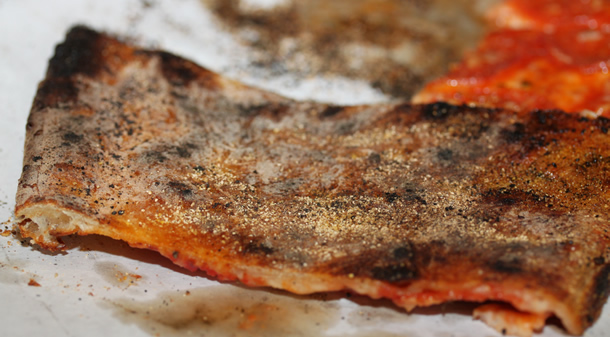 Some parts of the crust were a little charred (underneath the pizza had some charred areas) but it was still delicious and it actually added to the flavor.

Sure, the thin crust covered with toppings was slightly less crunchy with the grease run-off from the pepperoni and cheese (as many others have mentioned in their reviews) but overall the pizza was extremely delicious and held up just fine for us.


Overall, we thought URBN Coal Fired Pizza offered a wonderful experience (we liked the simple menu), great atmosphere, tasty pizza pies and good service. The pizza can get a bit expensive though when adding toppings (each topping varies in price). For the large pie, each additional topping can add another $1.00-$6.00 (or $12 for little neck clams!) to the base pie ($14 or $16 depending on your choice of white or red pie with or without mozzarella). For example if you ordered a "deluxe" type pizza with a large base red pie with mozzarella ($16) with onions ($1), mushrooms ($1), black olives ($2.5), green peppers ($1), fresh tomatoes ($2.5), pepperoni ($3) and sausage ($4) it would cost you $31.00. And a "meat lovers" type pizza with a large base red pie with mozzarella ($16) with pepperoni ($3), sausage ($4), meatball ($5), bacon ($3) and chicken ($6) would cost you $37.00. Based on the price for each additional topping added we'd recommend keeping the toppings to a minimum (say 1 or 2 toppings or go with the veggies) to keep your bill under control. We loved the pizza (one of the best tasting pizza's in San Diego we've had) and atmosphere and we plan to return but we won't be ordering a whole lot of toppings on our pizza due to the price of each added topping!