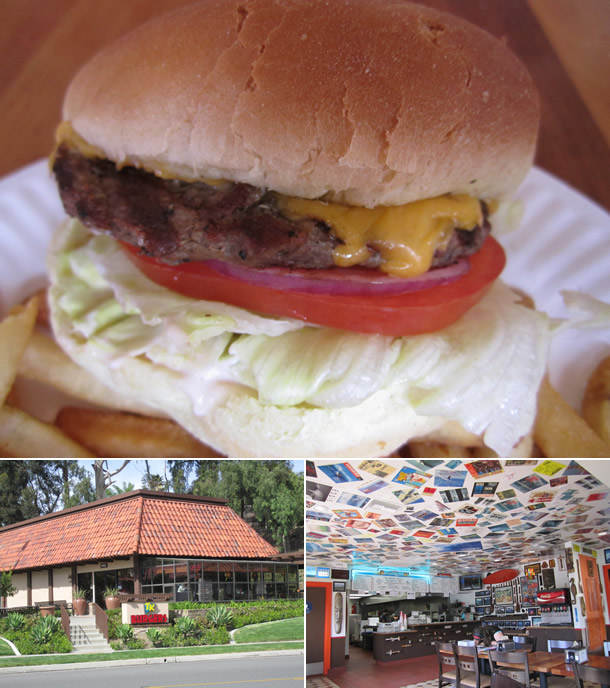 At the time of this review TK Burgers has five Orange County locations – Newport Beach, Huntington Beach, Mission Viejo and two in Costa Mesa. With a lot of hype about the burgers and TK Burgers and a 4 out of 5 star rating at four of the five locations on Yelp (one of the Costa Mesa locations had a 3 ½ out of 5 star rating) we had to try this Orange County burger joint out.
TK Burger is creatively decorated from floor to ceiling with surfer material throughout. The atmosphere is fun, relaxed and you really get the surfer beach vibe in the place. Upon ordering I asked the cashier what the most popular burger was. She told us the cheeseburger was the most popular burger ($4.29). So we ordered a cheeseburger and fries special ($5.59), a strawberry shake ($2.69), a small refillable drink ($1.29) and a BLT sandwich ($3.99).
By ordering the cheeseburger and fries "Big Bargain Special" it looks like we saved $0.20 cents (fries a la carte was $1.50). I guess in this economy every penny counts – so the fact we saved twenty of them by ordering the "Big Bargain Special" was great! The cheeseburger was really tasty. The cheeseburger was not as good as many of the gourmet burgers we've tasted but to be fair it would cost twice as much or more for a gourmet burger. For the price and for other burgers in the same price range this cheeseburger was very good. The burger came with cheese, lettuce, tomato, purple onions and a thousand island dressing. The bun was nice and soft and good too. The fries were lightly seasoned and very tasty.
We give the fries two thumbs up. We really liked the seasoning and the crispy consistency of the fries. Some of the fries had a little bit of the potato skin on them which emphasized the freshness of the fries.
The strawberry shake was good and the consistency was soft and could be sucked through a straw. Overall a good shake for a reasonable price ($2.69). We of course like the shakes at Hodad's and The Counter better but it also costs more ($4-$5).
For those who like BLT sandwiches, the BLT at TK Burger was very good. Not much to say about the description of the BLT other than it was served on white toast. It was very tasty and for $3.99 pretty reasonable.
Overall we were very satisfied with our TK Burger experience and for the price the cheeseburger and fries were very good. We could see ourselves returning for a burger and fries if we were in the area and craving a fast, fun and inexpensive burger meal (next time we'd like to try the Newport Beach or Huntington Beach location to get the full beach atmosphere experience).