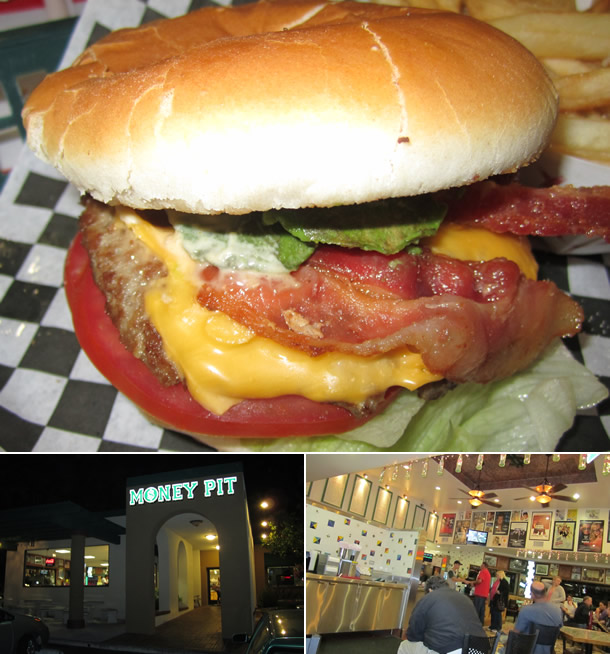 If you're looking for burgers and you're on a budget The Money Pit Drive Thru (The Money Pit) in San Marcos in North County San Diego might be the place for you. You can get a cheeseburger for just under $2. The Money Pit has reasonable prices for decent size portions at around $2-$3 for a burger. There are plenty of other food options on the menu too. We felt the burger and fries were fast-food quality or slightly better (depending on which fast food chain you compare it to). The Money Pit is located on the corner of a shopping center. We visited on a Monday night and didn't see a whole lot of activity or other restaurants nearby.


The Money Pit has a fun and uniquely decorated atmosphere that includes such things as movie posters, license plates, road signs, etc. all of which have a money related theme. There were plenty of tables for seating and even a couple benches inside that have actual coins covering the seat. Inside we did not see utensils or trash cans accessible. Funny, we noticed other people commenting on "where's the trash can." When finished, you leave everything on the table and the workers will clean it up for you (I tried implementing this genius concept at home – but it was quickly shut-down).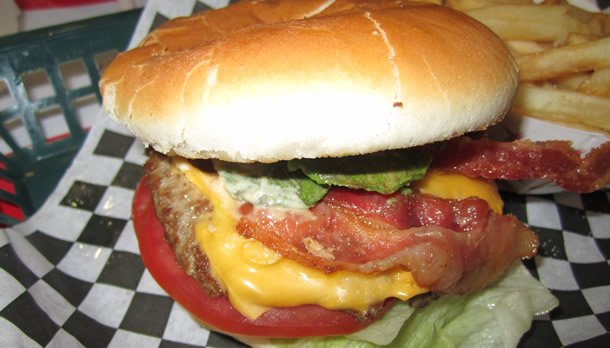 We ordered a cheeseburger ($1.93), a bacon avocado burger ($3.15) which we were told was the most popular burger and an order of fries ($1.99). The burgers come with lettuce, tomatoes, purple onions and a thousand island dressing. For the price, the burger was pretty tasty and a solid competitor to the many fast-food joints out there.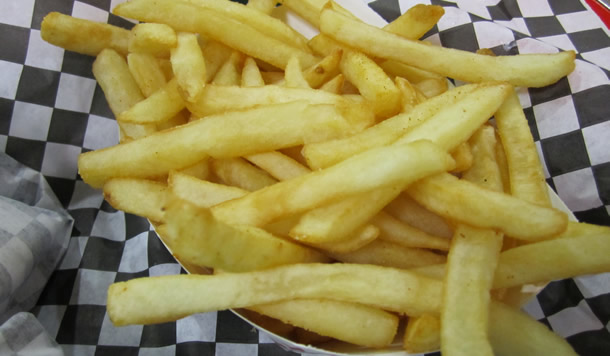 The fries were pretty reasonable but the quality was just ok – it tasted and looked a lot like cafeteria fries (and similar to the fries at Tommy's Burger). The fries didn't have that light crisp on the outside we really like (they were not very crispy and somewhat limp).

The burgers and fries are definitely not at the same level as a Hodad's or Rocky's Crown Pub or a Smashburger. However, to be fair the burgers at The Money Pit were probably about half the cost or less than some of the mid-range and gourmet burger joints we ate at.

Overall we were satisfied with our meal and experience (mostly because the bill totaled $7.69 for 2 burgers and fries which filled us both up). A drive-thru was available for food on-the-go. I'm not sure we could justify a special trip to this place. But if we happened to be in the area and wanted a cheap and fast bite to eat I could see stopping by or going through the convenient drive-thru.