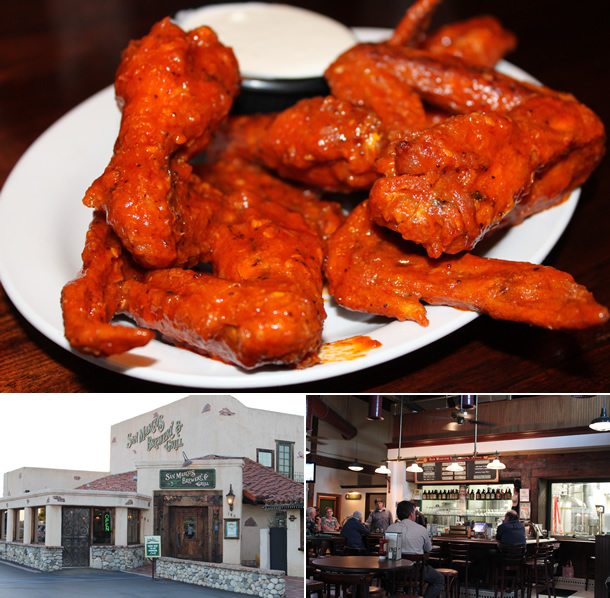 While searching for the best wings in San Diego we kept hearing about a place called San Marcos Brewery and Grill in San Marcos in North County San Diego. While the atmosphere and inside décor was modest and a bit old-fashioned the wings were amazing and some of the best we've had in San Diego to date!


San Marcos Brewery and Grill is located close to the main street on W. San Marcos Boulevard in "Restaurant Row" alongside several other restaurants. Parking can be a bit of a challenge on weekends and during peak hours. There was very limited parking in the front where San Marcos Brewery and Grill was located. The inside had an old mining-like theme and atmosphere that was reminiscent of Knott's Berry Farm. The inside had exposed wood beams (and pipes), wood paneling, heavy wood tables and chairs and carpeting and booth seating with somewhat outdated patterns. There was a pretty good size bar inside with additional seating outside in a closed off patio area.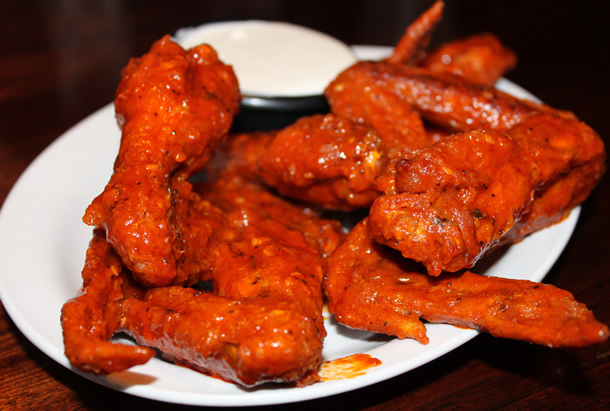 We shared one small order of hot wings ($7.99). With tax our total bill was $8.69. The wings are sold in small ($7.99 – approximately 5-6 wings), regular ($11.99 – approximately 9-10 wings) or killer ($14.69 – approximately 14-16 wings). We learned later that if you go during happy hour (3pm-7pm Monday-Friday or 3pm-6pm Saturday-Sunday) the small order of wings are discounted ($5.49). Had someone mentioned this to us when we were there during happy hour we would have sat in the bar to get the happy hour price ($5.49).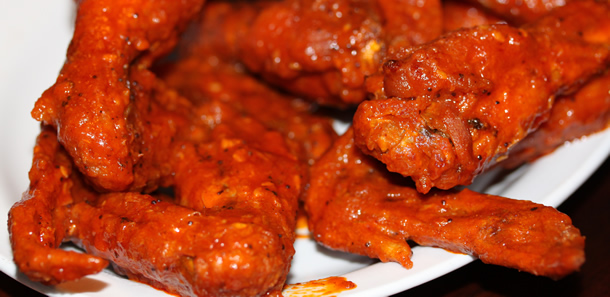 The wings we ordered came out fresh, full of meat, medium temperature and smothered in San Marcos Brewery's signature wing sauce (according to one of the workers they've had the same recipe since 1993). The wings were served uncut with wingette, drumette and wing tip attached. While a small order only came with about six wings it was equivalent to at least twelve wings anywhere else. The signature wing sauce was slightly tangy with the perfect little kick to it!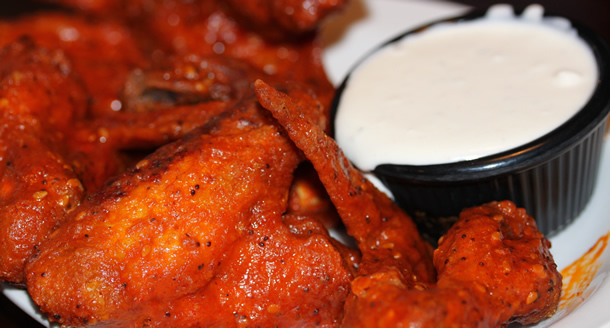 We asked for a side of blue cheese to go with our wings. Hands-down this was one of the best tasting blue cheese dressings we've ever had! The blue cheese was super fresh, cold, thick, and had yummy chunks of blue cheese in it. The blue cheese is made in house and is always fresh. After we mentioned to our waitress how good the blue cheese was she told us that they sell it in a to-go container.


Overall we were pleased with our San Marcos Brewery and Grill experience. Our only complaint (mostly disappointment) was nobody bothered to tell us that there was a happy hour going on and if we sat in the bar (just a few feet from where we were) to eat our wings we would have been charged the happy hour price ($5.49) instead of full price ($8.69). Consistent with our experience and many of the reviews we've read the service can be inconsistent at times. That being said, while the atmosphere was not the most exciting (it was clean but looked like a place that hasn't been updated in many years) the wings were to die for and some of the best we've had! If you're looking for some delicious wings in North County San Marcos Brewery and Grill would be an excellent choice! Try the wings (be sure to sit in the bar area during happy hour to get the discount) and homemade blue cheese – You won't be disappointed!