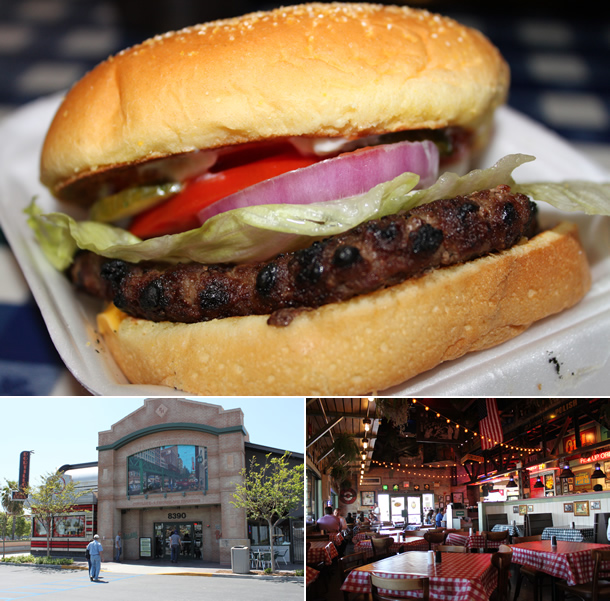 Portillo's History began with a small hot dog stand (6×12 trailer) called "The Dog House" which opened in 1963 in Villa Park Illinois. In 1967, "The Dog House" was transformed into "Portillo's." Over the years Portillo's had grown and eventually expanded its operation to Southern California in 2005 and Indiana in 2006. By 2010, Portillo's was listed as one of Chicago's largest privately held companies by Crain's Chicago Business. There are currently only two California locations – There is a Portillo's in Buena Park in Orange County California (about a mile away from Knott's Berry Farm) and one in Moreno Valley. Both locations are described by Portillo's as having a "30's Prohibition" theme.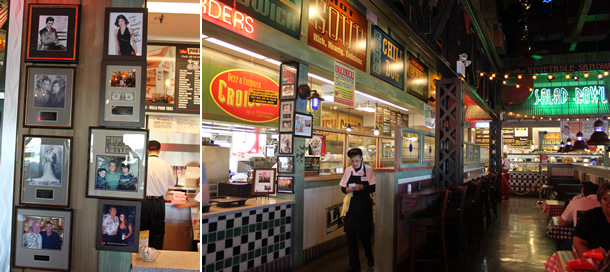 With tons of positive reviews, numerous "Silver Platter" awards and a lot of hype about Portillo's hamburgers (and food in general) we had to review their burger! The atmosphere was fun, outgoing, casual, can be a bit loud and the décor was very cool! This place is busy, popular and full of energy even during non-peak hours. We definitely got an old mining feel at Portillo's with the black and white photos and beer signs hung on the wall, dim lighting with lights hung from the ceiling, some neon lights for signs, wood tables and seats with checkered table cloth and exposed pipes and beams throughout.


We ordered a Cheese Burger ($4.19) and small fries ($1.69) which came out to slightly less than $6.50 after tax.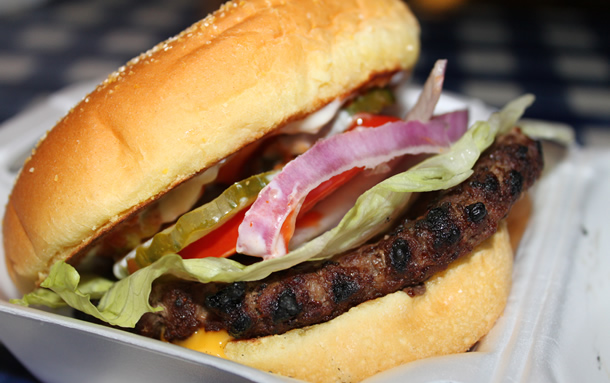 The Cheeseburger was pretty big and it came served in a Styrofoam container. The cheese burger came with lettuce, tomatoes, pickles, purple onions, American cheese, ketchup, mayonnaise and served on a delicious hamburger bun (which tasted like it had a little corn meal on top). The burger itself was really juicy and had a distinct charbroiled taste to it (similar to the charbroiled or flame broiled taste of Carl's Jr.'s burgers but Portillo's burger in our opinion is much better). Overall, Portillo's cheese burger was very good and had a memorable flavor.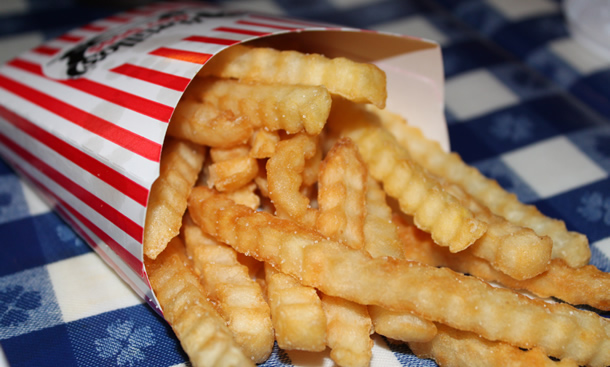 The fries looked like the old school crinkle cut fries (wavy cut with ridge on them). The fries had a perfect crisp on the outside, were lightly salted and tasted delicious. There was also a pretty good amount for the small size we ordered. We loved the fries!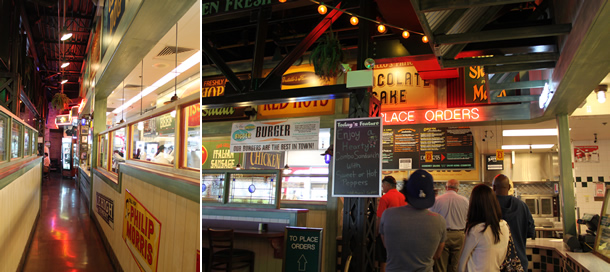 Overall, we really enjoyed our experience at Portillo's in Buena Park in Orange County California. The Cheeseburger and fries were reasonably priced and delicious. The service was fast and friendly, the workers were energetic, and the atmosphere was memorable and very cool. If you're in the area (and even if you're not) Portillo's is definitely worth a visit even if there is some driving involved (if you happen to be at Knott's Berry Farm Portillo's is a must visit)!