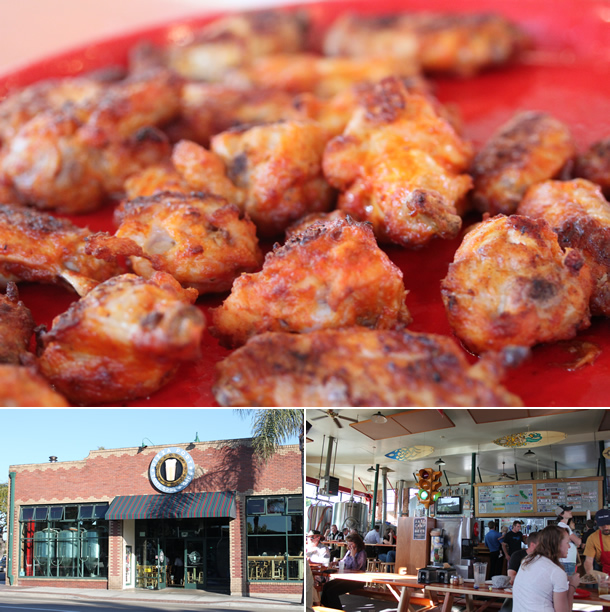 While Pizza Port Carlsbad location may be known for their fresh brewed craft beers and pizza we had heard that the wings were also very good. For 35 cents a wing on Wednesdays after 5pm (a Wednesday wing special we did not see listed on the menu) we wanted to check this place out to see how good the wings were. We visited Pizza Port in Carlsbad on a Wednesday after 5pm and the wings were indeed 35 cents each (the cashier said we could order as many as we wanted up to 50 wings).


Upon entering Pizza Port in Carlsbad we immediately noticed an energetic and diverse crowd of people which included a good mixture of friends, men and women of all ages, families with children, couples and singles. The atmosphere was very cool, casual, crowded, somewhat loud and with a lot of fun energy around us. The inside was quite big with several picnic tables put together to form several long rows of seating. Hung from the ceiling were several surfboards and on the wall surfing material and pictures. We definitely felt the relaxed surf vibe in this place. There was also a bar area somewhat sectioned off from the main seating area with some bar seating and pub table seating. Also, there was a small section against the wall with several arcade games for entertaining and for kids to have fun and let out their energy.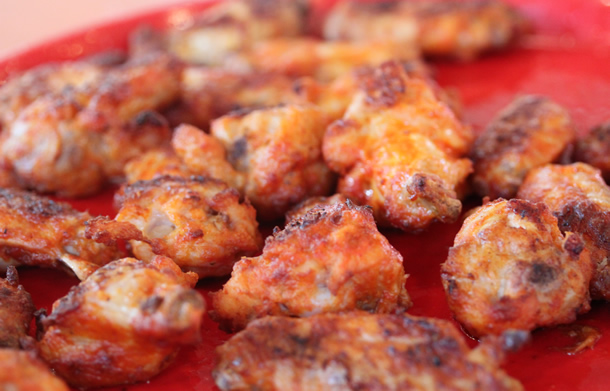 We ordered 20 wings (35 cents each on Wednesdays after 5pm) and our total bill was $7.61. We ordered the mild sauce on our wings (a hotter wing sauce is available if you're into that). Upon ordering I was asked for my first name and last initial, given a receipt and waited for my name to be called. The service was very friendly. Our order did take some time to come out (about 20 minutes) but it was pretty busy.


The wings came out on a large, open, round, red tray and the wings were served with ranch dressing in small, clear plastic containers. We did try the ranch and were not very impressed with the flavor and somewhat watery consistency. We actually prefer blue cheese with our wings so we asked for a couple sides of blue cheese (the blue cheese came in packets). The blue cheese tasted much better to us with the wings!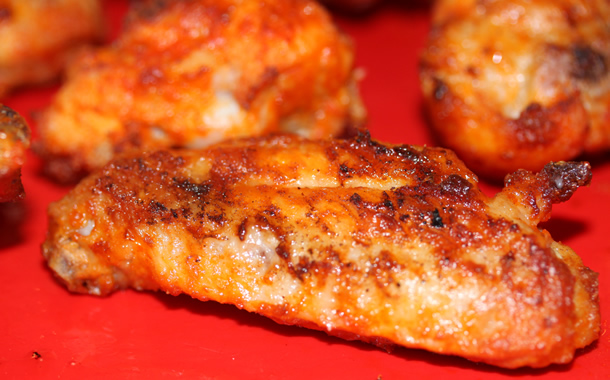 The wings were pretty small but still had a good amount of meat on them (for how small they were). The skin was somewhat crispy and had a pretty good flavor (the mild we ordered was not too spicy which we liked). The basket of wings on the menu mentions that the wings are baked. Based on the consistency it did look like the wings were baked.


Overall, we really enjoyed our experience at Pizza Port. It has a great atmosphere and a very fun environment for people of all ages. The wings we had were pretty good. Although we've had better you can't beat the price at Pizza Port for 35 cent wings on Wednesday after 5pm!