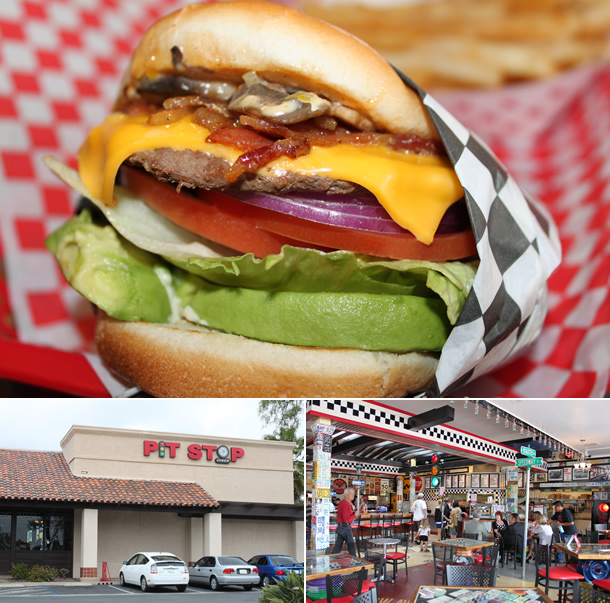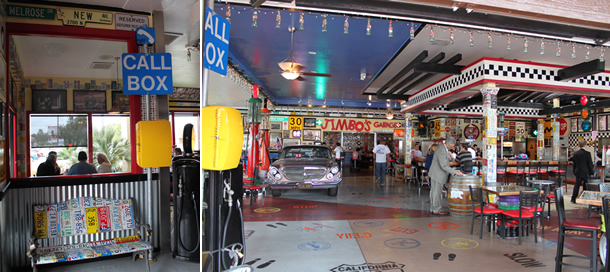 If you're looking for a fast and inexpensive burger fix The Pit Stop Diner in Oceanside just might be the place for you. The Pit Stop Diner has an expansive lunch and dinner menu (more than burgers) that includes over a dozen types of burgers, a dozen hot dog options, over a dozen sandwiches, wraps, salads and some specialty combos. The Pit Stop Diner also has a sizeable breakfast menu too.


The Pit Stop Diner had a fun, decorative atmosphere (somewhat reminiscent of The Money Pit but bigger and having more décor), with Coca-Cola signs, stop lights, gas pumps, hub caps and license plates on the wall, street signs, and a 1962 Chrysler car parked inside. There were several tables for seating and a couple huge wooden tables in the middle for seating as well. Like the Money Pit you can get a cheeseburger at Pit Stop for just under $2. Pit Stop had reasonable prices for decent size portions with burgers ranging from $1.68-$4.98 (for $4.98 you can get a FAB-4 Burger that comes with four patties). The overall quality of the food was comparable to fast-food quality or slightly better.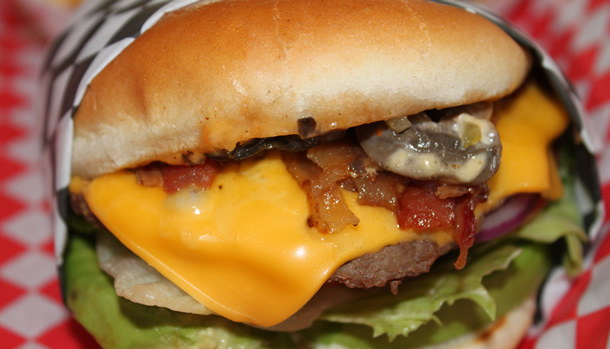 We ordered a Pit Stop Burger ($3.75), a BLT sandwich ($4.00) and French fries ($1.99). Our total bill was $10.59. The Pit Stop Burger came with lettuce, tomato, onion, avocado, sautéed mushrooms, bacon, American cheese and was served on a hamburger bun. The burger itself was paper thin and looked thinner than the patties at In-N-Out. If you're looking for beef keep looking because there's not a whole lot of beef on these burgers (unless you add patties and go with a 2×2, 3×3 or FAB-4).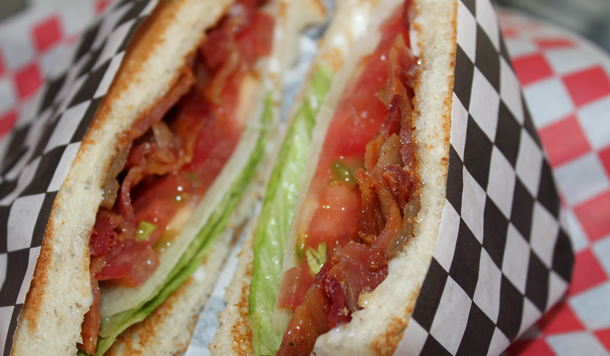 The BLT sandwich came with bacon, lettuce, tomato and mayonnaise and was served on toasted white bread. It was pretty tasty but the bacon was a little fatty. We would have preferred a bacon that was less fat and more meat but overall it was not bad for $4.00.

The fries were pretty good and lightly seasoned (not as crispy however as we hoped). The fries were probably comparable to cafeteria fries with a light seasoning on it.


For the price, the burgers were pretty tasty and a solid competitor to the many fast-food joints out there. Overall we were satisfied with our meal and experience but I'm not sure we'd return unless we wanted a cheap eat and happened to be in the area as there are so many better burger joints out there.