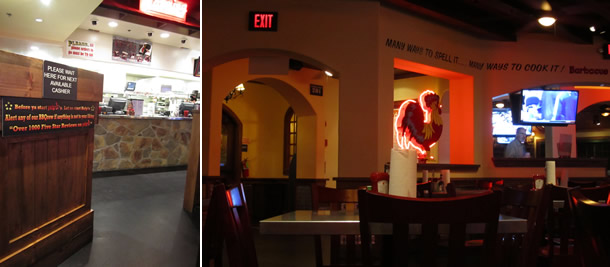 When one thinks of Phil's BBQ barbeque ribs, chicken and pork probably come to mind. On the menu however is a BBQ Cheeseburger that has received a lot of hype. With a 4 out of 5 star rating out of over 204 reviews total on Yelp (San Marcos, CA location) we wanted to see if Phil's BBQ Cheeseburger was as good as their highly touted ribs. Phil's BBQ has a fun, family-friendly and outgoing atmosphere with metal tables and paper towel rolls for napkins. Honky-tonk sounding music can be heard in the background and flat screen TV's seen throughout for watching sports games. There is quite a bit of seating inside and some seating outside (you seat yourself) but it does get busy so seating does fill up fast (especially on weekends). We ordered a ½ lb. BBQ Cheeseburger ($5.95), a small side of Colossal Onion Rings ($3.95) and a large Spring Mix salad ($4.95). Our total bill was $16.15.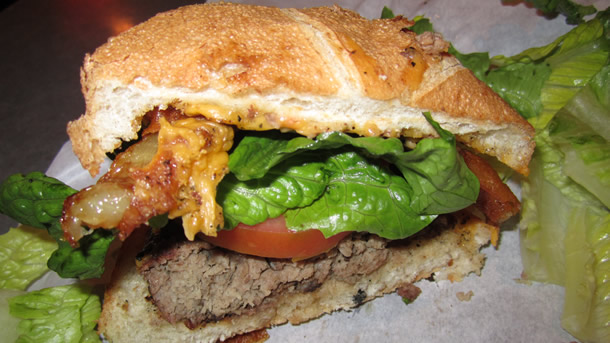 The BBQ Cheeseburger included a ½ lb ground chuck char-grilled burger, topped with sharp cheese, a tomato, lettuce and an onion ring and BBQ sauce. We asked to have the BBQ sauce on the side. The Phil's BBQ sauce is a bit spicy so if you're not into spicy foods you'll probably want to try it first. The ½ lb. BBQ Cheeseburger was reasonably priced at $5.95. We split the burger but it may not be enough burger even at ½ lb for two hungry adults. Unfortunately, our burger was slightly overcooked and a bit dry but it was still tasty and a good value for the price.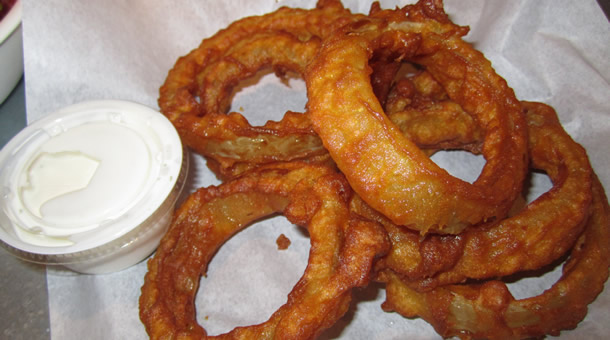 We also ordered a small side of Colossal Onion Rings at $3.95 (a large order would have been $5.95). Freshly batter-dipped and served with buttermilk ranch dressing the onion rings were delicious.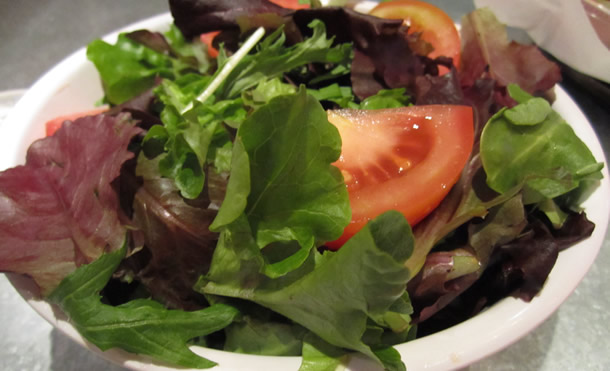 We also ordered a large Spring Mix Salad at $4.95 with buttermilk ranch dressing on the side. We could have gotten away with a small salad as the large was too much for the two of us. The Spring Mix salad was just okay – nothing spectacular (other than the lettuce there were just a few tomatoes).


Overall we were pleased with our burger experience at Phil's BBQ in San Marcos. We felt the burger and onion rings we ordered were good and certainly reasonably priced. However, we've had better tasting burgers at other burger joints and would probably go to Phil's BBQ for their deliciously battered colossal onion rings and award winning BBQ ribs more so than their mediocre burgers. Upon ordering from a cashier we were given a beeper that signaled us when our food was ready. The service was good – very friendly and helpful.