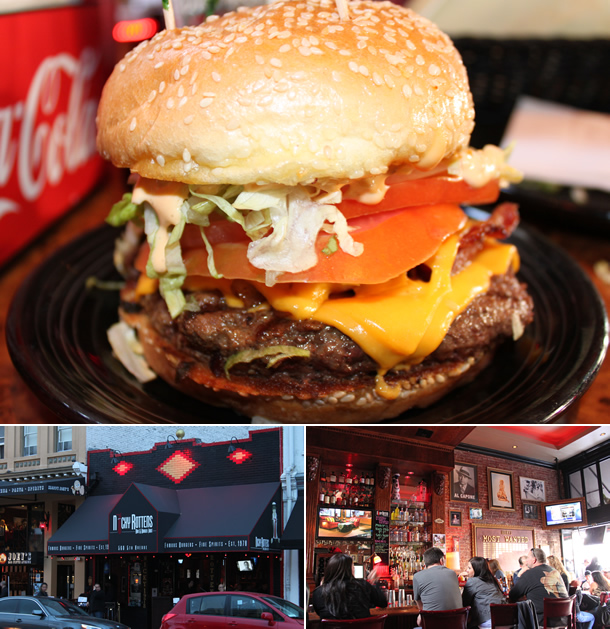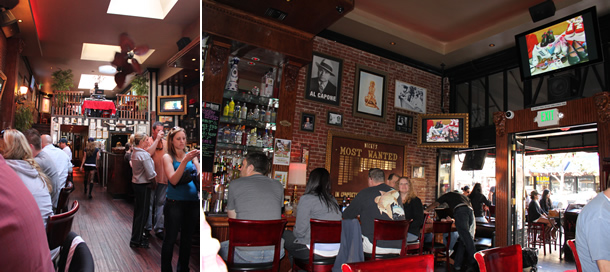 With a lot of hype about Nicky Rottens Bar and Burger Joint having one of the best burgers in San Diego we had try this place out. Our experience at Nicky Rottens exceeded our expectations! Nicky Rottens had a casual crowd and a fun, upbeat atmosphere with a lot of energy, loud music and at least 10-12 flat screen televisions throughout (the news was on TV not sports when we visited). Inside you'll find limited seating near the windows (windows were open facing sidewalk), a lot of bar seating, some pub tables with booths, brick walls, wood floors, windmill fans, liquor décor and pictures of Italian mobsters/mafia hung on the walls.


Upstairs there was limited seating with a live DJ with turn tables (spinning hip-hop, reggae and cool jazzy beats when we visited) which added to the outgoing atmosphere and fun experience. Outside we were greeted by a host before being seated and ID's were checked before entering (nice to know we still look young enough to get carded). The service was super friendly and the workers at Nicky Rottens were wearing San Diego Padres shirts and hats the day we visited (we attended a Padres game that day so that might be the reason for the Padres gear). When seated we were actually presented with two menus – One for Nicky Rottens and one for Sloppy Joe's (pasta and pizza) next door (you can order from either place).


We ordered the Famous Nicky Rottens Burger "Da burga Nicky likes" ($9.95) which we shared. Sharing food at Nicky Rottens apparently doesn't come without a price – When we got the bill we noticed a "split plate" charge ($1.00) which we thought was kind of odd for a "bar and burger joint." They did cut the burger in half for us and it was served on a separate plate but it did not come with extra food (we were not informed there would be a split charge though). On the upside the burgers come with a basket a fries which we also shared (fortunately there wasn't a "split basket" charge added to our bill too:).

Now back to the burger. The Famous Nicky Rottens Burger came with apple-wood smoked bacon, lettuce, tomato, onion, cheddar, cheese and rotten sauce. The burger was high-quality, super tasty and cooked to perfection. The apple-wood smoked bacon was a great addition to the burger and only added to the deliciousness.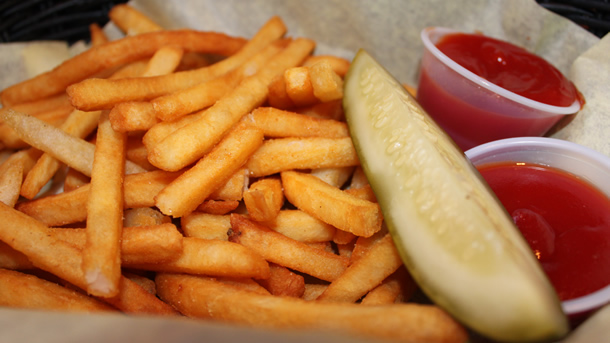 The burger came with a basket of fries which was nice (didn't have to pay extra for it). There was nothing fancy about the fries but they were yummy fresh, hot, crispy on the outside and tasted delicious with the burger. The basket of fries was more than enough for the two of us to share too.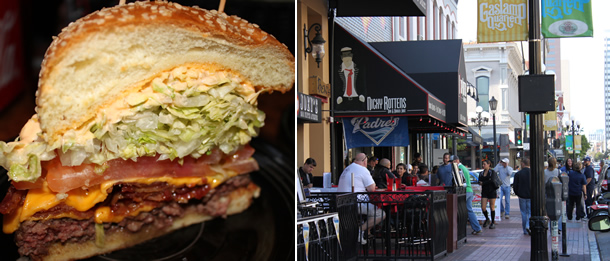 Overall, we had a great experience at Nicky Rottens. We loved the music from the live DJ, the casual and outgoing atmosphere, the inside décor but most of all the food. The Famous Nicky Rottens Burger was excellent and so were the fries. Our total bill for the Famous Nicky Rottens Burger which came with a basket of fries was $11.91 (this included the $1.00 "split plate" fee). We felt the price was very reasonable (even though we weren't crazy about the split plate charge for sharing a burger) for the quality and tasty burger and fries and experience offered. This was definitely one of the best burgers in San Diego we've had! We are looking forward to returning to The Gaslamp District for another burger at Nicky Rottens!