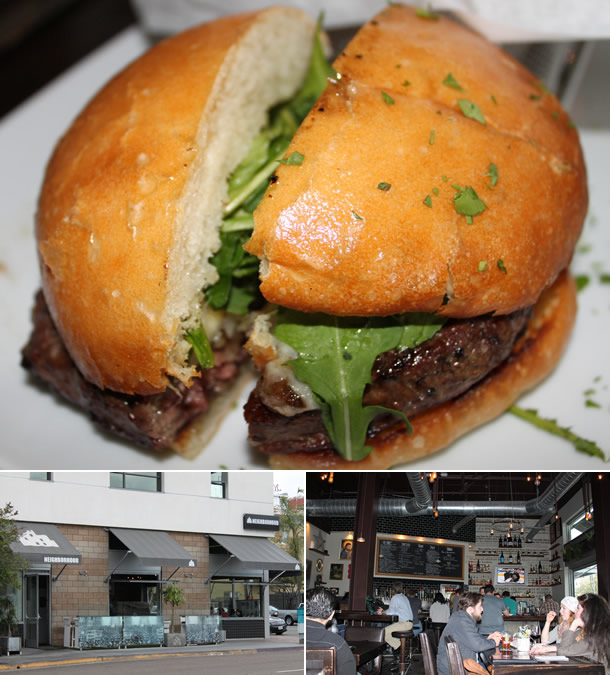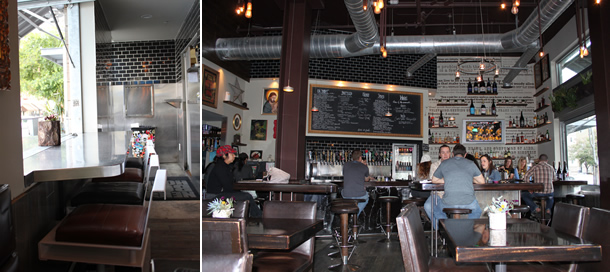 With tons of hype and positive reviews and Neighborhood making the top of several Best Burgers in San Diego lists we had to check out this gourmet burger joint. Neighborhood lived up to the hype! Fun atmosphere, excellent food and great experience. The only downside is the price. According to Neighborhood's website, it was inspired by the classic gastropubs (refers to a bar and restaurant that serves high-end beer and food) of London and Japan – highlighting a large selection of locally brewed beer and specializing in paring them with its simple, straightforward menu.


The Neighborhood attracts a fun and outgoing crowd. The atmosphere at Neighborhood was casual and relaxed with great energy — It can get a bit loud with the music and crowd. Inside you can find some very cool and unique art on the walls to go along with a modern design with a New York, brewery/pub and industrial feel to it (there are exposed pipes inside to emphasize the industrial look).


We shared a Neighborhood Burger ($10), a ½ order of fries ($2), a ½ order of sweet potato fries ($3.50) and a delicious Tahitian vanilla bean shake ($7). Our total bill was ($24.47). Everything we ordered was excellent.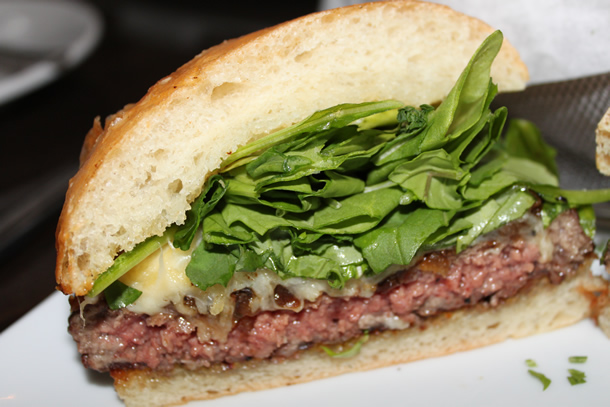 The Neighborhood Burger came with Caramelized Onion, Blue Gruyere Cheese and Pepper Greens. What a great combination. The burger was high-quality, juicy, tasty and cooked to perfection! The bun was very good too — soft, light and very fresh. It seemed like the top of the bun may have been brushed very lightly with some oil and sprinkled with some herbs. It tasted great and a perfect fit for this burger.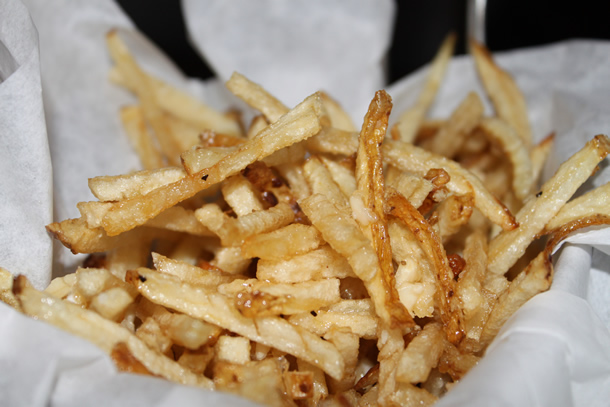 We couldn't decide on regular fries or sweet potato fries so the super friendly and helpful waitress mentioned we could get a half order of each so that's exactly what we did (perfect solution for the indecisive)! The fries were thin, crispy and very tasty. It came served with a side of Garlic Herb Mayo for dipping. The fries were excellent and the Garlic Herb Mayo was pretty good – We ate the fries mostly without the sauce (we liked the sauce but weren't crazy about it).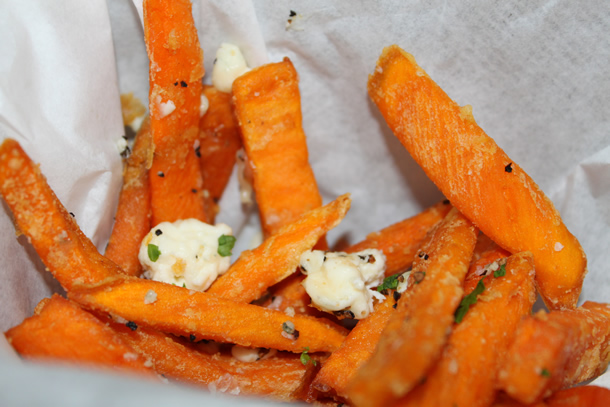 The sweet potato fries were tasty and came with Goldmine Shaft Cheese Crumbles and a side of Peppered Malt Mignonette for dipping. The sweet potato fries were also good on their own (or dipped in the sauces).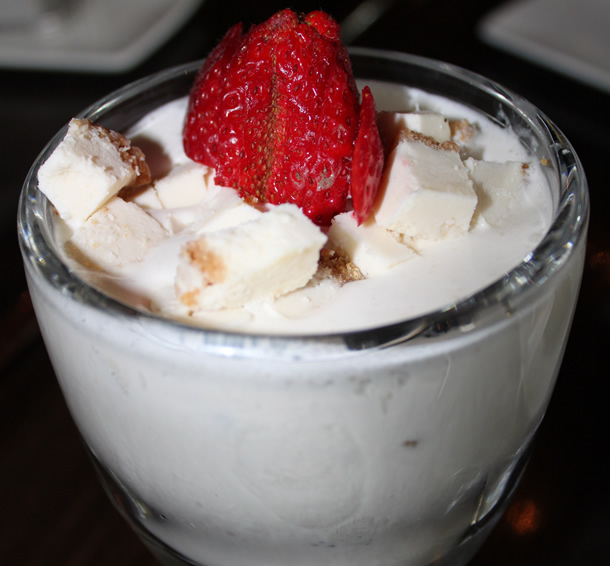 We also shared a Tahitian vanilla bean shake. It cost $7 dollars for this shake – ouch! Don't worry the shake didn't actually hurt us but it was pretty darn expensive. However, it was definitely good quality, unique and a delicious dessert. The Tahitian vanilla bean shake was topped with bits of New York Cheesecake (that may explain the price) and some strawberries. Although it was a bit expensive we loved this shake!


Overall, we were very pleased with our Neighborhood experience. We will definitely be returning to Neighborhood for the experience, atmosphere and to try some more popular food items on the menu. For example, we saw several people share an order of popcorn as a starter ($4) which comes with truffle butter and parmesan cheese. Neighborhood definitely met our expectations! We can see why this burger joint is a local hot spot and has consistently made others lists for top 10 burger joints in San Diego. Neighborhood has a great atmosphere, high-quality and excellent food and an excellent location close to the Gaslamp district where you can walk around, shop or perhaps go see a San Diego Padres Game!