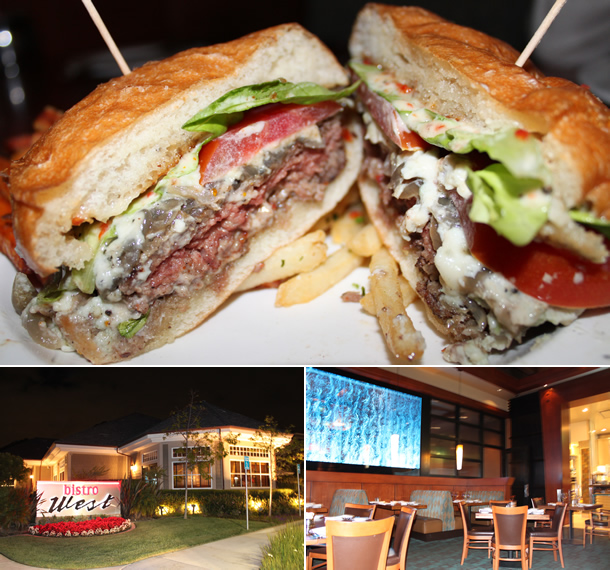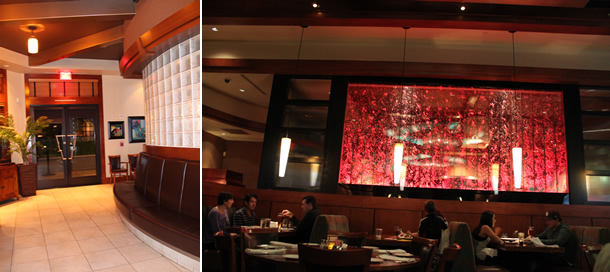 With plenty of reviews about Bistro West in Carlsbad having one been burgers in San Diego and being voted "Best Gourmet Burger" by San Diego Magazine in August 2008 we had to try their upscale burger out. While we expected to have a good burger we ended up amazed! In our opinion, Bistro West had the best Gourmet Burger in North County we've had to date hands-down and is a top contender on our list for best burger in all of San Diego. The ambiance was also wonderful and the service was outstanding. The only downside was the price (it is a bit expensive but worth it and you won't be disappointed).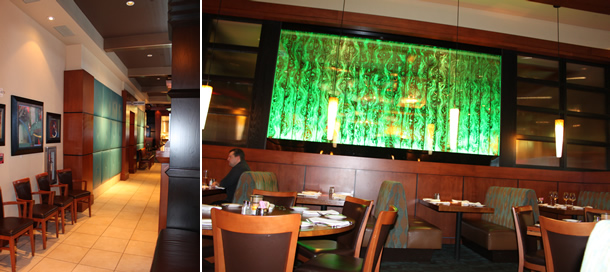 Bistro West is located in Carlsbad conveniently off the 5 freeway (Canon Road exit). The restaurant is attached to a hotel so it does have a hotel like atmosphere outside with valet parking available for those who prefer it. Upon arriving we were kindly greeted by the staff and seated quickly (during peak hours and for large groups you may want to make reservations). Bistro West has a beautifully designed entry way (you'll notice when you walk in), a modern and elegantly designed interior with modern artwork hung on the wall. The main seating area is also modernly designed and offers a very memorable experience. Also, a big attraction in the main seating area was a huge color-changing glass-enclosed light show tank hung on the wall which gave the resemblance of a lava lamp. It was very cool and really added to the atmosphere. There was also a good size bar area (separate from the main seating area), with several tables, some bar seating and also very cool and modernly designed.


We ordered the Blue Cheese Burger ($12.95) which came with a side dish (we choose half fries and half sweet potato fries) and a half-order of the Chopped Wedge Salad ($4.95 for a half order $8.95 for full order). We shared the burger, fries and salad and it was more than enough for the two of us to share. Because we shared the food (and drank water) our total bill was $19.47 which was pretty reasonable considering the modern and elegantly designed atmosphere with $13-$14 burgers. Had we not shared food (and ordered the half-order of salad) the bill for two could easily run over $40 for burgers, fries a salad and drinks.

The Blue Cheese Burger was absolutely delicious! The burger was half pound and homemade from a Kobe beef blend. It was served on a white bun (you can choose white or wheat) with lettuce, tomato, a signature sun-dried tomato truffle aioli (was not overpowering as was the aioli sauce at Bareback Grill), caramelized red onions and blue cheese. The burger was juicy, super tasty and cooked to perfection! The caramelized red onions were excellent and the blue cheese added to the overall yummy taste of the burger.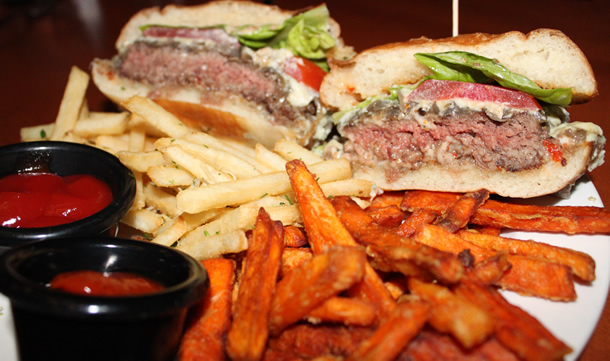 The Blue Cheese Burger came with one side (as do all burgers). Because we couldn't decide between sweet potato or regular fries for our side the server kindly mentioned we could do half order of each – so that's what we did! The fries (looked like McDonald's) were cooked perfectly and came lightly seasoned with parmesan cheese. They were delicious. The sweet potato fries were also excellent. The sweet potato fries were served with a red dipping sauce. We weren't too crazy about the taste of the sauce, the side of ranch dressing we requested or the ketchup (each had a different and unique taste to it).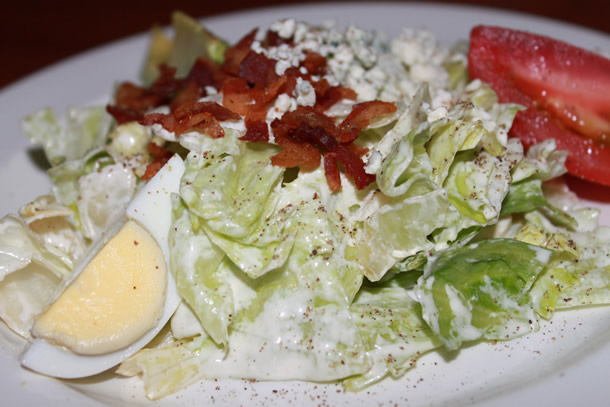 We also shared a half-order of the Chopped Salad. The Chopped Salad was delicious and a half-order was the perfect amount for us to share. The salad came with chopped iceberg lettuce, avocado, tomato, egg, crispy bacon and gorgonzola. The salad was fresh, good quality and the gorgonzola was delicious!

Overall, our experience at Bistro West exceeded our expectations. The service was outstanding, the modern and fun atmosphere was memorable and the food we ordered was fresh, high-quality and delicious. Bistro West's menu had a variety of "contemporary comfort food" options and also offers take-out. The menu includes appetizers, homemade soups, salads, pizza, pasta, hamburgers, sandwiches, Panini's, contemporary classics and chef specials (fish, steak and chicken dishes). Bistro West in our opinion offers a wonderful sit-down experience and while it is a bit expensive it will not disappoint. The Kobe beef blend Blue Cheese Burger is the best burger we've had in North County hands-down and is on our list for top contender for best gourmet burger in all of San Diego!